Costa Brava is a coastal region located in the top corner of Catalonia. It holds a record amount of Blue Flagged Beaches along its breathtaking coastline. Its towns are ready to be explored as most of it remains undiscovered and authentic being away from the large crowds of tourists that flock to Spain each year. Check out 5 of the most unique towns:
#1.  Cadaqués
Cadaqués is often known for its beautiful surroundings filled with white stacked houses that were the inspiration for famous artists such as Salvador Dalí, Marcel Duchamp, Federico García Lorca and Pablo Picasso. To this day Cadaqués is still filled with a sophisticated yet bohemian vibe marked by a cultural vibrancy with events and festivals throughout the year.
Aside from its beauty, Cadaqués is also full of captivating history which can be seen in its architecture. With its cobbled streets, white bright buildings, and blue details with nice modernist buildings, its not one to miss! It is best known for being the hometown of  Salvador Dalí and features the famous Casa-Museo de Salvador Dalí which is one of Cadaqués most important tourist attractions. It is a lively town filled with shops, restaurants, great beaches and coves.
#2. Girona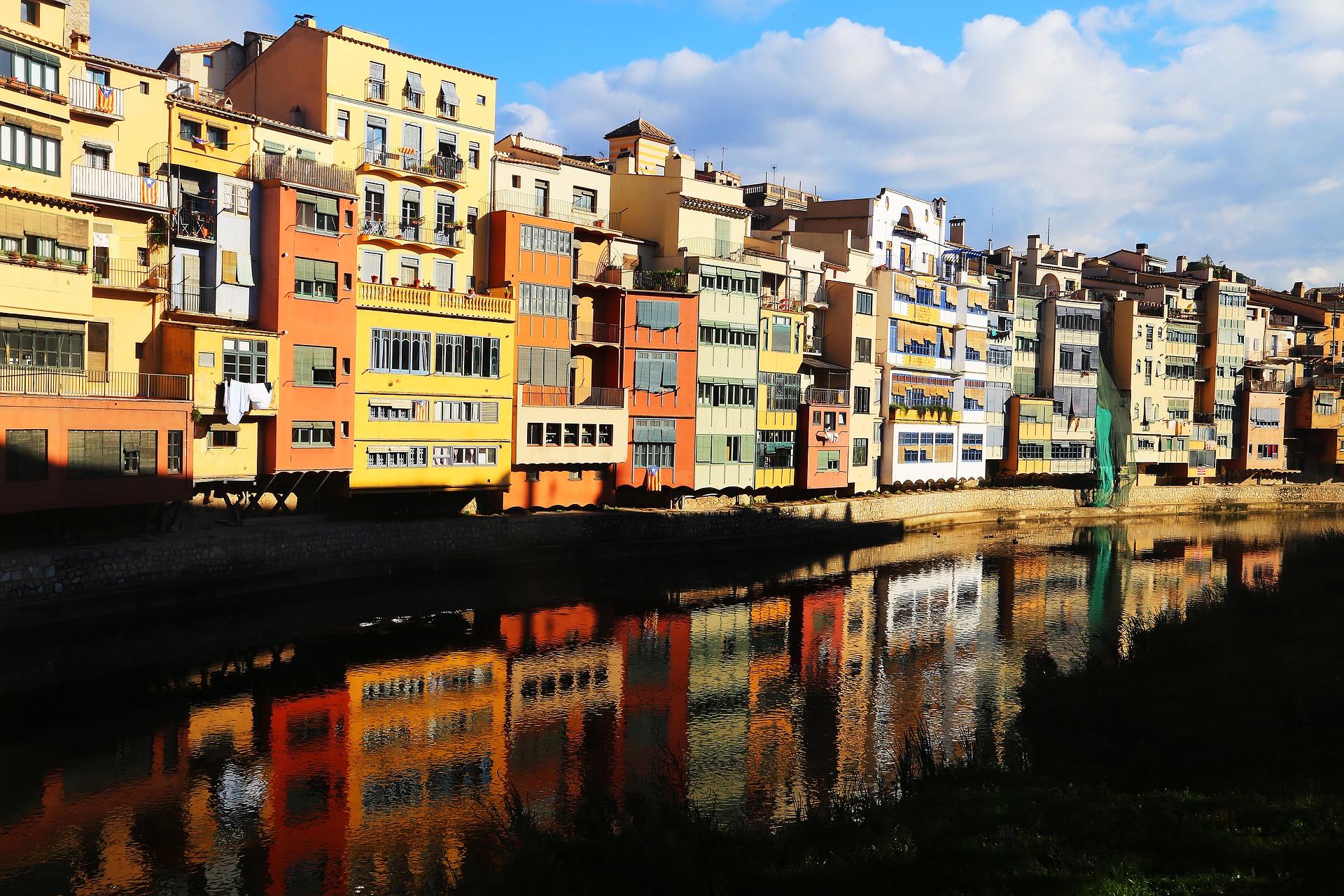 Girona is a picturesque city overlooked by many tourists even though it is the largest city in the Costa Brava region. As it is located between four rivers it became a wealthy trading center many years ago and was consequently occupied during various times in its history by the Romans, Visigoths, Moors and the French. For its size, the city still remains one of the wealthiest in Spain and has enough cultural and historical attractions to keep you busy.
Walk along the ancient wall with its awe-inspiring views, take a look at the Jewish Quarter and the Arab baths and all its other attractions that date back to the 11th and 12th century. In May you have the Temps de Flor festival where you'll see the streets flooded with decorations making Girona all the more beautiful. Now you can even marvel at some of the attractions made famous by the Game of Thrones Series.
Fancy checking out what Girona has to offer from the comfort of your own home? Watch this walking tour to get a better idea of Girona's charm and beauty:
If you are planning a trip to Girona, we recommend that you take a real-life walking tour so that you can discover all the best bits of the city and learn about its culture and history. There are many guides willing to help you out, with some even offering free tours!
#3. Begur
Begur is known to be off the beaten track from the main area of Costa Brava, only an hour away from Barcelona by car. It's situated on the hillside town overlooked by a stunning restored castle from the 16th-century. It is very popular in the summer due to its summer festivals and the beaches. It is a colourful town that has prehistoric remains from various eras that prove human settlement.
Aside from amazing beaches the town also has the Palau Solterra Museum that houses national and international contemporary photographic collections from artists around the world. There are cute squares, many terraces and cobblestone alleys featuring many quirky restaurants and cafés. However, it is relatively more expensive than most towns in the area which is why we would suggest staying on the outskirts of town where you're able to find more affordable accommodation.
#4. Pals
Pals is located in the Baix Empordá right next to Begur. It is a medieval town known to be one of the most charming villages in its region. It was built around a fortress, is perched on a hilltop and has kept its medieval look so well you feel as if you're being transported back to the 11th Century. In 1973 it was declared a site of Historical Interest.
Its local cuisines and traditions have been kept up to today, the surrounding is sure to leave you speechless. The town wall with its four towers offers stunning views of the Empordá countryside. The most popular tourist attractions would be the Torre de Les Hores  Romanesque tower and the medieval quarter, which features peculiar alleys lined with stone houses and unique squares.
#5. Blanes
Blanes is a former fisherman's village filled with amazing beaches but also rocky shorelines and old churches. It is one of the few fishing ports in the area that to this day is still active. It is a cute old town with enough to see, enough to eat and enough to drink to keep you busy during your visit. It's a great choice for both family and friend groups thanks to its organised facilities and activities for kids paired with its laid-back atmosphere.
So get ready to relax in the sun and explore its caves, hike up to the San Juan Hill and visit the botanical garden. in the summer you'll be able to experience the largest International Firework Festival of the Region and one of the most popular in Europe.
Check out the Costa Brava region on the map so you can plan your trip: