Nova Mar Bella Beach
Stretching 500m across the Catalan coast, Nova Mar Bella beach together with Mar Bella is one of the most popular around Barcelona. It is one of the most northerly beaches in the city, with a peaceful setting for a relaxing day in the sun. Located in the Sant Marti district, it is popular with both locals and tourists. The promenade in which it lies extends all the way to the busy streets of Barceloneta, where restaurants, cafes and bars surround you. This stretch of the beach was redeveloped for the 1992 Olympics as a venue for water sports. There are many facilities along this scenic beach for all to enjoy. Bordering the naturist beach next door, this beach welcomes everyone.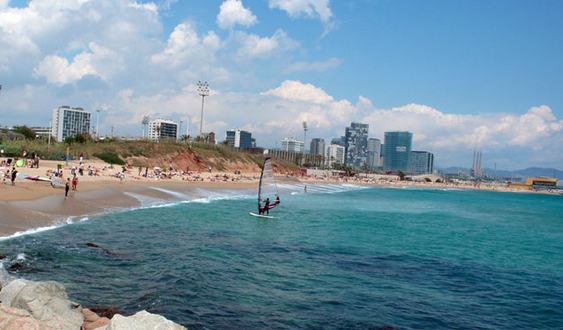 As one of the more peaceful and quiet beaches in the area, it is very popular among a wide range of age groups. With a width of 45 meters, you will be able to set up camp and have your own space, unlike at some of the more heavily populated beaches. The beach provides excellent disabled person facilities too, allowing wheelchair users to enjoy the sea with assisted bathing services. This service is available every weekend and on bank holidays. Just make sure to ask the lifeguard where to go! Showers are available along the beach, and also showers with chairs for people with limited mobility. The wooden walkway stretches down to just before the water for those with limited mobility to get right down to the sea. If you are looking for apartments for handicapped guests, we can help you. Have a look at our Handicap Apartments Barcelona.
If you´re looking for a great spot in which to have lunch away from the sun, there are a wide range of restaurants and bars just a short walk away in Barceloneta. From pizza to paella, there is everything! There are also local restaurants near the beach where you can grab a bite to eat and a glass of sangria!
For sporty and active people visiting the beach, there is a volleyball court halfway along, as well as access to a number of water sports. This child-friendly beach is the perfect place to top up your tan whilst children play and enjoy the Mediterranean weather! Deckchair and Parasol hire for yourself or a group of friends will ensure that you have a more relaxing day at this pleasant and clean beach. With the lifeguards watching out for everyone's safety, this beach feels very safe and secure.
How to get there:
– By Bus: V27, H16
– By Metro: Line 4- Selva de Mar, El Maresme
– By Tram: T4- Selva de Mar, El Maresme
If you are just in Barcelona for a short stay and are looking for a relaxing weekend on the beach, we recommend looking for apartments here.
And if we´ve convinced you and you´re looking for apartments near Nova Mar Bella beach, we recommend our apartments in Sant Marti.