The double-decker Tour Bus Barcelona is the most suitable way of exploring the most interesting touristic attractions and sights. There are over 45 tour stops to get on and of as many times and for as long as you like! The tourist bus is very practical if you are spending a short time in Barcelona. Its open roof will allow you to take nice pictures and you will not leave any place of interest aside. Let's go!
The world famous Barcelona's attractions are included on the tour; including the Gothic Quarter which is the old center of Barcelona. You get the chance to wander around in ancient streets where buildings from medieval times and some are as far back as the Roman Settlement of Barcelona. A number of buildings are world heritage sites such as the amazing work of Antoni Gaudi which is clearly visible throughout the city. His well-known work is the enormous incomplete Cathedral the Sagrada Familia, the symbol known all over the world and still has been under construction since 1882. Other works by Gaudi such as the popular Casa Batlló, Casa Mila/La Pedrera and Park Güell. This sightseeing tour bus Barcelona has three different tour routes to explore: the Blue line, the Red line and the Green line.
Advantages of the Tour Bus Barcelona: comfort and discount booklet
At the beginning of your stay, the tourist bus allows you to get a feel for the places you will want to visit later on
The ticket includes a book of discounts in many museums, monuments and restaurants. This will be provided in Barcelona with the bus ticket
Fast transportation: there aren't stops in non-touristy areas so there's no time wasted
Comfortable and designed for you to take pictures thanks to the open floor
No need to think about the best way to get from one monument to another
Audio guide in many languages throughout the tour
Free wifi on-board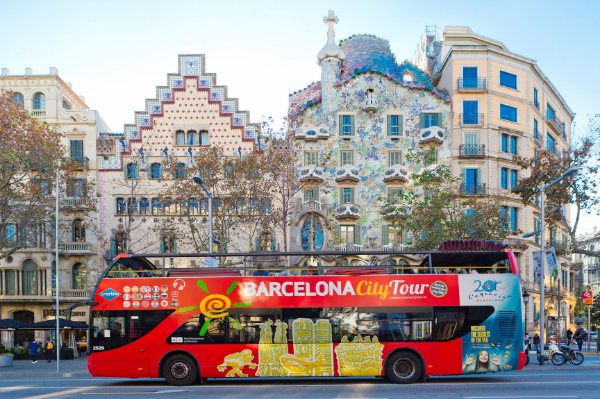 In addition, please note that there are two tourist bus companies for tour bus Barcelona: Barcelona Bus Turístic (the blue buses, the ones we recommend, also called "Hop On Hop Off Bus") and CityTour (the red buses). Also, the former are linked to the Barcelona Tourist Office and therefore offer more advantages than the latter, including more discounts.
Service time
Red and Blue route: Monday to Sunday, all year round
Green route: Monday to Sunday, from March 28th to November 2nd
Seasons: on Winter from 09:00 to 19:00; on Summer from 09:00 to 20:00
Closed on: January 1st and December 25th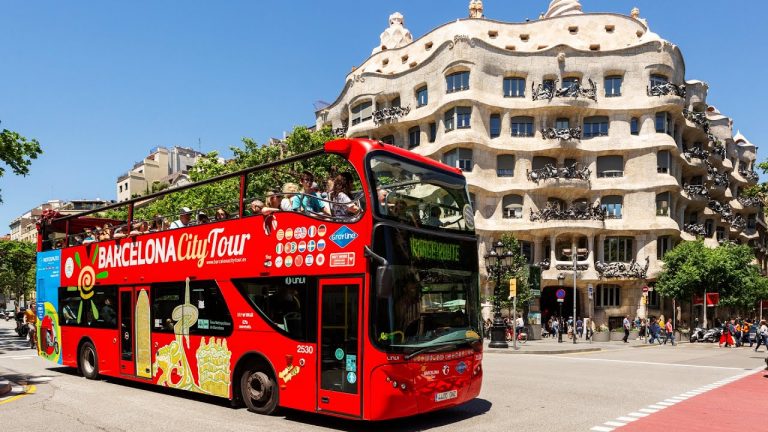 There is an auto guide system in 11 different languages, such as English, Catalan, Spanish, French, Japanese, German, Chinese, Portuguese, Russian, Italian and Dutch. As well as an informative tour bus Barcelona guide detailing every tourist stop this is available in three different languages.
For some of you who have come for a short stay this should definitely be a must-do on your list as you will not be disappointed!
Also there is a free WIFI with direct LAN connection for those of you who would like to take fascinating pictures and upload them on to any personal social networking sites. As well as providing the suitability to meet the needs of different individuals they have adapted an advanced system for those in wheelchairs or people that have hearing difficulties.
Practical Information
Address: Plaça de Catalunya, 08002 Barcelona
Contact: +34 932 85 38 32
Prices: from €24.30 for Adults and €14.40 for Children. Children under 4: FREE.
Schedules: Every 5-25 mins all year round according to the season
So, are you planning a trip to Barcelona and looking for somewhere to stay? Thus, why not take a look at the AVAILABLE APARTMENT RENTALS ON OUR WEBSITE! Please feel free to contact us with any questions you may have.