Barcelona, the capital of Catalonia and the second largest city in Spain. It is known for its architecture of Antoni Gaudi and is also home to a number of splendid beaches and parks, fine museums and classy restaurants. Are you going to Barcelona on Valentine's day? Then we made a guide for you about things to do on Valentine's Day in Barcelona. This guide guarantees you a valentine's day you'll never forget.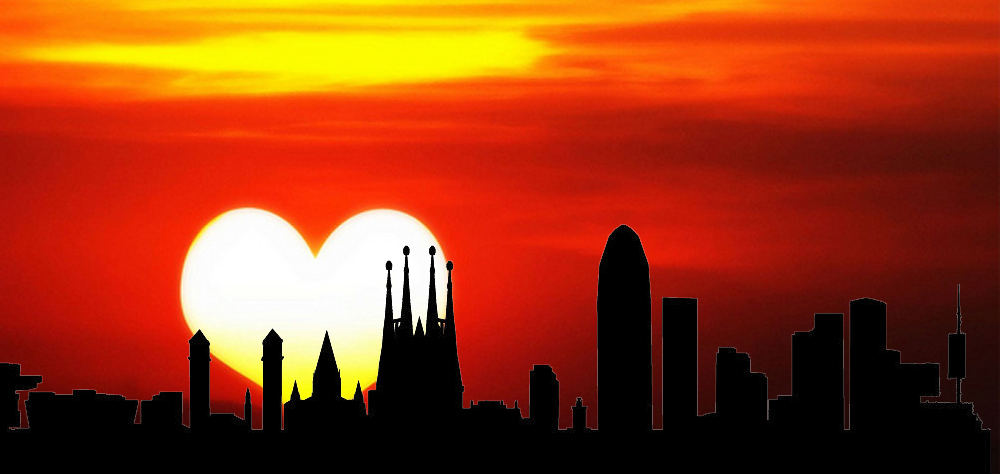 Why do we celebrate St Valentine's day?
St Valentine's Day dates back centuries ago from different legends that have reached us today. The first Valentine's Day was in the year 496! The most popular symbol for Valentine's day is the Roman God "Cupid" who is illustrated as a young boy that shoots arrows with his bow, there are quite some theories around the history of Valentine's Day. One is "The Saints Valentine". Supposedly three hundred years after the death of Christ, the Roman emperors were forcing the community to believe in the existence of the Roman gods. Valentine, who was a Christian priest, had been captivated and locked up by the Romans because of his teachings. This demonstration partially led to this celebration on the 14th of February.
Another theory was the one of an Italian Bishop named Valentine who lived around the same time as the priest Valentine. He too was imprisoned because he let soldiers who were in love secretly marry their love, which at that time was against the Roman Laws for a soldier to get married he secretly married other couples as well, legends say he was burned at the stake. Saint Pope Gelasius I declared February 14 as "Valentine's Day" however, this isn't an official holiday but is celebrated by a lot of people all over the world.
Whatever the odd mixture of origins, St Valentine's Day is nowadays for sweethearts. It is the day that you show your friend or loved one that you care. You can send candy, a letter, or roses, the flower of love, to someone you think is special. Most people send "Valentine" a greeting card named after the notes that St Valentine received in jail.
Valentine's day in Barcelona is celebrated generally like the rest of the world on the 14th of February, you indulge your loved one with gifts, flowers, a romantic dinner or other romantic gestures. In the city of Barcelona, there are many things to do on Valentine's Day in Barcelona, just keep in mind to start planning and booking in advance due to overcapacity.
Activities on Valentine's Day
#1 Get a couples massage at the spa
What better to spend your Valentine's day at one of the most beautiful and romantic spa's in Barcelona? At AIRE Barcelona you can enjoy a day full of relaxing at the pools and getting massages with your loved one. It is a must-go if you would like to spoil yourself.
#2 Brunch in Sant Antoni
Sant Antoni is one of the areas in Barcelona that is booming with amazing and cozy brunch spots. They are ideal to surprise your loved one with a little late-afternoon lunch. Together with a glass of vermouth, freshly-baked croissants and creamy scrambled eggs, this will be the perfect start of your Valentine's Day, before heading out to the city.
#3 Spanish Wine tasting
No Valentine's dinner is complete without a bottle of wine, right? If you like, enjoy and appreciate wine, why not go on a romantic wine tour with your loved ones. The Spanish wine tasting is a good way to learn about Spanish food, wine, history and many other lessons such as making organic wine. Not to mention the fact that the whole wine tour is in English so in this case, you won't miss out any detail in the wine process.
 #4 Romantic Sailing trip
Another classic treat on Valentine's Day is an exclusive sailing excursion where you will be shown around all the main port areas in Barcelona. The wind blowing through your hair while holding a glass of wine in one hand and your lover in the other hand. This romantic sailing trip is perfect for the outdoor sea lovers but it is also an amazing experience for others looking for a new way to celebrate Valentine.
#5 Picnic in the best spots of Barcelona
What could be more romantic than a picnic with some tasty cheese, bread, fruit, sweet dessert, complemented with a bottle of good spanish wine and panoramic view on the city of Barcelona? Maybe just the fact, that you can order the service, that prepares everything for you and your beloved, so you just come and enjoy the romantic time together. You can choose whether you want to look on sunset from above the city, be hidden in one of the green parks or feel the light breeze from the sea.
Looking for an apartment in Barcelona? Check out our SPECIAL DEALS ON APARTMENTS all over the city with Barcelona Home!