Top 8 typical Spanish dishes
Spain is a country with a very rich history, culture, nature and of course kitchen! When you are planning your trip to Barcelona, it is of course very important to also do some research on the company its culture and what you can expect. Searching for the best things to eat during your stay is definitely a must!
Of course, Spain is known for its amazing tapas and great seafood, but the traditional typical Spanish dishes are also worth trying! Below, you will find a list of the 'top 8 typical Spanish dishes that you should absolutely try!
1. Gazpacho
Gazpacho is a cold soup that is made out of raw, blended vegetables. It is maybe not the most famous typical Spanish dish, however, it is very popular amongst the Spaniards! The reddest, ripest tomatoes, olive oil, garlic, bread, peppers and cucumber are used to make this very famous Andalusian soup. This dish is mostly eaten in Spain and Portugal, particularly during the summer. There are many dishes that are very closely related to the Andalusian gazpacho, however, a 'real' gazpacho is still the best one you can try. In almost all the restaurants in Spain, so also in Barcelona, you will find this typical Spanish dish on the menu. Especially the tapas restaurants seem to have the perfect gazpacho on their menu!
2. Paella
Paella is definitely the most famous typical Spanish dish amongst the foreigners! It is originally from Valencia, however, it is made and eaten in the whole country of Spain. In Barcelona there are many restaurants that provide you with a very delicious Paella, however, the Spaniards still say that the best Paella can be eaten in Valencia. The ingredients for an original Paella Valenciana consist out of chicken or rabbit, saffron, runner beans and butter beans. And of course, the most important ingredients, which is the rice which preferably should be the bomba or Calasparra varieties that are grown on the Spanish east coast.
3. Tortilla Española
The Spanish tortilla is a very delicious dish that does not contain so many ingredients. The only things you need are eggs, potatoes and onions. The tortilla is most often served as a tapa and is commonly known as a tortilla de patatas. The use of not so many ingredients does not mean that the dish is not tasty at all, because it definitely is! The potatoes and onions are very slowly fried in olive oil and are afterwards mixed with the beaten eggs. This to make sure that the flavours stay when you start cooking. If you prefer there are many different ingredients that you can add such as chorizo, ham, spinach, courgettes or anything you would prefer!
4. Gambas al ajillo
The gambas al ajillo is a very typical tapas dish that you will find in every tapas restaurant! They originated from Madrid, however have become popular all over Spain! It is said that one of the best places to eat this Spanish favourite in Madrid is at La Casa del Abuelo. The smell of it will make you want more and more! The gambas al ajillo are made by frying garlic and green chilli in olive oil. After a while, the gambas are thrown into it for a couple of minutes and some parsley is added. It is made very easily but tastes incredible. There are many restaurants in Barcelona that serve this typical Spanish dish, especially the tapas restaurants, and it is definitely worth trying!
5. Tostas de tomate y jamón
Tostas de tomate y jamón, or toast with tomato and ham, is another extremely famous Spanish dish. It is a dish which consists of toast on which tomato and/or Iberian ham are put. The combination of these gives a very nice taste. It is a big dish, but it can definitely be seen as a good dish to eat before your meal. We think it's a classic crowd pleaser and a staple order when you're out for tapas.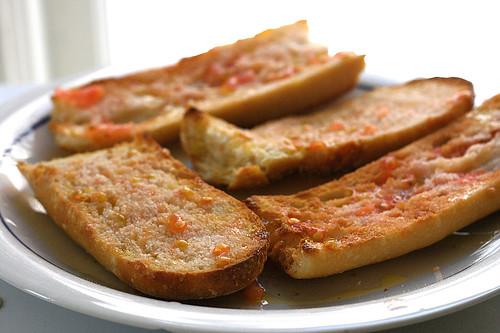 6. Patatas bravas
The patatas bravas is maybe one of the most famous Spanish tapas dishes. There are many different types of Patatas bravas made in the different parts of Spain, however, all the versions involve chunks of fried potato. The differences can be seen in the sauces and herbs that are put on top of the potatoes. In Barcelona, there are also many places to which you can go to eat some great patatas bravas. Even here, the restaurants have different recipes on how to make them and therefore you should definitely try more than just one! Take a look @bravasbarcelona Instagram on a hunt for the best patatas bravas Barcelona!
7. Pollo al ajillo
Pollo al ajillo is chicken made in garlic. Any Spaniard will tell you that the best pollo al ajillo is made by their grandmother, which is probably right. The pollo al ajillo is made by frying the unpeeled cloves of garlic in olive oil to flavour them and are taken out just before the chicken pieces are added. When that is cooked, the garlic will go back in with some rosemary, thyme and some dry sherry or white wine. However, there are many different recipes amongst the Spaniards as well as amongst the restaurants.
8. Pisto
Very easily said, pisto is the Spanish version of ratatouille. It is most famous in the small towns south of Madrid, however, it is also eaten in other parts of Spain. The ingredients consist of onions, garlic, courgettes, peppers and tomatoes. They are very slowly fried in olive oil. The pisto is mostly seen as a starter, sometimes with fried eggs or chorizo, but is also seen as a side dish to the main course.
Are you looking forward to visiting Barcelona, but have not made any plans? Make sure to check out our WEBSITE where you can get started on finding a comfortable place to stay! We offer various options at multiple price points in apartments so you'll be staying in a home.