If you are looking for a great place for jazz in Barcelona, Jamboree club Barcelona is the perfect venue for you!  The club was originally founded in 1960, and has over the years created several memorable events for its visitors. The stage is open to both new musicians and known artists who live out their dreams in front of the eyes of an amazing crowd.
Over the years the club has gone from not only being a jazz club for local musicians, but also a place for international artists, so that the people of Barcelona could have the opportunity to experience jazz in different ways.
Mas I Mas represent a monthly program that consists of both national and international artists, who will provide you with party and entertainment in a truly Spanish way. Under the management of Pierre Bechet, the program seeks to include a selection of musicians from Catalonia (60% of the total monthly program), the rest of Europe (20%) and from the United States (20%).
Barcelona is a city full of cultures and diversity, so why shouldn't Jamboree be?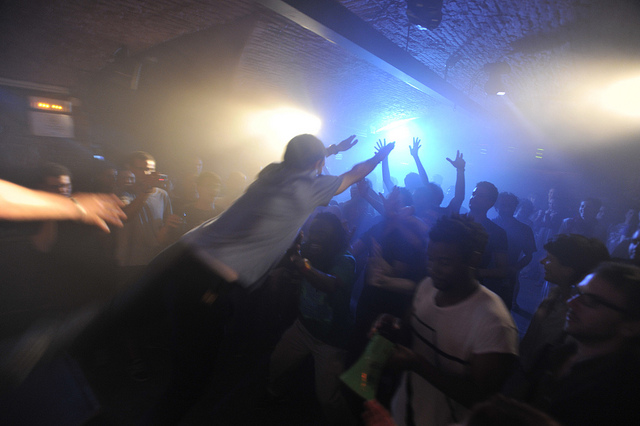 VIP TABLE RESERVATIONS JAMBOREE
If your heart beats deep to the rhythm of jazz, visit Jamboree's official website to view the concert schedule. Besides being one of the best Jazz clubs in Spain, Jamboree is one of the best nightclubs too!
Located in Plaza Reial, the amazing square next to La Rambla, you will find this club surrounded by happy people, good vibes and plenty of Cava. If you are in the mood for to dance but not in the mood for a suit or high heels, Jamboree is without a doubt the place you are looking for! The club has a chilled out and fun atmosphere, where everybody is welcome, no matter the choice of clothes, gender or color. This place is basically one big cultural dance floor.
The club comes with two dance floors, Jamboree and Tarantos, and the combined price is a maximum of €10. On the Jamboree floor they play mostly hip hop, funk or soul and both floors feature the works of fantastic DJ´s from all over Europe. The dance floor is always packed, and this makes perfectly sense! Jamboree is a crazy club to party in, even if you are feeling tired. The mood will wake you up in a matter of seconds. Before you leave your house, make sure to bring your dance shoes, because this is not a club where you will relax. We promise you will feel like dancing, even with a drink in your hand! The music in the club is mainly R&B and commercial music, so basically something for everybody.
This venue offers something for any kind and mood. If you feel like getting involved with the jazz vibes, feel like dancing all night in you sneakers, or just a drink after a wonderful dinner in the beautiful Plaza Reial; Jamboree is where to go!
If you are looking for a nice apartment near Jamboree we recommend our Apartments in the Gothic Quarter on Barcelona-Home.com.

Address: Plaça Reial, 17, 08002 Barcelona.
Prices: Free after signing to Barcelona Home guestlist.
Schedules: 20:00 to 05:00
Please note that the club has the rights to refuse access if you do not follow the dress code or any other regulations of the venue.
✔ Dresscode:
♀ LADIES: Elegant (high heels and dress)
♂ BOYS: Shirt & Shoes (No sports shoes or t-shirts)
*Please be there 30 before the closing list, to make sure you arrive in time