Cycling in Barcelona
Let's tour the city by cycling in Barcelona! The city's bike paths are well marked and separated from the roadway where other vehicles travel. However there are some safety measures to consider when traveling in the city. Pedestrians always have priority over bicycles, both on sidewalks and in crosswalks. Bicycles must feature with a horn to warn of their presence. At night, your bake must have headlights: white in front and red behind. Children under the age of 7 must seat in an extra seat and with an approved helmet. Also, you should take out liability insurance, in case of an accident.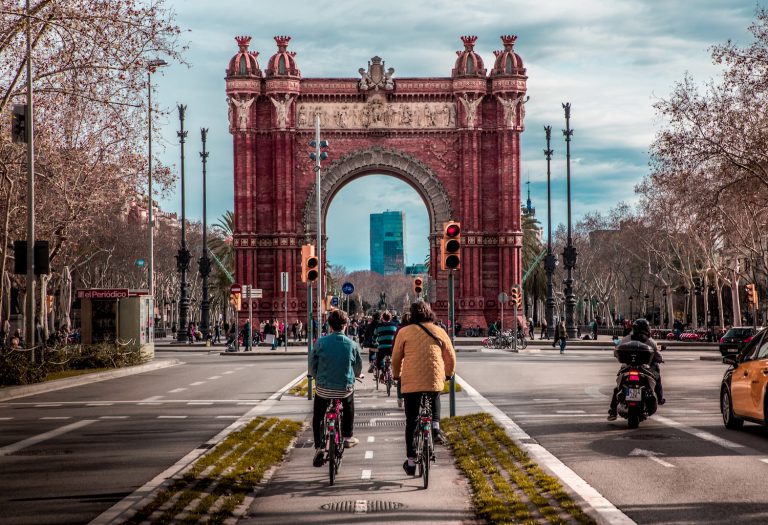 Barcelona with pedals
Visiting the city by cycling in Barcelona it is a new trend. Indeed, in the last few years, bicycles have taken over the streets of Barcelona. From the hills of the upper part of the city to the seaside. Thus, almost 200 kilometers of perfectly marked bicycle paths. In addition, it is protected from motorized traffic, have been built to guarantee the safety of cyclists. Therefore they are increasingly using bicycles for their daily trips.
Many use the municipal bike rental service, Bicing. Indeed, it offers various parking facilities throughout the city. However, many users prefer private bicycles and it is very common to see tourists cycling around the city, especially in the old town, where several bike rental companies also offer guided group tours.
Getting around by bike
In addition to the basic safety measures that must be observed by anyone riding a bike in the city, the internet is full of information about bike mobility in the city, from rental companies to information about transferring bikes to the city's public transportation. Those who want to cycle in a more sporty way will find information on the mountain routes in Collserola or Montjuïc.
How about bikes on public transport?
Cyclists can load their bikes on most of the city's public transportation systems, except for the bus. You can bring your bicycle on the metro, Renfe trains, Ferrocarrils de la Generalitat and the tramway. Indeed, there are marked spaces specifically for bikes. On the other hand, while the Ferrocarrils and the streetcar do not impose any time restrictions, it is only possible to ride a bicycle on the metro and Renfe trains at certain times.
About the bike rental in the city
For those who wish to use a bicycle for leisure travel, a good option is to rent one from one of the companies dedicated to this activity. Most of the time, they are near the most touristy places. It is advisable to call ahead to inquire about availability, types of bikes and rates. Explore Barcelona by bike and enjoy the history, the views and the sun at the same time. Join one of the bike rental experiences and you will see how much the city has to offer. This experience is perfect for those who want to socialize or do a bit of exercise, or even be closer to nature.
The experience consists of about 4 hours by bike with a break in between to stretch your legs and have a drink. The break will also give you the opportunity to meet and talk with the other people on the tour. You are even invited to put on your swimsuit and swim in the sea before the second part of the excursion begins. Don't worry if you are not in the best shape because it stands at each monument so that everyone can take photos and learn more about history. You will pass a large number of bars and restaurants, so we recommend remembering where they are to return later!
The network of bicycle paths
There are two types of bicycle paths: one is one-way, with a minimum width of 1.5 meters, and the other is two-way, with a minimum width of 2.20 meters. They are always separated from other vehicles by a 30-centimeter white line, and in high-traffic areas, the separation is reinforced by rubber studs. Where bike lanes cross other vehicles, they are painted red. The network is 186.7 kilometers long.
For people who live in the city and want to get around by bike without one of their own, Bicing is the best option. It is a municipal transportation system based on the shared use of bicycles. It is very easy to use and perfect for trips in the city. To use this service, you need to activate a card. The subscription is annual and costs 47.16 euros, the first 30 minutes are free.
Popular bike paths
The bike rental experience for cycling in Barcelona begins with a brief introduction, and then you go exploring to see:
Plaça Sant Jaume
Plaça del Rei
Cathedral
The Holy Family
Ciutadella Park
In addition to the Palau de la Musica Catalana, Arc de Triomf, Plaza de Toros Monumental, Vila Olimpica, Barceloneta, Port Vell, El Borne, Basilica of Santa María del Mar, and even more!
Other information!
Helmets are not mandatory, but recommended. Also, all bikes must feature with a horn. In addition, if you ride at night, the bike must have approved headlights on the front and back.
About one of the tours…
From the Raval district to the Barcelona Museum of Contemporary Art, let's follow in the footsteps of the city's most beautiful buildings. Following the Rambla, the Palau Güell opens its arms to us to marvel at Antonio Gaudí's major building and its sumptuous façade showing oriental motifs. The walk continues around the Plaça Real, designed by the architect Daniel Molina, a must in Barcelona for its many bars and typical restaurants. Then we stroll from the Gothic Quarter to the Barceloneta, an industrial district that has become a major tourist attraction in Barcelona. Our tour stops at the Mercat de la Barceloneta, one of the city's century-old markets.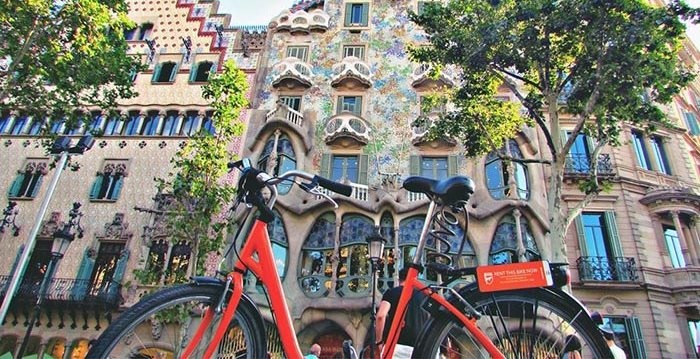 It was inaugurated in 1884 and is the work of the famous architect Antoni Rovira i Trias. At the end of the Passeig Joan de Borbó we find Barcelona's main beach decorated with Frank Gehry's golden fish. This tour culminates in the Rambla del Poblenou. The main street of this old industrial district and the Mercat de Encants, with more than nine centuries. Indeed, it is a must-see place in the city that will perfectly end this 3-hour tour cycling in Barcelona.
However, you can also check Barcelona CicloTour. This vibrant and innovative company was one of the first promoters of cycling as a form of tourism and daily transport in Barcelona. The professional tourism world, such as Tour Operators, Event – and Travel Agencies, and also universities, companies and private groups have confided over the years in Barcelona CicloTour's excellent quality and service helping visitors experience the real Barcelona. All Barcelona CicloTour guides are multilingual, well-read and well-traveled and give the best of themselves to make the bicycle tour in Barcelona a unique experience.
Practical information about the bike services
What is included
Insurance
Rent a bike and a guided tour
Child seats and helmets (on request)
Extra things / not included
Tips (optional)
Food and drink
Pick up / bring back from the hotel
Additional Information
Confirmation will be received when the reservation for cycling in Barcelona is made.
Children weighing less than 22kg go free in a child seat. Children weighing more than 22kg will be charged the same price as an adult. If you need a chair, please let us know when you make your reservation.
Safety
The tours follow routes that have been seriously planned, avoiding busy streets and traffic, going mainly on bike paths, Gothic alleys, parks and the beach. Pedal and enjoy!
Time
Tours go ahead in any weather. If it rains, rain ponchos are provided. If it is sunny, it is a good idea to bring sunscreen, or a jacket if it is a less hot day.
So, are you planning a trip for cycling in Barcelona and looking for somewhere to stay? Thus, why not take a look at the AVAILABLE APARTMENT RENTALS ON OUR WEBSITE! Please feel free to contact us with any questions you may have.