Let's discover the Trams in Barcelona. Barcelona's streetcars can be spotted throughout the city – they are green and white and move at about the same speed as a car. Barcelona's tramway seems to be less known or used than the bus or metro. Indeed, this page covers the information you'll need to use Barcelona's streetcars – how to buy tickets, where you can buy them and how much they cost; routes and timetables; accessibility for disabled travelers; streetcar rules and how to use the service. Streetcars are available on a total of six routes. Moreover, there are three routes called "Trambaix": T1, T2 and T3. The other three routes are called "Trambesos": T4, T5 and T6.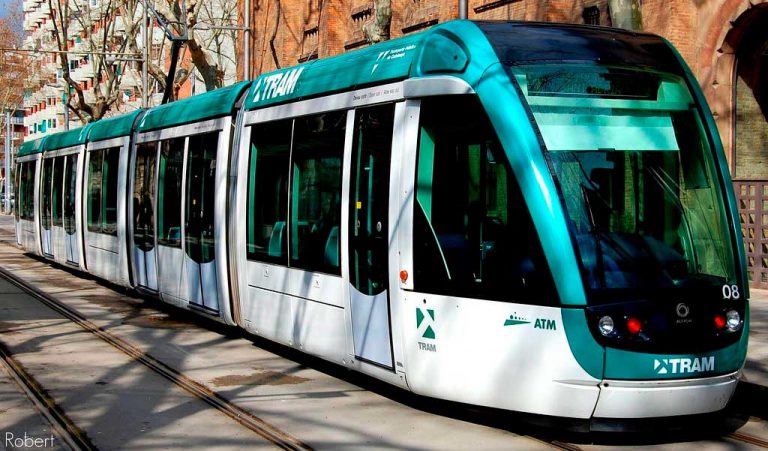 What's the type of tickets?
It is possible to buy a one-way ticket for the streetcar. Alternatively, you can buy tickets known as "Integration Tickets". These are tickets that can be used in the metro, bus and streetcars in Barcelona. The most likely of these that you will want to purchase on your vacation is the T-Casual. This ticket is valid for ten trips on the bus, streetcar or metro and is valid for an extended period of time. For a complete guide to the T-Casual card, see our Barcelona Metro Guide. The T-Casual can be purchased for various zones, but if you plan to spend the majority of your time in the city of Barcelona, you'll only need to purchase a ticket that covers zone 1 where the main tourist attractions are located. You can also use the Barcelona Card to travel on the streetcar.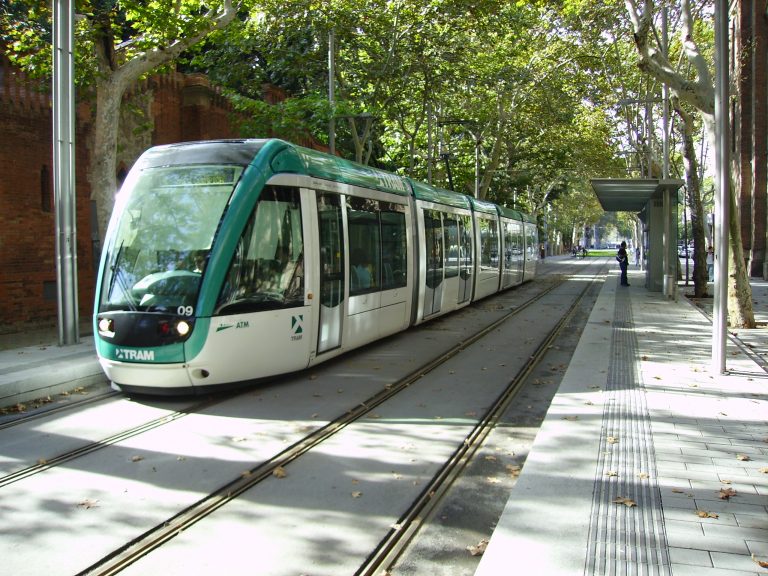 Where can I buy the tickets?
If you are buying a one-way ticket for the streetcar, it can be purchased from the machines located at each streetcar stop. The machines have a touch screen and are available in English, Spanish, Catalan and French. You can use a debit or credit cards in the machines as well as coins. It is important to remember that the machines do not accept bank bills, so you will need to make sure you have change (it does not have to be the exact amount) if you want to pay in cash.
The T-Casual and other "integration tickets" are also available from vending machines at streetcar stations, but they can also be purchased at all metro stations and in Barcelona's tobacco stores known as "Tabacs".
How much does the ticket cost?
One way: €2,40
T-Casual: €11,35 (For zone 1)
How do I use my streetcar ticket?
Once you have purchased your ticket, you will need to validate it to ensure that you have paid for your journey. Throughout the streetcar you will see machines where your ticket can be validated. You will need to push your ticket into the machine where it will be stamped and returned to you.
In three of the Barcelona's streetcar stations, there are barriers at the entrance. Indeed, they are located on the T5 line: Espronceda, St.Marti de Provençals and Besos. At these stations, you don't need to validate your ticket when you get on the streetcar because you have already done so at the barrier before entering.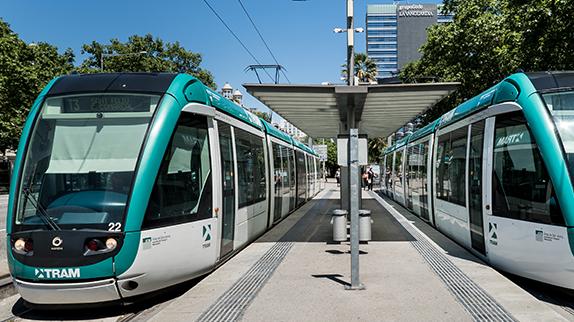 Opening hours
Trains generally run four times an hour during peak hours and twice an hour in the early morning and late evening. You can consult the schedule information at the following link.
Traffic hours: 05:00 – 00:00 midnight
Also on the official website of the streetcar if you look in the section "Lines, schedules and tickets", you can add the station of departure and end of your trip, the date of travel and the time in which you want to travel. This will give you all the options for this trip, for the period you want.
Access for people with reduced mobility on streetcars
The streetcars are well equipped for passengers with reduced mobility. There are special doors that have a disability sign on them (see photo). These doors are wide enough to allow a wheelchair or scooter to board. The entrance to the streetcar is at the same level as the platform of the streetcar station, with no gap between the train and the platform. In each streetcar car, there is room for a wheelchair or scooter in designated areas.
Streetcar Rules
Pets are not allowed on streetcars unless they are guide dogs or are small enough to fit in a pet carrier. In addition, eating and smoking are not permitted on the streetcars. There is space on the streetcars for wheelchairs, bicycles and strollers. The Barcelona tramway is a pleasant way to see the city. Thus, it covers areas that are not on the metro or bus lines. Also, it allows you to see the city and is spacious – allowing enough room for wheelchairs, bikes and luggage.
If you're planning to Barcelona then use the streetcars on your vacation, it's best to print out this article so that you have all the information you need for your trip! If you need help looking for accommodation, then don't hesitate to visit our website or contact us.