The Torre Agbar, is a 21st century skyscraper situated at Barcelona's Plaça de les Glòries Catalanes. It was designed by the French architect Jean Nouvel, opening in June 2005. The King of Spain officially inaugurated it on 16 September 2005 . The tower has been named after its owners, the Agbar Group, a holding company whose interests include the Barcelona water company.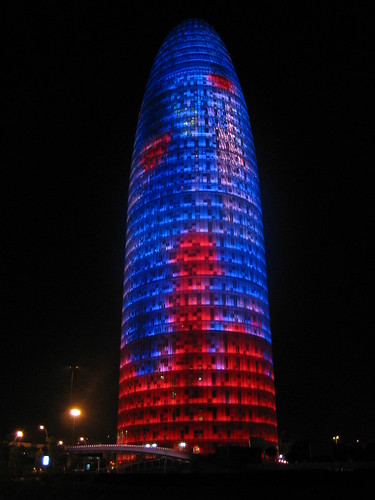 Find your accommodation now!
Description
Barcelona's Torre Agbar measures 144.4 m (473.75 ft) in height and consists of 38 stories, including four underground levels. Its design combines a number of different architectural concepts, resulting in a striking structure built with reinforced concrete, covered with a facade of glass, and over 4,500 window openings cut out of the structural concrete and looking over Barcelona.
The building is the third tallest building in Barcelona, only after the Arts Hotel and the Mapfre Tower, both 154 m. A unique feature of the building is its nocturnal illumination. It has 4,500 LED luminous devices that allow generation of luminous images in the facade. In addition, it has temperature sensors in the outside of the tower that regulate the opening and closing of the glass blinds of the facade of the building, reducing the consumption of energy for air conditioning.