One-day trip from Barcelona
Barcelona is a big city with lots of things to do, but when you prefer to go out of the city there are multiple possibilities as well. Outside of Barcelona there are many different activities you can do for a one-day trip. You can easily see the mountains, go to another city or go to a theme park. Read about the options for a one-day trip here.
One-day Trip to the Mountains
Barcelona is surrounded by mountains, but also outside of Barcelona there are quite some fun mountains to visit. If you love to go out of Barcelona for a good hike, then Montserrat is great. If you want to go out of the city to have a bit of fun on the slopes and ski or snowboard, then La Molina and Vall de Nuria are perfect for you.
#1 Montserrat
Montserrat is a place in the mountains with a very popular monastery. It is only a one-hour drive by car, or 2 hours with the train to get to the mountains, to escape the vibrant city. Many hikers go to the mountains to find their adventure for the weekend. THE MONTSERRAT MOUNTAIN has hiking routes for all levels. So, if you are planning a trip with your children, then do not worry because there is a hiking tour that is easy to walk for them as well.
If you are looking for more adventure then you can do the hardest route as well, it is a heavy climb but the view from the top is totally worth it. The highest point of the mountain is 1.236 meters high.
So, if you are already looking forward to a one-day trip to the mountains, you should definitely visit Montserrat. There are multiple guided tours as well, some even include lunch!
#2 La Molina
La Molina is just a two-hour drive from Barcelona and is very close to the border of France. To enjoy the slopes of La Molina to the fullest, best is to leave really early in the morning from Barcelona and come back in the evening. When you have the feeling that you need a few extra classes, La Molina also has twelve ski schools. The ski area of La Molina is combined with Masella by a big ski lift, this way you can also go to the more advanced slopes of Masella. In the ski area, there are not many restaurants, so the best is to bring some food.
#3 Vall de Núria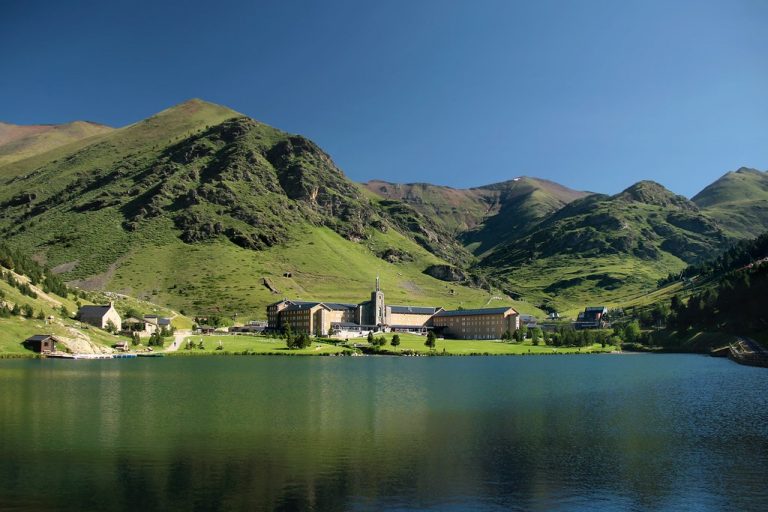 Vall de Nuria is close to La Molina and a great place to go skiing or snowboarding as well. Vall de Nuria counts 11 slopes plus a special slope for sleighs. There is one lift that goes up all the way to the height of 2.252 meters. In winter the area of Vall de Nuria is covered in snow, but during summer this part of the mountain is also great for hiking.
Both, La Molina and Vall de Nuria have ski resorts close by. If you have the feeling that one day is not enough you can spend the night in one of the resorts.
One-day City Trips
Although Barcelona already offers you the best city experience, there are quite some fun cities to visit that are really close to Barcelona. Some of the most beautiful cities to go to are Tarragona, Girona, and Sitges.
#1 Tarragona
Tarragona is about an hour drive from Barcelona and is really beautiful. The city is next to the sea and is full of Roman history. Many of the buildings have been reported on the World Heritage site by UNESCO. Tarragona is definitely worth a visit due to all the beautiful old buildings. If you want to know more about Tarragona, then READ OUR BLOG about this amazing city.
#2 Girona
GIRONA is a city up north of Barcelona. If you are a Game of Thrones fan, then this city offers you many exciting views. Girona is a very old city with lots of different buildings from the medieval age and roman age. A must-do is, walking on the ancient wall which is 1,5 kilometres long. During the month of May, Girona is celebrating the Temps de Flors festival. During this festival, Girona gets decorated in flowers by hundreds of floral artists.
#3 Sitges
One of the best summer destinations for a one-day trip is, Sitges. Sitges is famous for its many beaches and architectural heritage. The small-town counts 17 beaches, all of them have a great atmosphere and are really clean. If you are looking for a great place to party, Sitges offers you many options to party. Besides great beaches and parties, Sitges also has a great history with many beautiful old buildings and a few museums. So Sitges is a small city where everybody can enjoy some new sites.
One-day Theme Park Trips
Close to Barcelona, there are view theme parks that are worth the visit. If you are looking for a day full of adventure and excitement outside of Barcelona, then read on about the best theme parks.
#1 Port Aventura
Port Aventura World is one of the biggest adventure parks near Barcelona. The theme park is only a one-hour drive from Barcelona by car and less than two hours by train. This park counts two theme parks and one waterpark, the biggest park is Port Aventura Park. In Port Aventura park are many different attractions for every age. There are rides that have many loopings and go super fast, but there are also rides for children.
If you are looking for the fastest ride in Europe, then you need to go to Ferrariland. In Ferrari land, there are not many attractions, but the highest and fastest one is in that theme park. Also for small children, Ferrari land has a lot to offer. Besides Ferrari land, Port Aventura World has one waterpark. Here you can enjoy some of the most fun waterslides during summer. The waterpark opens from June to mid-September.
#2 Tibidabo
Tibidabo is an amusement park really close to Barcelona. From Plaça de Catalunya, it is only half an hour drive to get there. From the city, you can mostly see the Tibidabo Ferris wheel shining on top of the hill. Next to Tibidabo's amusement park there is also a huge church with an amazing view over the city. The Tibidabo amusement park has many attractions for children to enjoy a day full of fun and excitement.
So outside of Barcelona, there is a lot to do in very close distance. This was just a small list of activities you can do outside of Barcelona. If you want to discover more activities, then visit our blogsite.
Are you looking forward to visiting Barcelona, but have not made any plans? Make sure to check out our WEBSITE where you can get started on finding a comfortable place to stay! We offer various options at multiple price points in apartments so you'll be staying in a home.