Best Gastrobars in Barcelona
Are you hesitating between just having a drink or grabbing a bite but you don't want to eat the simple snacks from bar? Then, going to a gastrobar is the solution! This is a trendy concept where a bar meets a restaurant. Here you can enjoy both the bar atmosphere as the great restaurant kitchen, where you order high- quality dishes unlike the greasy snacks they normally serve in bars. It seeks to bring the haute cuisine to the most popular classes of serving author's tapas at affordable prices with table service.
What's a Gastrobar?
A "gastrobar" by definition refers to an establishment that offers signature cuisine with top-quality products and seasonal raw materials, all of which is transferred to portions, tapas and pinchos prepared at the moment, with the speed of a simple bar. And most importantly, an affordable price.
Because of the rising popularity of this concept, a city like Barcelona can't stay behind. That's why you can find a lot of gastrobars in this vibrant city! But with all the different gastrobars here, it is not easy to choose a good one. For this reason, we provide you the best gastrobars in Barcelona. Visit one of them and enjoy a nice cocktail with high-quality tapas!
# 1 Archimissa
The best gastrobar in Barcelona is definitely Archimissa. Their menu consists of a mix between the Catalan and Spanish classics and modern dishes, tapas and cocktails. And they only use high-quality ingredients to let you enjoy every bite of your delicious snack or plate. This gastrobar is a small and buzzing bar with a cozy modern interior, which makes it especially popular among young people.
Address:  Carrer de Vallhonrat, 19, 08004
Average price: 10 €
Opening hours: Monday 10:00–18:00; Wednesday and Thursday 10:00–23:00; Friday and Saturday 10:00–01:00; Sunday 11:00–18:00

Check out our website to find the best Apartments nearby Poble Sec!
# 2 La Tere
This gastrobar is located in the mist of Sants. La Tere is a modern place with its high ceilings, marble tables, shelves with bottles on and cosmopolitan look. They have a unique cuisine, that's why it attracts people from all over the world. Their menu includes various breakfast, lunch and dinner dishes from mediterranean flavors, Spanish tapas and other dishes from all over the world. To go with the food, they serve cosmopolitan cocktails, wines and different international beers.

Address: Carrer de Riego, 25, 08014
Average price: 15 €
Opening hours: Every day except Monday and Wednesday from 13:00-16:00 & 20:00-24:00
Want to stay close-by? Then take a look at our Apartments in Sants!
# 3 Creps al Born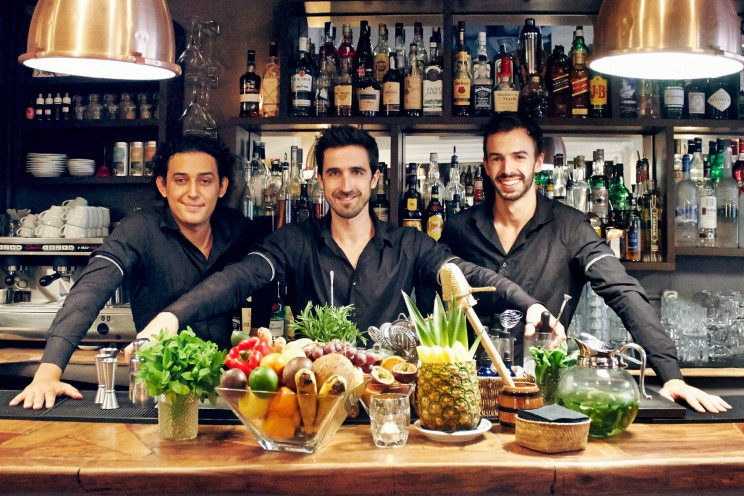 Do you like crêpes and cocktails? Then is Creps al Born the place to go! They offer an amazing assortment of special cocktails, both the basics as new inventions served in a creative way. Some of them are even presented with a fire act. For food, you can try different tasty crêpes made with fresh ingredients of high-quality, variating from crêpes with goat cheese and vegetables to sweet crêpes with chocolate and strawberries as dessert. This makes the place perfect for a nice dinner, dessert or snack. The fact that the team of Creps al Born is very close, makes its service great and the atmosphere awesome.

Address: Passeig del Born, 12, 08003
Average price: 15€
Opening hours: Monday to Friday: 18:00-02:30, Saturday and Sunday: 12:00-03:00

To stay nearby, check out our Apartments near Born!
---
We hope you have the chance to try out one of our Best Gastrobars in Barcelona. Still looking for something to do before or after visiting one of these 'bars'? Check out all the activities Barcelona has to offer!