They attract the attention of people by being unusual and moreover are in key locations around the world. The flashy and comfortable designs are the dream of many people to relax, enjoy nature and subsequently get away from the city. Most importanly, this houses all have something in common; they are built on a tree. Further, these holiday tree houses have amazing architectural designs and are an inspiration to many who want to build one.
Find your accommodation now!
Here are 10 of the best tree houses in the world:
# 1 Teahouse Tetsu in Japan
This dreamy outside design was created by Japanese architect Terunobu Fujimori; but the real delight about this house is its surroundings. Moreover, its cover all-around by cherry blossoms this amazing view can be found in the tearoom at the Museum Kiyoharu Shirakaba, in Hokuto City, Japan.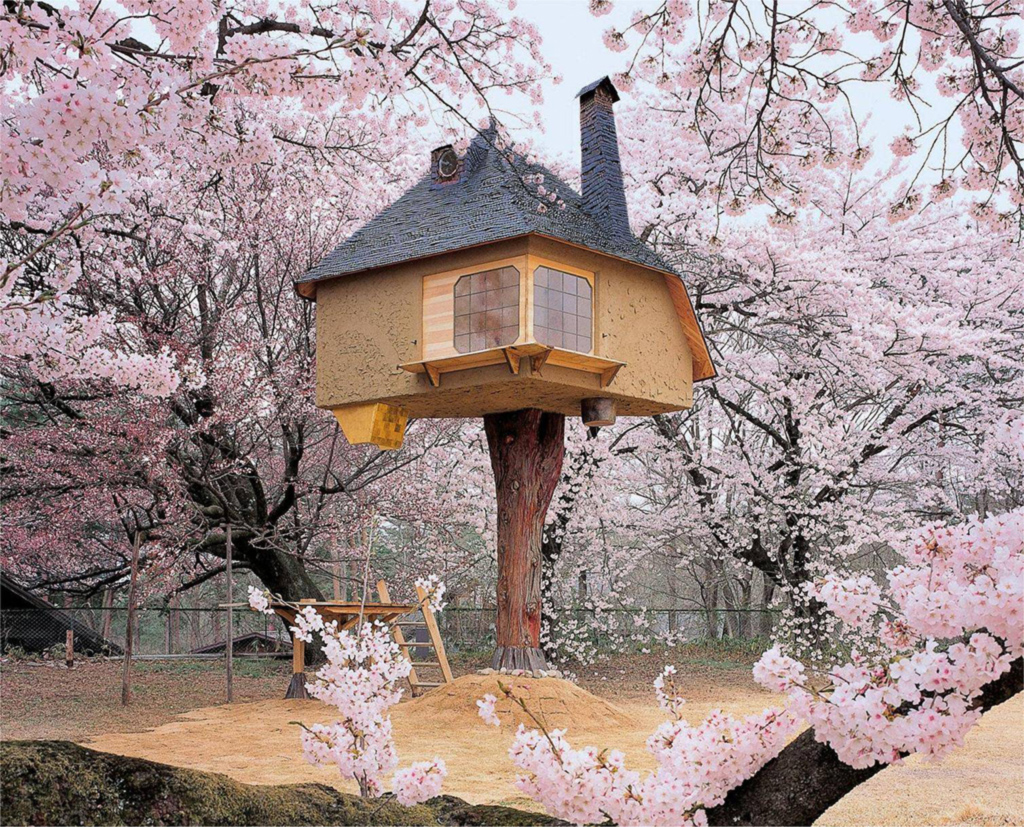 Source: www.architectull.com
# 2 Free Spirit Sphere in Canada
This intricate design came to life by the hands of Tom and Rosy Chudleigh. Moreover, this is a hanging sphere shaped house is in British Columbia, Canada. In the middle of the region of Qualicum Beach you will come across these incredible spheres, that were all in addition made by hand and suspended in just hanging ropes.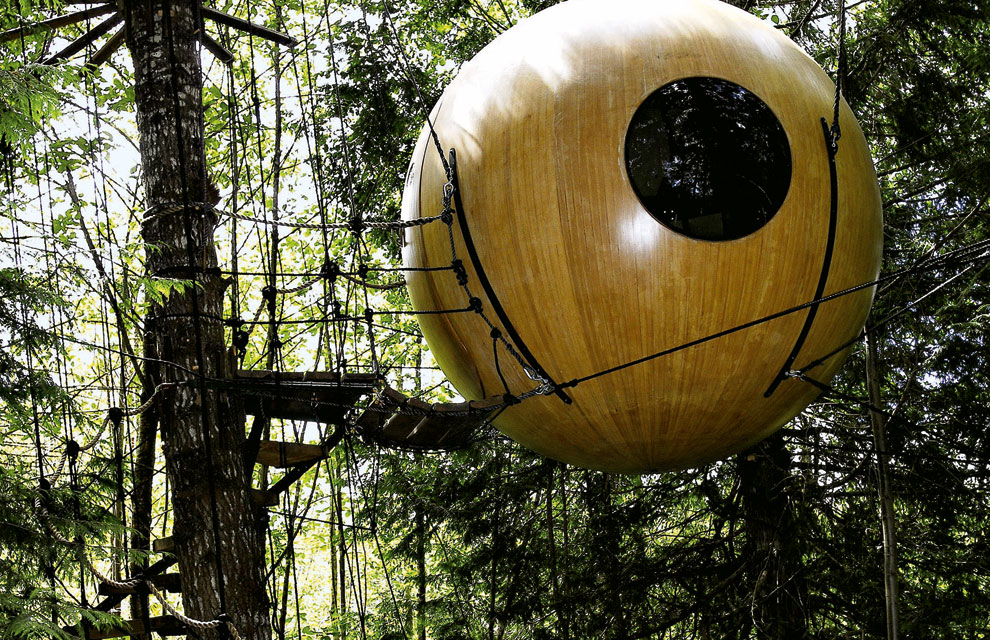 Source: www.tripadvirsor.es
# 3 The UFO in Sweden
This futuristic tree houses actually are part of a hotel! Ever want to get abducted by extraterrestrial beings? Certainly, this hotel that has a very original design; its architecture is inspired by a UFO. Moreover, it has a quota for five persons. For more information, the hotel company is "Treehotel", located in Sweden in a place called Harads.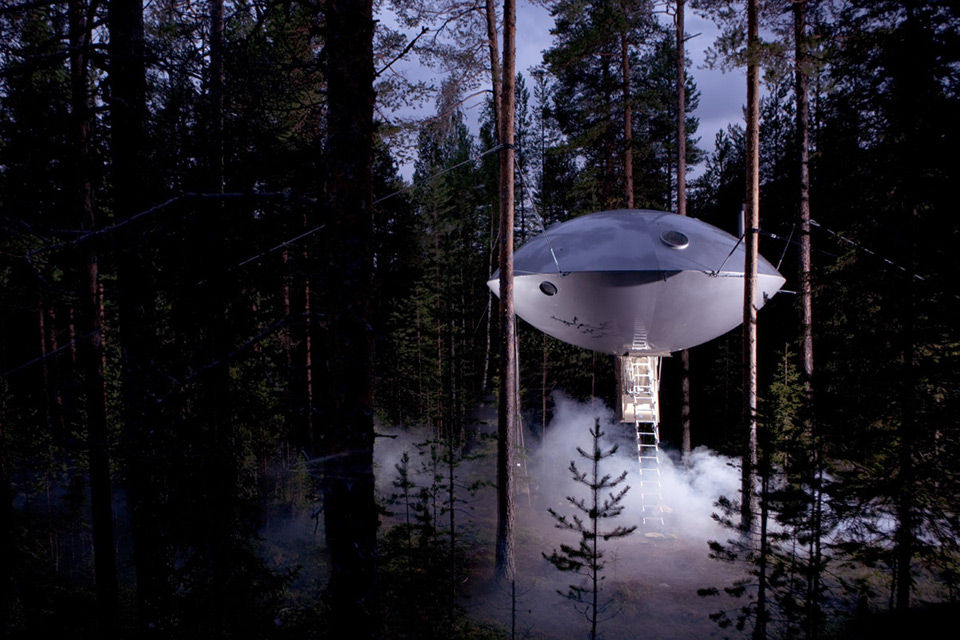 Source: www.treehotel.se
# 4 Canopy tree houses in Perú
Moreover inside the region of Port Maldonado in Perú, the "Canopy tree house" is uniquely designed for relaxation and an escape of the busy noises of the city. In the same vein, here you will see some exotic animals and hear the sounds of the jungle at night.
Source: www.treehouselodge.com
# 5 The blue cone in Sweden
This hotel is built among the trees, and subsequently to access to the house you have to go via a bridge that is close to a mountain. This wonderful hotel is further in the middle of nature and is notable for its deep red color; inside the house is constructed of wood and the best part is that it has its own restaurant, bar, sauna and relaxation area.
Source: www.treehotel.se
# 6 Wolgamott Roderick Romero in USA
Ever wanted to live like a real bird? Now it is possible! This home is simply spectacular; and in addition, its original design is shaped nest and that makes it unique among many. Don't miss out the opportunity to become one with nature traveling to Lake-Nest Tree Houses in New York, USA.
Source: www.inhabitat.com
# 7 Pubeton Chateaux Dans in France
Certainly this is not a dream: this is a real castle up in the trees! In addition of its unique structure, this amazing tree houses hosts inside a private spa and sauna. Relax like royalty in a castle in the woods in Nojals-et-Clotte, France.
Source: www.canopyandstars.co.uk
# 8 The Yellow House in New Zealand
In the beautiful country of New Zealand, "The Yellow House" is a cafe that's further imposed over a forest! In the same vein, those responsible for this unique project are Pacific Environments Architects.
Source: www.tripadvisor.co.nz
# 9 Casa na Arvore in Brasil
This picturesque tree house more structured like the playground paradise for children is further two-hours away from Sao Paulo. Certainly by just looking at this small house in the middle of trees one can feel the very spacious area; for instance, perfect for children to play around.
Source: www.smoda.elpais.com
# 10 The Tree Houses by Andreas Wenning in Germany
In the region of Osnabrück, Germany, this beautiful structure was created by the mind of Andreas Wennin. Most importanly, he is one of the most famous architects of tree houses. Moreover, he is very famous in all-around Europe and his work is of the most recognized worldwide! Wenning describes this tree house as the perfect place for a romantic getaway or an adventure with friends!
Source: www.smoda.elpais.com
---
Are you planning a trip to Barcelona and for instance are looking for somewhere to stay? Thus why not take a look at the AVAILABLE APARTMENT RENTALS ON OUR WEBSITE! Please feel further free to contact us with any questions you may have.