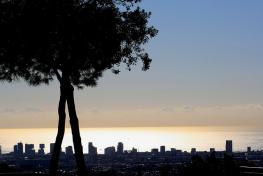 Apartments in Ciutat Vella, Barcelona | Short or long term rent
Are you looking for apartments for rent in Ciutat Vella? Check our list of apartments in Ciutat Vella Barcelona, and find the accommodation you were looking for. If you don't know much about the Barcelona regions and which one to choose, Barcelona Home prepared here help for you. Why choose apartments for rent in Ciutat Vella? The name "Old City" of this neighborhood comes from the prevalence of Gothic buildings, which will be a break from your usual routine if you are not used to this kind of architecture. This is the best place to stay for a short term vacation, due to its proximity to a lot of tourist attractions such as the Palau Guell or even to live for a longer period, because of its placement in the heart of Barcelona and its closeness to the sea. Ciutat Vella also has a labyrinth of nice shops, bars, cafes, and good restaurants where you will enjoy the best traditional Catalan cuisine. In this area of Barcelona, thanks to its good public transport connection, you will have easy access to the main tourist attractions and the other neighborhoods of Barcelona. In a short walk, you will find the most famous street of the city: the Rambla, and many beautiful places like Plaza Catalunya, Plaza Reial and Plaza de la Seu where you can find the famous Cathedral Santa Creu.

During your stay in Barcelona, you should definitely put Ciutat Vella on the first place of your "places to visit" list. This is the oldest area of Barcelona and is very admired by the tourists because of its distinct and truly unique architecture. It would be even more interesting to rent an apartment in Ciutat Vella to live in the core of this beautiful capital of Catalonia. Our Ciutat Vella apartments are the ideal location if you want to stay in the center of Barcelona. That's great because we do have a couple of apartments in Ciutat Vella to propose you. Starting from studio apartments to luxurious penthouses and houses, from cheap apartments to the expensive ones. You can always contact us, to receive some advice about accommodation, or assistance in choosing some apartments for rent in Ciutat Vella.


Latest reservation 13 minutes ago