In recent years Barcelona has made a serious effort to make the city more easily accessible for disabled (or, rather, differently abled) visitors. We at Barcelona Home have rounded up our top three handicap-friendly Handicap Apartments Barcelona, to provide equal access to guests who may be physically, sensorily or otherwise impaired. In selecting these apartments we focused on key features such as ample space in bedrooms and common areas, parquet floors providing smooth motility, and furniture and outlets low enough for the disabled to easily reach.
From € 2049 / MONTH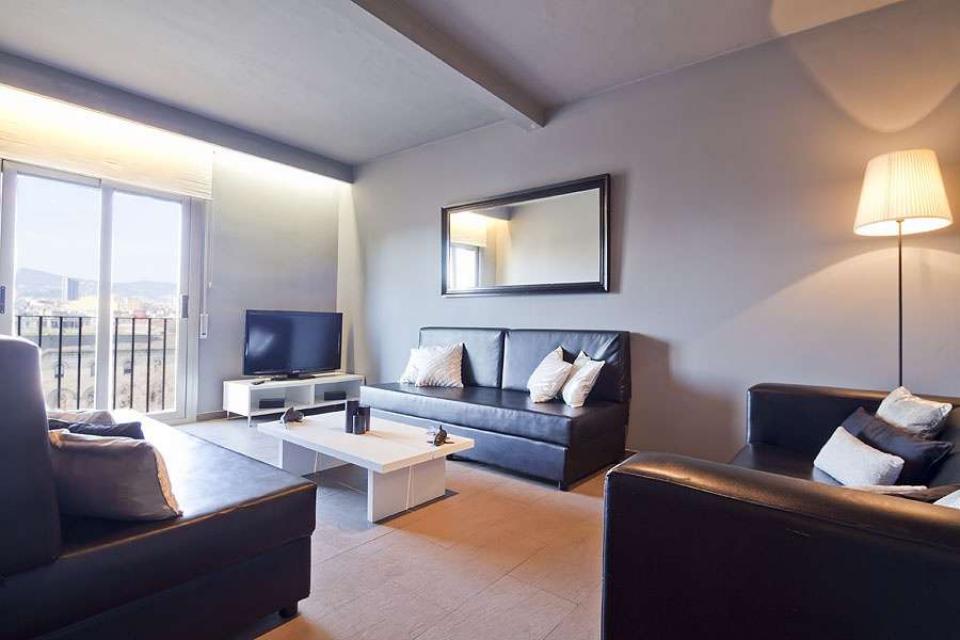 We chose this centrally located month-rental for its spacious interior, smooth hardwood floors and the excellent quality of its services. The living area is furnished with comfortable sofas that fold easily out to become beds, allowing guests to lounge in the living room while listening to music or watching a movie on the flatscreen TV. Although the balcony itself is too quaint to be wheelchair accessible, the apartment´s location on the 7th floor of a modern building guarantees a large amount of sunlight during the day and great views of Plaza de Universitat from each room. The apartment also comes with four very broad bedrooms and a kitchen with a table low enough for our wheel-chaired guests to comfortable prepare dinner on. The building comes with a lift and doorman who is happy to help in any way. You will love the location of this lodging, one of our favorite Handicap Apartments Barcelona, just steps away from the famous Las Ramblas, Passeig de Gracia and Plaza Catalunya. The nearest metro station, Universitat (L1), has lifts for disabled access and travelers with wheelchairs.

From    220€ / NIGHT
From 3800€ / MONTH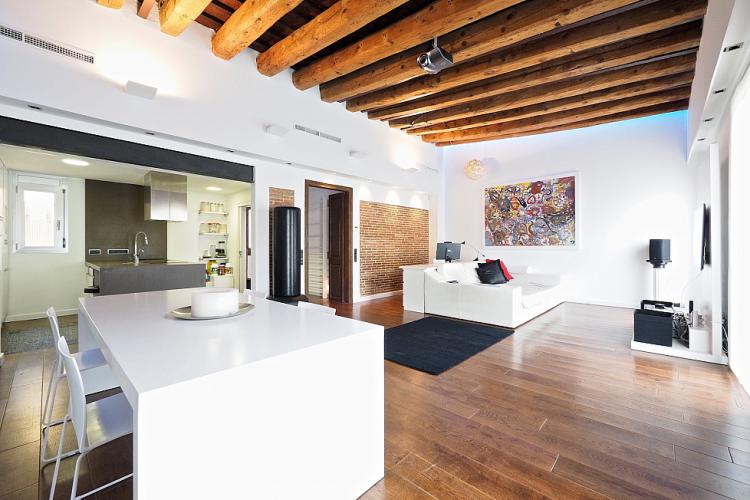 This fantastically located and luxurious penthouse apartment showcases a perfectly harmonious blend of contemporary and rustic components, with dramatic wooden beams in the ceiling, exposed brick walls, bright white furniture and modern art hanging on the walls. While the ceiling is almost 5m high, many of the furniture and electrical outlets are low enough for our wheel-chaired guests to easily reach. There is also plenty of space in the common area, which consists of a lofty living room, elegant dining area and large open kitchen, to fit wheel-chairs comfortably. You will love the enormous sofa in the salon, perfect for multiple people to lounge on while drinking a glass of wine and waiting for dinner to finish cooking. The apartment is located on the 4th floor of a building with lift access, optional parking and 24 hours emergency phone. The apartment is pet-friendly and guide dogs are welcome.
License : HUTB-001245

From      66€ / NIGHT
From 1350€ / MONTH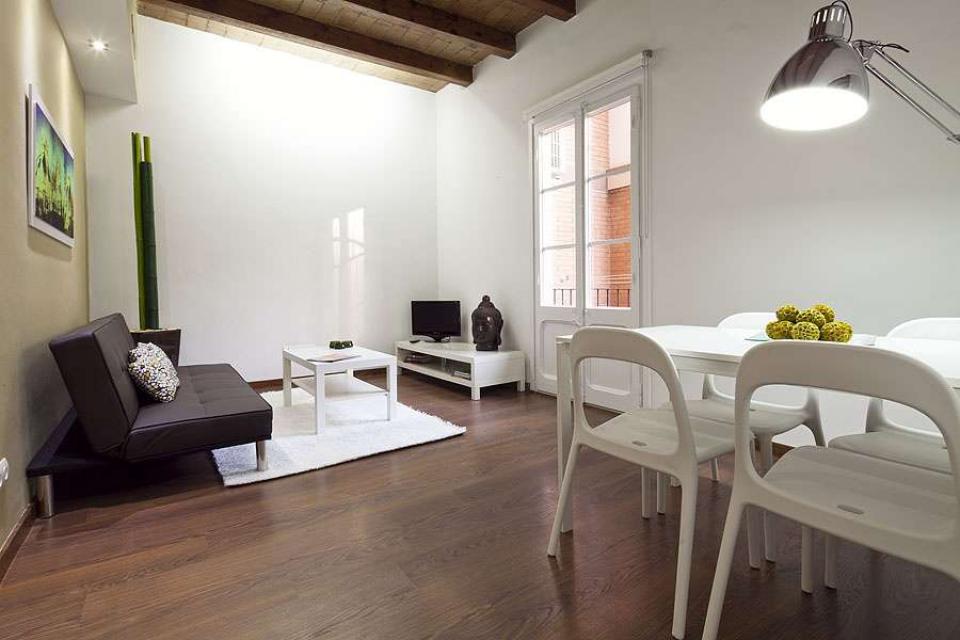 This gorgeous short- or long-term rental is one of our favorite Handicap Apartments Barcelona. The interior showcases a harmonious blend of the contemporary furniture and decorations characteristic of a modern apartment with many of the charming classic features of Barcelona´s bourgeois residences. The latter include high ceilings, exposed wooden beams and smooth hardwood floors easy to move against in a wheelchair. You´ll love the tasteful color scheme of the interior, with moss green walls harmonizing fantastically with dark brown wood and white.
The spacious living area comes with a low sofa and table, as well as a balcony that provides plenty of sunlight to enter the space. You will love the three large bedrooms, two with a double bed and one with a single, each with plenty of closets to maximize storage space. The building has lift access and many of apartment´s outlets and light switches are low enough on the wall for our wheel-chaired guests to reach. The apartment is located in the elegant Eixample district, just steps away from Gaudi´s famous Sagrada Familia, which has recently obtained an accessible entrance and ramps throughout the visitor path, allowing handicapped guests to visit the church easily. The monument´s namesake metro station is just a few minutes away, with lifts for disabled access.
License : HUTB-002031

All of the properties highlighted in our list of favorite Handicap Apartments Barcelona have several important features in common. They all come with lift access and a 24 hour emergency phone to guarantee the security of guests. They are also all pet-friendly, meaning that guide animals are welcome. Each of these apartments features a sleek, modern interior with smooth surfaces, easy-to-reach outlets and ample space to accommodate wheelchairs. They also all boast central locations in Barcelona, making access to the city´s most famous tourist attractions quick and easy.

Enregistrer