Halloween in Barcelona is also a traditional folk and pagan festival originating in the Anglo-Celtic Islands and celebrated on the evening of October 31. Indeed, it is the eve of the Catholic feast of All Saints' Day. Also, its name is a contraction of the English All Hallows-Even. Thus, that means the eve of All Hallows' Day in contemporary English and can be translated as "the eve of all saints" or "All Hallows' Eve".
Barcelona and Spain as a whole love to celebrate Halloween. However, Halloween in Barcelona, the festival goes far beyond a day of just trick or treating. It begins on October 31st. Many people will be dressed up in scary costumes and the weekend is most likely best experienced wearing one. Obviously, everyone parties harder in a special outfit!
Origins of Halloween
The festival lasts for three days and gets the name of "El Día de Muertos" (the Day of the Dead). Indeed, the festivities begin on the 31st of October, as they do wherever Halloween is celebrated; but get to an end on November 2nd.
During these three days, families gather to commemorate the life of their departed loved ones. According to the traditions, the deceased loved ones would return to the land of the living to spend some time with their families.
Also, let it be said that these festivities are not only designed to honor the dead, but they also serve as to celebrate the continuity of life.
Celebrating Halloween in Barcelona
Truco o Trato
Halloween in Barcelona arrives and with the date appear the costumes, the scares, the terrifying plans and, of course, the mythical phrase that characterizes this day: trick or treat? But… Do we know what these words mean and do we know why they are still said today? Trick or treat is one of the activities that most characterizes this holiday, in which children go out dressed up as terrifying characters and walk around their neighbors' houses in search of candy; although it has been one of the last elements that has been associated with this holiday.
When we open the door of our house and we find children in costumes telling us the famous trick or treat. In first hand, we must know what mean each word; if we don't, we will probably get a surprise or two! However, its the trick that's always a small or not so small mischief on part of the children when they don't receive candy or sweets.
On the contrary, if you choose to treat, you have the duty of offering some kind of candy to the children if you want to save yourself from that mischief! We advise you to buy some good candy every year when this date is approaching, just in case you are lucky enough to be visited by these little 'monsters'.
La Castanyada
Instead of only the Halloween festivities, in Catalonia people also celebrate a festival called La Castanyada on All Saints Day or Tots Sants, which is on the 1st of November.
Autumn is synonym with dry leaves falling from the trees and… Chestnuts! This is the typical fruit of this season and even if they can be eaten throughout the Fall season, there is one night that can not miss: the night before All Saints' Day. In fact, the origins of this festivity are closely linked to All Saints' Day.
Many years ago, the Castanyada was a celebration dedicated to the dead. Chestnuts were eaten in a family atmosphere; and a ceremony of worship was held with a very serious and respectful attitude. There was a belief that for every chestnut eaten that night, a soul was released from purgatory.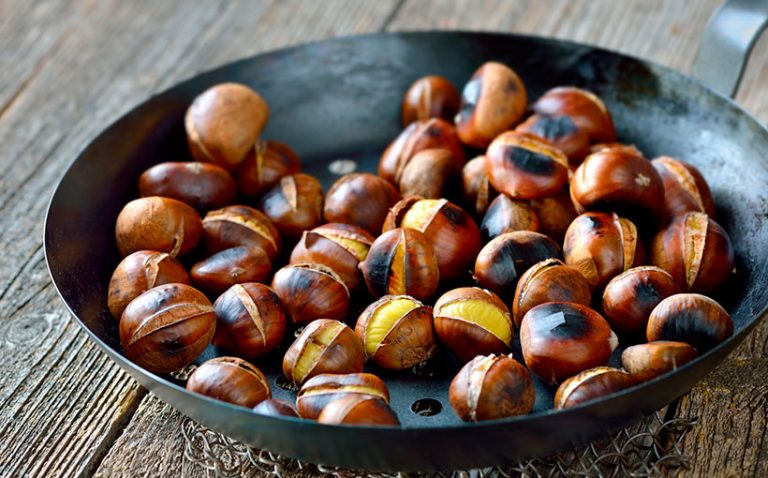 With autumn comes the cold weather, and the gastronomy was adapted to the needs. Chestnuts and sweet potatoes, the second main ingredient of this celebration, were roasted in the streets of every town, village and city. Nowadays, however, the Castanyada is a party where friends and family get together to have a good time and a good dinner. In the desserts menu we include: chestnuts, sweet potatoes and Panellets.
Visits to the deceased
On this day many people take the opportunity to go to the cemetery and visit the graves of their deceased relatives. This custom was already done in Roman times, but the tradition of doing it on this day comes from the 7th century: Pope Boniface IV consecrated the Pantheon of Rome in honor of the Virgin and all the Martyrs (for the Romans the pantheon was the temple dedicated to all the Gods).
From that moment on, every year a celebration was offered in her honor. In ancient times, the bells of all the churches in the territory were rung to let everyone know that it was time to remember and pray to the deceased.
Change this image for one more according to the content:
The Halloween nightlife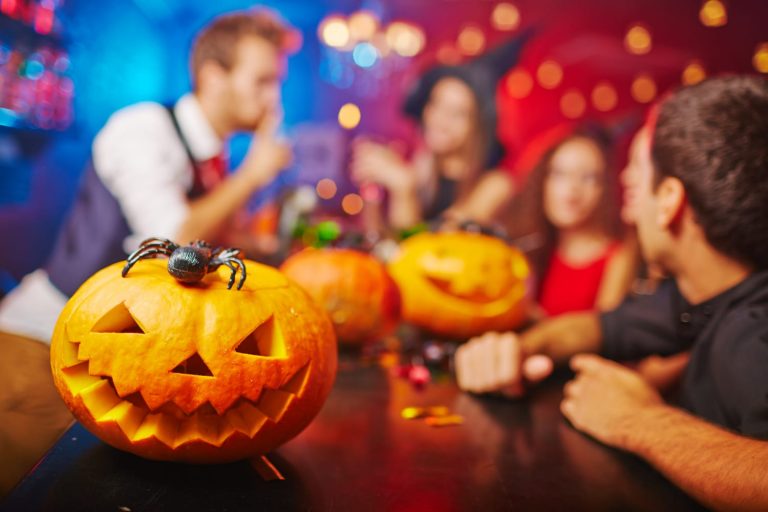 Most big bars and nightclubs will be having their own special Halloween parties. Nocturna Festival has been running on Halloween in Barcelona since 2001 in Salamandra 2. It's especially popular within the goth and metal scene due to it's heavy music and overall dark theme. There will be live music, a cabaret show and fetish and freak shows, just to name a few. It's a mandatory to be wearing a costume, so you have to get ready before going there!
Sala Salamandra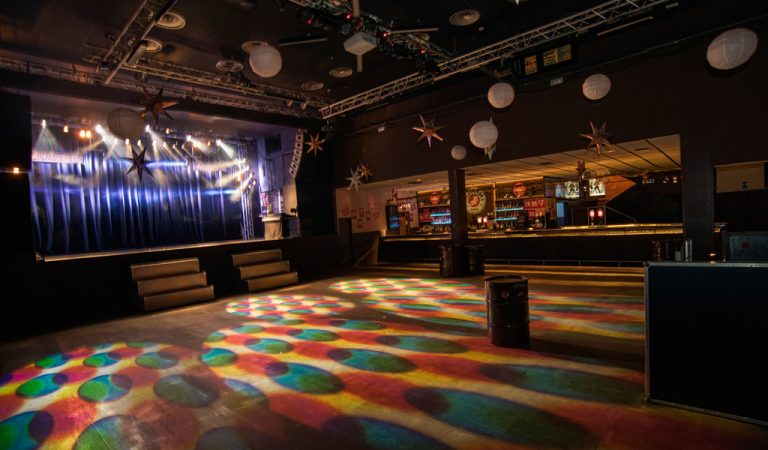 Address: Av. del Carrilet, 235, 08907 L'Hospitalet de Llobregat, Barcelona
Opening hours may vary
Ruta de Altares
Ruta de Altares is a Mexican tradition. It arrived to Barcelona a few years ago; moreover spreading the knowledge of the Day of the Dead, which is actually one of the most cherished festivities in the Mexican culture. The route consist of themed altars, called the "Living Memory"; and is the central point of the event in Barcelona. Every altar is dedicated to a different cause and they are situated around the city within different bars, shops and restaurants. More information and the map for the altars can be found here.
PortAventura
PortAventura is the second biggest theme park in Europe and will be holding a Halloween themed party. There will be special shows and parades with monsters, zombies and ghosts with entertainment for the whole family! The theme park is located about 100 kilometers outside Barcelona. Thus, it would be better if you had the whole day to spend there.
Address: Av. Pere Molas, Km 2, 43840, Tarragona
Opening hours: Monday to Sunday 10:30 to 23:00
Escape rooms
Horror Box
Horror Box is a brand of escape game in Barcelona that offers 3 escape game rooms: Catalepsia, Jigsaw and Ouija. Indeed, it is the best place to spend Halloween with friends or family and have the fear of his life in these 100m ² of horror. Escape Room is an escape game where a group of 2 to 6 people will be locked in the bathrooms of an old factory. Participants must solve tests of logic, intuition, skill… to escape in 60 minutes. A game that encourages teamwork and that will only be completed by those who manage to overcome their fears. Do you dare?
Address: Calle Industria, 268 Barcelona
Opening hours: Monday to Sunday 10:00 to 22:00
More events!
There will be a lot more events going on Halloween in Barcelona. However, if none of these events caught your attention, you can just put on the most disturbing costume you have? Then you can just hit the streets to see where you'll end up in celebrating the Day of the Dead!
Are you planning a trip to Barcelona and looking for somewhere to stay? Why not take a look at the AVAILABLE APARTMENT RENTALS ON OUR WEBSITE! Please feel free to contact us with any questions you may have.