Craft beer has recently become a trend all over the world. Needless to say, Barcelona has been swept up in the trend as well. Whether you prefer a dry or fruity flavor, you can definitely find your Mr. Right in the Barcelona craft bars! To assemble our list of top craft beer bars in Barcelona, we asked the locals to share their secret about their favorite spots. Here is what they said:
Biercab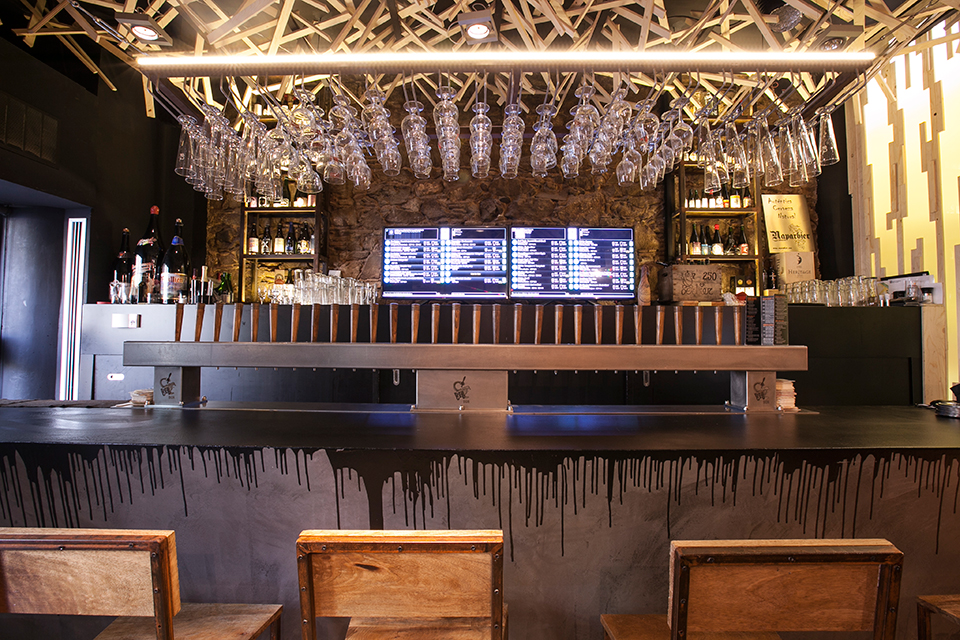 Located in the heart of the elegant Eixample neighborhood, Biercab is always a popular choice. They have 29 varieties of fresh beer from all over Europe on tap, waiting for you at their long bar. Something slightly bitter or something breezy and sweet? Novice beer enthusiasts may at first be dazzled by all the choices, but you can always ask one of their friendly and helpful bartenders for advice and samples to help you choose the perfect beer for your night out. Biercab also offers many luxurious bottles of beer. Check out the brochure for these at the bar!
Address: Carrer Muntaner, 55, 08011 Barcelona, Spain
Photo Credit: http://www.blacklab.es/

BrewDog
An international craft bars brand, BrewDog successfully swept Barcelona and quickly conquered the hearts of locals. The brand originated in the UK, where two young men (and a dog) grew tired of industrially brewed ales dominating the British drinking market. The initial success of their homemade beers at local fairs gave them motivation. BrewDog started its journey of brewing beer in 2007 and in 2015 they already owned 44 bars around the world. Besides their own signature beers, they also carry a nice selection of bottled beer. During your visit in Barcelona, you definitely won't want to miss this craft beer Mecca.
Address: Carrer de Casanova, 69, 08011 Barcelona
Garage Beer Co
Speaking of authentic homemade beer, Garage Beer Co's stainless steel brewing equipment, visible to visitors at the bar, should persuade you that you´re having the real deal. The brew pub offers a selection of 8 taps at the bar. These choices are all brewed in house, on the spot. Ask the proud staff about the beers and have some samples before picking the right one!
Interested in staying near Garage Beer Co? Then check out our Accommodations in Eixample!
Address: Carrer del Consell de Cent, 261, 08011 
Black Lab Brewhouse 
Before heading to the beach, nobody will blame you for pampering yourself with an icy-cold, home-brewed beer or two. The philosophy behind Black Lab Brewhouse involves the treatment of the act of brewing beers as an art, instead of an industry. This is, after all, the key to making good stuff, isn't it? Offering a wonderful selection of craft beers paired with a menu focused on Asian-American cuisine, this place will simultaneously fulfill two of your deepest desires.
BlackLab is located in the dynamic Barceloneta neighborhood. Interested in renting an apartment there? Then check out our Accommodations in Barceloneta.
Address: Plaça Pau Vila, 1, Barceloneta, 08039