Homesick expats and locals with a craving for a good burger and french fries, welcome! We have rounded up the Top American Restaurants in Barcelona; three fantastic foodie establishments guaranteed to leave you feeling satisfied by classic American fare. Whether you're in it for the chili dogs or you're in need of a frothy milkshake after a long day at work, you have come to the right place. So grab some extra napkins and read on!
Find an accommodation now!
# 1 Big Al's American Kitchen
Craving a burger bigger than what you can hold in the palms? One that oozes meat juice, condiments and melted cheese all over your hands? Then check out the first of the American restaurants from our list: Big Al's American Kitchen; near the Hospital Clinic metro station in Dreta de l´Eixample. Their signature Big Al Burger is a monumental stack of 4 juicy patties, cheese, crispy onions and bacon; their house-made pulled pork and local greens, such as tomato and jalapeños on a brioche bun. The meat is hydrated with garlicky aioli. But we definitely don't mind the garlic breath! This delicious creation is worth it. And did we mention, that if you finish the Big Al Burger in 30 minutes your picture goes up on their Wall of Fame? Feeling up for the challenge?
Along with their famous burgers, the restaurant also sells a wide variety of dishes great for sharing with friends; such as pulled pork nachos, quesadillas, onion rings and chicken wings. And to wash it down with, a wide selection of beers from Spain, Germany and England – an international twist to a fully American meal!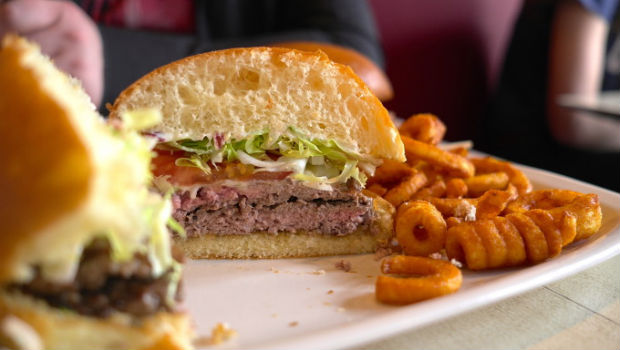 Source: foodieinbarcelona.com
Address: Carrer de Còrsega, 178, 08036 Barcelona
Opening hours: Every day from 13:00 to 16:00 & 20:00 to 23:00
Big Al's is in the elegant Eixample neighborhood, just meters away from many of our fabulous Eixample Accommodations. Moreover, the restaurant has an additional location in Sitges.
# 2 The Ranch Smokehouse
Another of the American restaurants on our list is in the heart of the bustling Plaza Catalunya, just a few meters from some of the most popular bars and other nightlife spots in the city; The Ranch Smokehouse is a place with a rustic atmosphere with bare wood decorations; with an aesthetic of a true American smokehouse, as depicted in American films.
If the Smokey vibes from the booths and wooden decorations on the walls don't get you feeling invited already, the menu for sure will. Here it's not just about burgers and french fries. The restaurant offers a wide range of classic westside & tex-mex American food; including hot dogs, nachos, steaks, baby back ribs, onion rings and more. Enjoy this menu made with local, organic and smoked meat for hours; hamburgers, smoked meats, beers and cocktails!
Address: Ronda de la Universitat, 20, 08007 Barcelona
Opening hours: Wednesday to Sunday from 13:00 to 24:00
The Ranch Smokehouse is located in the very center of the city; one that we further recommend highly to those visiting Barcelona for holidays or those moving here for a long-term stay. To see some of our most popular accommodations in this area, check out our Apartments close to Sagrada Familia page.
# 3 Peggy Sue's
Choose your favorite classic tunes on the jukebox, kick back and relax at Peggy Sue's; a 60's themed American restaurant named after Francis Ford Coppola's famous "Peggy Sue Got Married". The kitchen uses fresh, conservative. and additive-free ingredients to produce some of the best American food in town; everything from steaks, hamburgers and fries to fresh salads, healthy wraps and BBQ chicken wings. Create a personal burger by stacking classic beef, grilled chicken or breaded chicken with bacon, tomato, onions, and cheese. Add a variety of cheeses and extra to make it your own! And for dessert, try their famous pink carrot cake (it matches the decor!); classic New York cheese cake or brownie drizzled in hot fudge.
Peggy Sue's has two locations for American restaurants in Barcelona: Carrer Balmes (near the University of Barcelona); and Carrer de Josep Puig i Cadafalch (in Sant Cugat del Vallès). Pick the location that works best for you, grab some hungry friends, and join us for an American feast at this delightful diner, full of 60's charm.
Address: Carrer de Balmes, 24, 08007 Barcelona / Carrer de Josep Puig i Cadafalch, 26, 08172 Sant Cugat del Vallès, Barcelona
Opening hours: Every day from 13:00 to 23:30; Fridays and Saturdays till' 00:30
If you're further seeking accommodation near Peggy Sue's check out our Apartments in Eixample!
Subsequently, if you have a passion for American food, this guide made by our team at Barcelona-Home will help you find the perfect restaurant for you. Moreover, on the site BARCELONA-HOME you can find where to stay next to the listed places in the article!