The 5 best Açaí bowls in Barcelona
Spring is at its best and the sun is getting stronger. That means only one thing, the time has come for the Açaí Bowls! Haven't heard of the Açaí Bowls yet? Açaí na tigela is a typical Brazilian dish made from frozen and crushed açaí palm fruit, native to the Brazilian rainforests. It is served as a smoothie in a bowl or glass and is commonly topped with granola and banana. Moreover there are many places in Barcelona where you can enjoy this cold dish. Not only does it taste amazingly good, but it is generally presented very well.
# 1 Sunday Surf Café
A good place to enjoy a typical Brazilian dish is the Sunday Surf Café. They are served in very cute bowls made from coconut shells along with a wooden spoon. These Açaí bowls are topped with granola, banana, grated coconut, and seasonal fruit. In the same vein the interior of the cafe is decorated with elements of surfing and the atmosphere is summery. In addition, there are many tables with chairs and stools to enjoy a Sunday brunch with friends.
Address: Carrer del Consell de Cent, 149, 08015 Barcelona
Opening hours: Monday to Friday from 08:30-17:00 / Saturday from 09:30-14:00
# 2 Flax and Kale
Flax and Kale is a well-known name when it comes to healthy eating in Barcelona. Plus, they also have Açaí bowls on their breakfast menu. The classic Açaí is made up of the Açaí blend; banana, watermelon, blueberries, homemade chestnut crumbs, agave syrup, hemp seeds, goji berries, strawberries and cashew milk. But its variation contains, among others, cocoa powder and homemade hazelnut cream.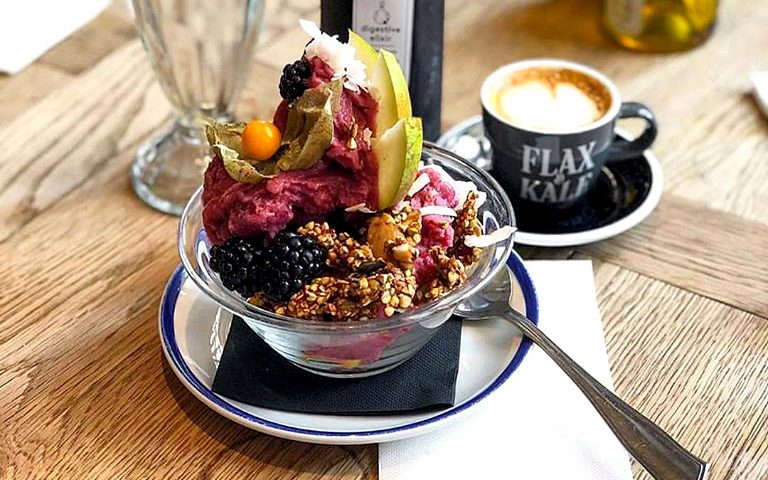 Address: Carrer dels Tallers, 74b, 08001 Barcelona
Opening hours: Monday to Friday from 12:00–17:00 / Weekend from 10:00–17:00
# 3 The Juice House
The Juice House is the perfect place for breakfast or brunch. Above all its rich Açaí bowl is composed of the mixture of açaí, bananas, strawberries, blueberries, fresh granola, coconut flakes and seeds. Plus, you can add some delicious peanut butter for a small additional cost of € 0.70.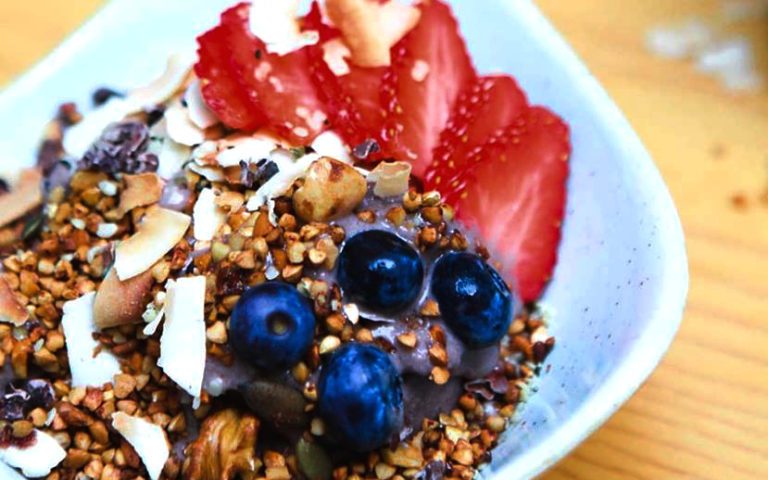 Address: Carrer del Parlament, 12, 08015 Barcelona
Opening hours: Thursday and Friday from 10:00–16:00 / Weekend from 10:00–17:00
# 4 FitBar
FitBar is a place to go if you fancy a refreshing tropical bowl while running errands or exploring the streets of Barcelona. It's a takeout place, where a friendly staff member serves you a fresh Açaí Bowl prepared right in front of you. The base for the majority of the bowls takes with açaí, granola and banana slices. Plus, you can add other ingredients like peanut butter, cashew butter, mango, strawberries, coconut flakes, and many more for an additional cost. You also have the option of adding yogurt and protein powder to your bowl of happiness. The price of the basic version is 5.90 euros; and let me tell you, it is a generous portion of delight.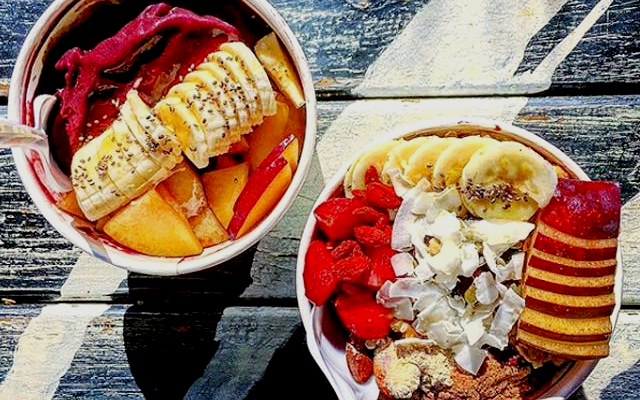 Address: Carrer de Sant Miquel, 41, 08003 Barcelona
Opening hours: Every day from 10:00–20:00
# 5 La Hamaca
La Hamaca Barcelona is a small fruit and vegetable shop that sells fresh juices, as well as organic and homemade products. With a location near the zoo, this place brings you a wide variety of natural juices, brunches, lunches and more vegetarian and vegan dishes to enjoy
Address: Plaça de Sant Agustí Vell, 15, 08003 Barcelona
Opening hours: Monday to  Saturday from 09: 00–21:00 / Sunday from 11:30–19:30
If you wanna stay inside for the day, why noy try to make your own bowl? Take a look at this video and make your own delicious Açaí Bowl from the comfort of your own home!
If you are planning a trip and looking for ACCOMMODATION in the great city of Barcelona, please feel further free to contact us or visit our website!