Top 5 Churrerías in Barcelona
Warm, caramelised, doughy and sweet. Who doesn't love churros? Be it for breakfast, lunch, a snack or dinner, these sugary treats are a delight. To fulfil your sugar cravings with something uniquely Spanish, be sure not to miss out on Barcelona-Home's top five Churrerías in Barcelona.
#1 Xuerria dels Banys Nous
Tucked away in one of the narrow streets by La Boqueria, Xuerria dels Banys Nous is number one on this list for a reason. This fantastic family-owned churro stand gets right down to business when it comes to the good stuff. To satisfy your fancy, they'll make you a fresh, piping hot cone of churros for just €1.20 to takeaways, as they don't have a café. Though this large cone of five churros may at first seem best to share, once you start it'll be impossible to stop… so we recommend you grab one of your own!
Opening hours: Monday – Sunday 7:00-14:00 & 16:00-20:00
Address: Carrer dels Banys Nous, 8, 08002, Barcelona

#2 Xurreria El Trebol
Source: www.culinarybackstreets.com
Barcelona's oldest churrería, El Trebol (meaning clover), is a local favourite for this fried and doughy delicacy. Another family-run churro shop, El Trebol is popular for its thicker and crunchier churros. Located in the heart of Gràcia, Xurreria El Trebol are open 24 hours on the weekend and thus the perfect post-pastry treat. This place even has an online delivery system, so you can get churros brought straight to your door!
Opening hours: Monday – Sunday 8:30-21:00
Address: Carrer Còrsega, 341, 08037, Barcelona

#3 Comaxurros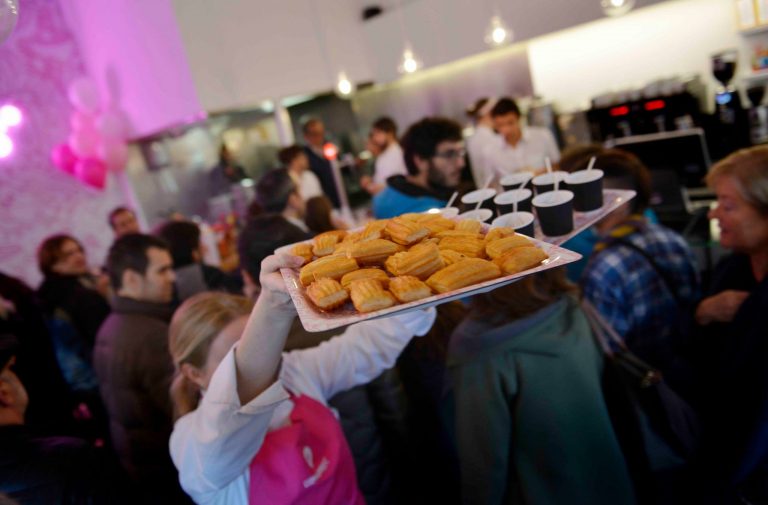 Traditional churros with a modern feel. The practically new churro shop Comaxurros, located on Calle Muntaner, has earned its stellar reputation over just the last few months. They're known for their modern twist on the snack and the variety of churros found on their menu. Pamper yourself with The Churro Jimènez, a churro served with lemon cream topped with toasted meringue. Or treat yourself to The Xurraco, a churro served with pistachio cream and raspberry jam. With a taste so perfect and unique, you'll soon want to try everything on the menu.
Opening hours: Tuesday – Friday 16:30-20:30 and Saturday & Sunday 9:00-13:30 & 17:00-20:30
Address: Carrer Muntaner, 562, 08022, Barcelona

#4 Granja La Pallaresa
Source: www.vamitatis.elconfidencial.com
The next two churrerías are on the same street, the narrow little Carrer de Petritxol in the Gothic Quarter. Famous for its thick and extra dark hot chocolate, Granja La Pallaresa puts all chocolate addicts on a high. Head over to tickle your tastebuds and dunk some churros in a warm cup of chocolate in this typical Spanish café. Just remember that one cup of chocolate is enough to share between 2-3 people!
Opening hours: Monday – Sunday 9:00-13:00 & 16:00-21:00
Address: Carrer Petritxol, 11, 08002, Barcelona

#5 Granja Dulcinea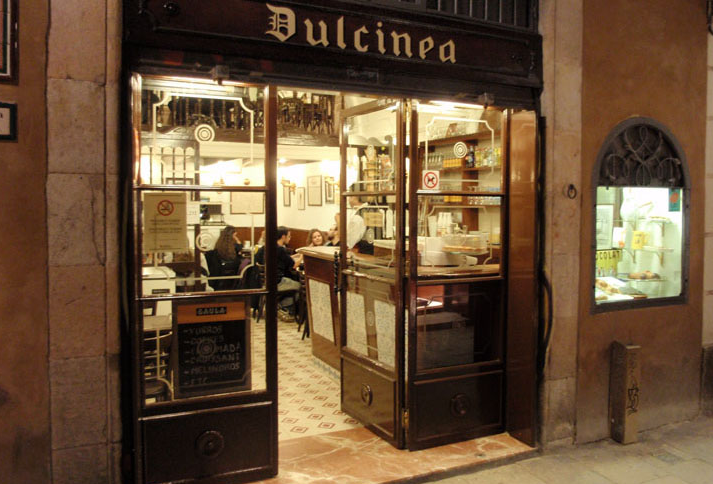 Unfortunately, we've reached the end of our churro tour around Barcelona. On this final stop, you'll find yourself indulging in hot chocolate, thick and sweet, with lightly sugared, fried churros to dip. This experience creates the perfect sensation of inner happiness and satisfaction. If you find yourself on Carrer de Petritxol, try either Granja Dulcinea o Granja La Pallaresa to delight your sweet tooth.
Opening hours: Monday – Sunday 9:00-13:00 & 16:30-20:30
Address: Carrer Petritxol, 2, 08002, Barcelona

Churros at Home
If you're not actually in the beautiful city of Barcelona but are still craving churros… why not make your own! Take a look at the video below to satisfy your churro cravings.
Are you planning a trip to Barcelona and looking for somewhere to stay? Why not take a look at the available apartment rentals on our website!
Please feel free to contact us with any questions you may have.