If you'd like to treat yourself with a bit of luxury on your holiday in the city. Then focus your vacation plans around renting a villa in Barcelona! The following tips hope to give you all the essential information on what you need to consider when booking a villas in Barcelona.
Checklist for Villas in Barcelona
Firstly, it is important to point out that most villas in Barcelona are located in the outskirts of the city and so you will find it hard to find anything in the very centre of the city near to Las Ramblas or Plaça Catalunya. However, the good thing is you will be in a much quieter and peaceful setting, and can be near to beautiful parks such as the iconic Park Güell. If you are planning to regularly visit the centre, then make sure you find out where the nearest transport links are. The transport system in Barcelona is very efficient and regular so it may not be as troublesome as you think. Furthermore, tickets are very cheap especially in comparison to other major European cities.
Rent: 20,000€ / month | 600m2 | Reference: BH-1081 | Address: Horta-Guinardó
For the villa itself, make sure you check out all the facilities before your booking; including air conditioning if you're staying in summer, internet and kitchen facilities. There are also many villas in Barcelona with pools and terraces available; for instance, a pool makes to add a truly feel of luxury to your holiday. It can make the perfect place to relax and chill out after a long and hot day sightseeing around the city of Barcelona. A villa is the ultimate experience of a grandeur holiday and provides the ideal accommodation if you want to live in style during your stay. If you take into account the above information then you will no doubt enjoy a fantastic holiday in your new found home. For more information or help in finding accommodation in Barcelona, visit our homepage.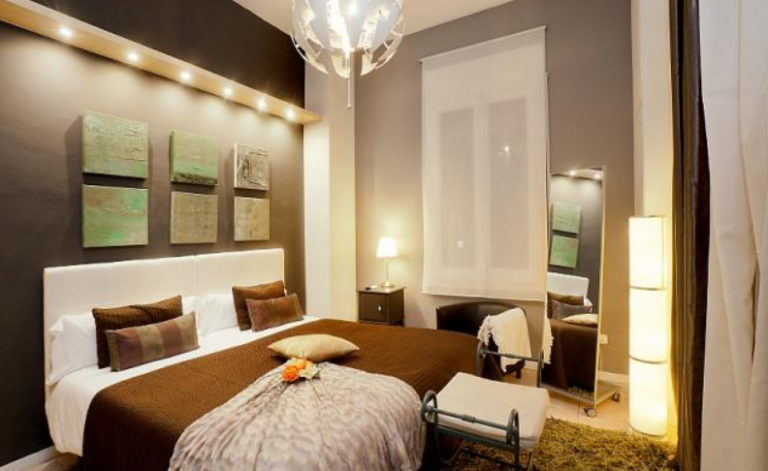 Rent: 25,000€ / month | 500m2 | Reference: BH-3492 | Address: Sant Andreu
This luxurious house with a huge capacity, it is the ideal place to spend an unforgettable holiday. When you enter the house you see a hallway leading to the living space, as well as the staircase. The living area is full of light with its tall white doors giving access to the backyard, its design is cozy and chic making you feel right at home. The kitchen is spacious and fully equipped with everything you need to cook, it receives plenty of light with its glass windows. All the rooms come with large wardrobes for all your clothes and belongings.
The bathrooms are modern, functional, and have large showers. We love the extra features of this house; such as the gym, the wine cellar, bar and its surveillance. It is perfect if you want to relax after a long day of sightseeing. The backyard is also enjoyable with its pool. Indeed, you can do a morning or night swimming after a long and tiring day.
This house is located in the residential district of San Andreu, where you can enjoy the parks and some of the districts markets. To go visit the rest of the city you can take bus station Pg de Torras i Bages-Els Segadors, as well as being able to use any private transport service that Barcelona Home can provide you with to spend an excellent holiday with your family or friends.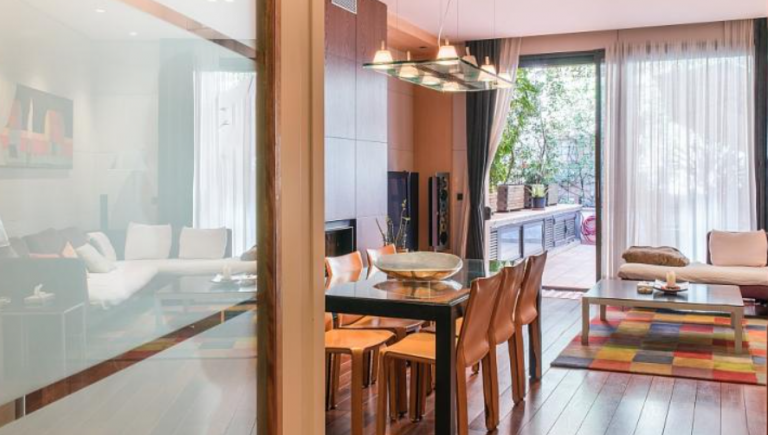 Rent: 9,000€ / month | 150m2 | Reference: BH-1109 | Address: Sants Montjuïc
Enjoy Barcelona in a luxury home! It is a beautiful house of 150 m2 located in a quiet residential area of the district Sants / Montjuïc. The house has a swimming pool (4 meters x 2 meters and 1.80 meters deep) and a large garden of 80 m2 with sun loungers and parasols, ideal for outdoor meals and enjoying the good weather in Barcelona. He has two double rooms and two triple rooms, plus two bathrooms with shower. All rooms have air conditioning and heating.
In addition, the kitchen is fully equipped with: dishwasher, oven, microwave, ceramic hob and everything you need to cook. And last but not least, have six bikes provided to ride around the area and enjoy the beautiful views from the mountain and even go to the beach. Together is the ideal choice for a family or group of up to 10 people who want to stay in a high-standard housing.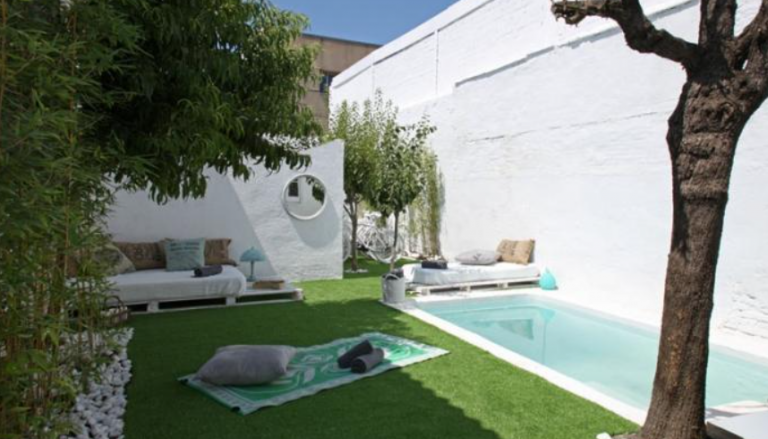 So, are you planning a trip to Barcelona and looking for somewhere to stay? Thus, why not take a look at the AVAILABLE APARTMENT RENTALS ON OUR WEBSITE! Please feel free to contact us with any questions you may have.