If you wish to rent a car in Barcelona you will first need to consider a few important things, which is why we've compiled them into an article to help you out.
If you're still not sure where to check for a car rental check out our partners at Rent A Car!
To find a secured parking spot in the city for the length of your stay, please check out our suggestions for car parking in Barcelona.
When renting a car, please remember to pay special attention to the following aspects:
# Insurance
If insurance is offered, it refers almost always to a partially comprehensive insurance.
On-site you will probably also have to get an all-risks insurance. This latter insurance is recommended in any case, because otherwise you will be responsible for any damages to the car up to a relatively high amount. The car rental company can easily find a way to blame you for scratches or damages to the underbody of the car. The costs of a full comprehensive insurance can vary from 10-30 euros per day to about 150 to 300 euros per month.
# Fuel Costs
It is also important to pay careful attention to fuel regulation. In some cases, you have to pay a fixed amount for a fully fueled car.
When returning the car, the tank can be empty in this case. The cost of renting a fully fueled car depends on the rental company but usually varies between 70 and 100 euros. The option of paying for a full tank in advance usually turns out being much more expensive than the option to get it without a full tank and just fill it up before returning it. Therefore, we advise you to select a rental company where you can return the car with a full tank.
# Age
Consider the minimum required age! Otherwise, you may be up for an unpleasant surprise. Some rental companies require that the driver be a minimum of 21 years old, while others require a 23 year age. Some agencies have an age limit of 25. For an individual under 21 years of age, it is nearly impossible to rent a car in Barcelona. In almost all cases there is a fee for drivers between 21 to 25, which varies between 5 and 25 euros per day. Caution! After you enter your age into the comparison sights listed above, the results may still show cars that you cannot legally rent, because you are too young. Therefore it is ESSENTIAL to read through the terms and conditions before renting and not just click on accept!
Although the Spanish provider Goldcar is often relatively inexpensive, you should be prepared for long waiting times. It is the only rental company that doesn't have a rental location directly at the terminal. You first need to wait for a shuttle bus that takes you in 10-15 minutes to the pickup-location, where you often have to wait for a long time again, especially in the summer peak season.
Once you have your car, remember to pay attention especially to all the scooters meandering through the cars. The biggest challenge for visitors tends to be the roundabouts. An important unwritten rule: If you want to take the first exit you should place your car on the far right. The later you want to leave the roundabout, the further you should place your car on the inner tracks of the road before entering!
# Parking
In Barcelona, the parking situation is a real disaster. If you are staying, for example, in Ciutat Vella, be prepared for extortionate costs for parking.
In special green and blue parking areas you are allowed to park your car for free on Sundays and weekdays between 8 pm and 8 am (overnight). However, at any other time, you will need a parking permit, which is really expensive. If you decide to leave your car without a permit, you will get a 25 € parking ticket in most cases. In the city center and also in the neighborhoods around it, there are hardly any other parking areas. Otherwise, you should therefore only rent a car if you´re planning a trip to places and beaches outside Barcelona. For urban transport, renting a scooter makes more sense, because you can park it literally everywhere! If you absolutely must rent a car and wish to leave it in a free area we recommend staying in one of our apartments in Montjuic Hill or looking at the accommodations in Gràcia.
As an additional Tip,
renting a scooter
in Barcelona can be a bit more practical to get around the city. If you're interested take a look at
Cooltra
where you can even find the option to rent a scooter
monthly
if you're here for a longer stay! 
If you're just looking for a faster way to see the city, a tour with GoCar will for sure provide you with an exciting and fun time.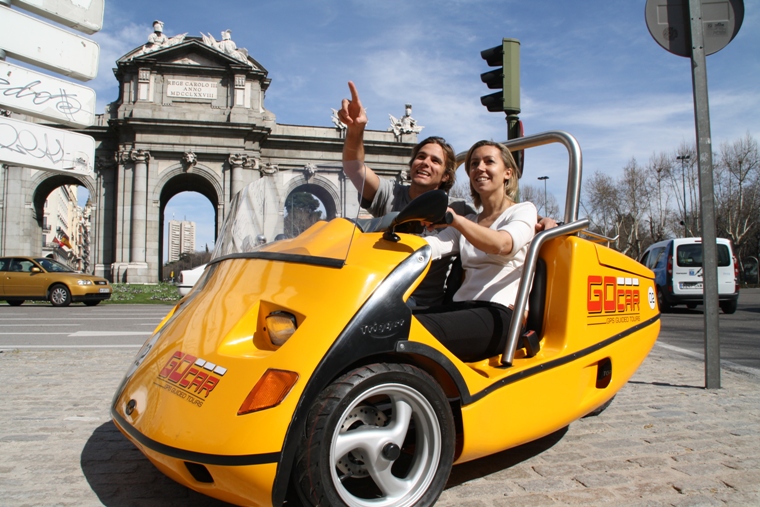 Busy planning your trip to Barcelona and still don't have a place to stay? We would love to lend a helping hand!