There are some big cities, which we've met many times before through movies and just start recognizing them from movie scenes when we actually visit them. It seems that Barcelona begins to acquire the status of a "movie set". We would like to make a small movie tour through Barcelona. Let's go!
We start with All about my mother (Todo sobre mi madre). This movie is Almodóvar's greatest work, beginning with a tragedy in Madrid, but soon after moves to Barcelona.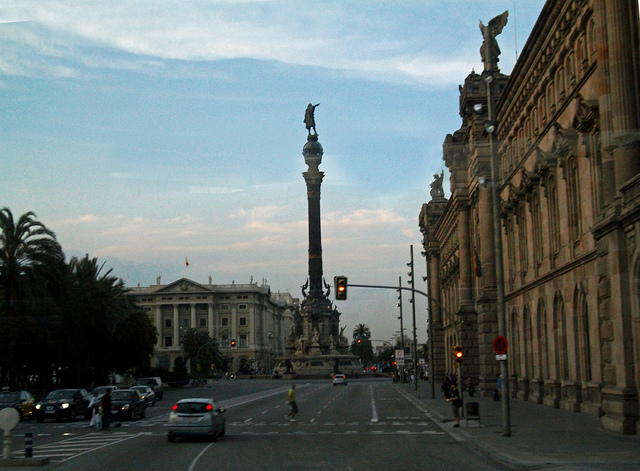 Columbus Monument (photo credit: Keith Laverack cc)
After the outrage of Manuela's son everything changes, thus haunted by the death of the "only person who had" traveled to Barcelona to get away from this memory, searching for her ex-husband . The first scene shows Barcelona with a taxi passing by the Columbus monument.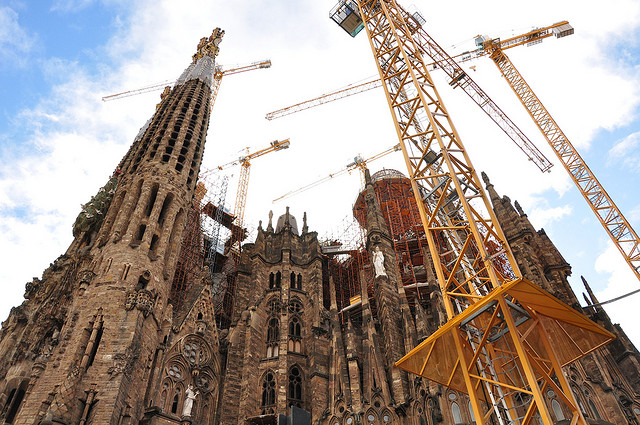 Sagrada Familia (photo credit: Francisco Antunes cc)
There is a scene with a breathtaking night-time glimpse of the Sagrada Familia, in which the sheer buoyancy of the city steers the film in a powerful and exciting new direction.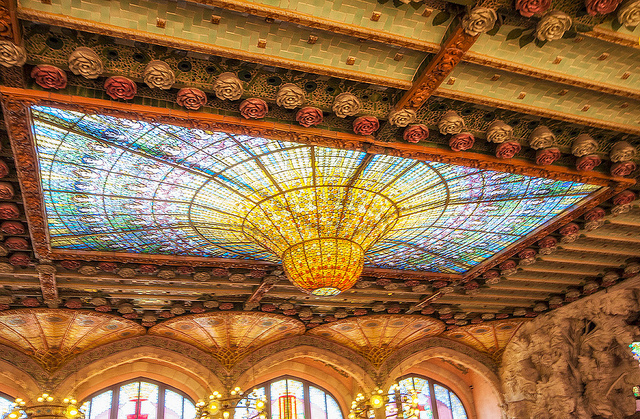 Palau de la Música (photo credit: OK – Apartment cc)
Manuela is looking for an old friend –  the transsexual prostitute La Agrado. She asks if she can stay a few days at her home until she finds an accomodation in Barcelona. The house is right in front of the Palau de la Música. This building was built between 1905 and 1908 and is a pioneer work of Catalan modernism. If you want to go there, it's on Via Laietana, 50. Metro Line 1 to Urquinaona.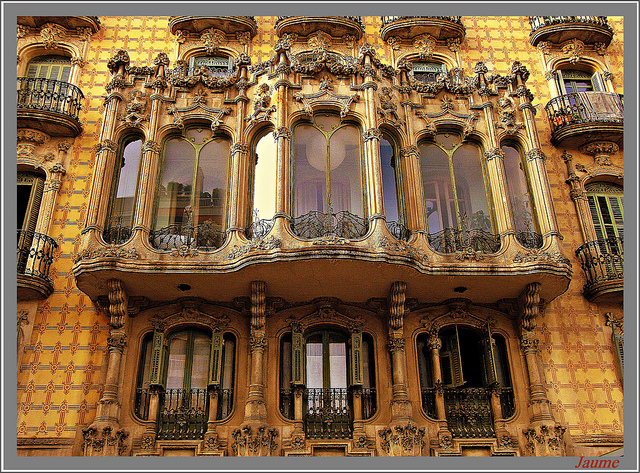 Cases Ramos (photo credit: Jaume Meneses cc)
Another modernist building. La Agrado and Manuela are looking for a job there, La Agrado after being struck and almost raped while serving as a prostitute in an empty storehouse. That's where she finds Manuela and together they decide to look for something better. In their quest to find something, they meet Sister Rosa, a nun who cares about sick people. Rosa asks her mother whether Manuela can work at her home as a housekeeper, but Rosa's mother denies the request. The house they live in is the Ramos house.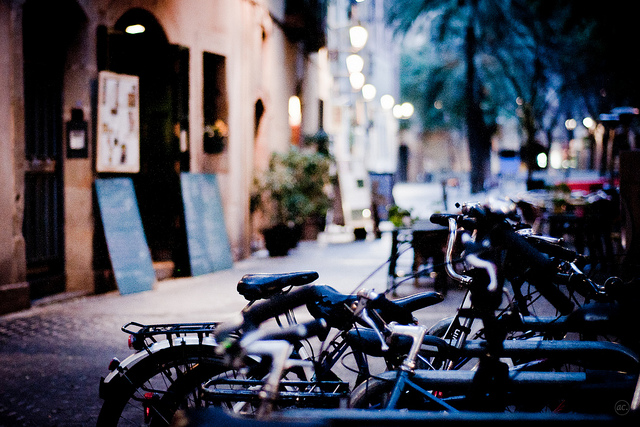 Allada Vermell street: (photo credit: Tchacky cc)
In this humble street Manuela and Rosa sit to talk about their future plans. Rosa confesses that she is pregnant and asks if she can go with Manuela to her home, because her mother was pregnant and would not accept being a nun. Pedro Almodóvar himself described the street as a mixture of Havana, Marseilles and Naples for its explosive vitality. The street is very close to the Picasso Museum, the church of Santa María del Mar and the old Born market.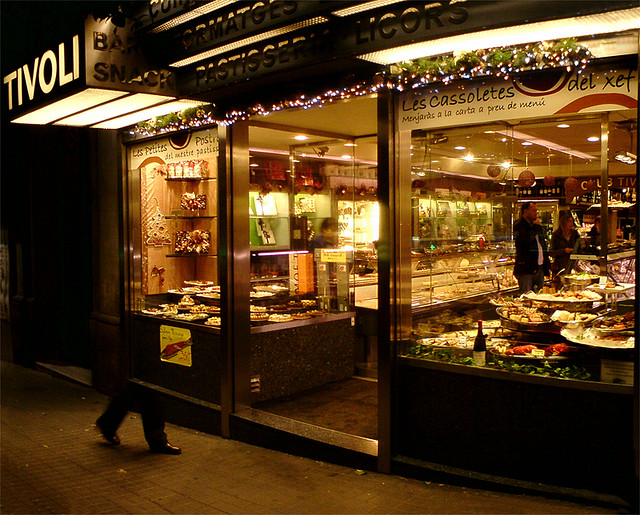 Tivoli Theatre (photo credit: Ferran Nogués cc)
Manuela, going to the theater to see the latest work he saw with her son before he died "A Streetcar Named Desire". There, looking for Huma Rojo, who denied her son's autograph. Located in Carrer Casp 8. Metro – Line 1 – Catalunya.
The Gothic part in the Carrer de les Caputxes: Manuela and Huma found Nina on this street. Metro Line 4, Jaume I.
Hospital del Mar: Manuela and Rosa go to this hospital. Almodóvar said he did not like the hospital, but it's a mall illuminated by a few sunrays, making death seem like something distant, not tragic. It is located on Passeig Maritim 25-29. Metro Line 4, Ciutadella.
Cementeri Montjuïc: At the end of the movie, Sister Rosa dies of HIV. In the same scene also occurs Manuela's encounter with her former spouse (Toni Canto). Carrer Mare de Deu del Port s / n. Bus – 13.
https://barcelonaenpantalla.wordpress.com/2013/05/15/escenarios-de-barcelona-en-todo-sobre-mi-madre/
Find your accommodation now!
Biutiful (Alejandro González Iñárritu, 2010)
Set in the rough and grimy working-class outskirts of the city, you find Uxbal (Javier Bardem), attempting to raise his two children single-handedly while dealing with his mentally imbalanced wife. Working with a sweatshop ring of Chinese immigrants for the manufacture of knock-off goods, which are later sold on the streets by the Senegalese in downtown Barcelona, known locally as Top Manta. When Uxbal understands that he is dying, he starts to do something good in his life.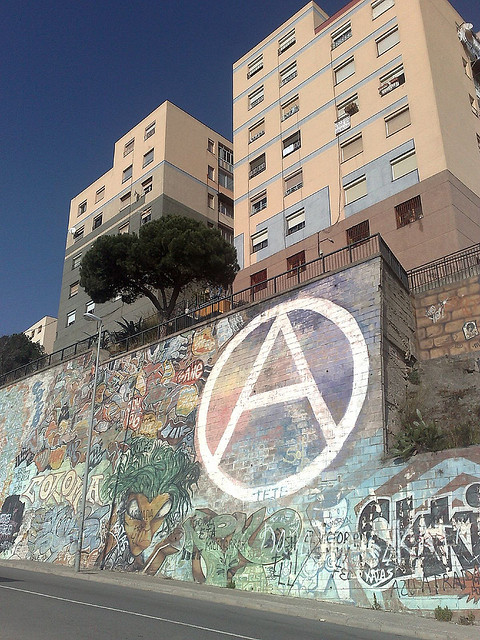 Santa Coloma de Gramenet (photo credit: daniel.julia cc)
In this movie you won't see many tourist places, but you will see Badalona (Carrer de Floridablanca); Sant Adrià de Besòs; Santa Coloma de Gramenet; Hospitalet de Llobregat; Plaça Catalunya; Las Ramblas; Plaça Reial.
Next week we will continue with the second part of our movies made in Barcelona series, so stay tuned!
Featured image photo credit: bradleypjohnson cc