The Top 5 Bars in El Raval, Barcelona
Barcelona has so many bars where you can taste the famous vermouth, eat tapas and have fun with your friends. But some restaurants can be pretty expensive, especially in touristic places. That's why we made you the list of the 5 best bars that you can find in El Raval. We love the vibrant charm that Raval has, it is such a unique neighbourhood and has some of the coolest bars in Barcelona.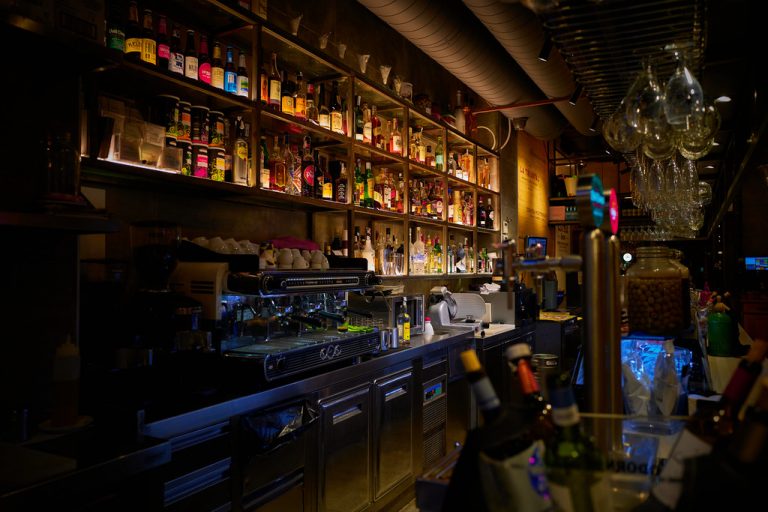 #1 33/45
You can't miss out on this unique bar! The coolest part is that the bar is divided into two sections, so you can enjoy two different moods, depending on what you are looking for. The first section that is located at the main entrance is made for people looking for adventure, who want to meet locals, let go following the sound of music or even celebrate a birthday! The other side of the bar is more like a "Lounge". If you wish to catch up with your old friend and discuss the good old days, whilst comfortably sitting down on the sofa and sipping your Moritz. Let yourself be charmed by the vintage vibe, delicious cocktails and electronic music. You can also find live here MUSIC CONCERTS that take place from time to time.
Source: https://3345.es
 Carrer de Joaquín Costa, 4, Barcelona

 Monday to Thursday : 13h00-2h00 / Friday to Saturday: 13h00-2h30 / Sunday : 13h00-00h00

  €€

#2 Casa Almirall
Perhaps you know the bar Marsella, which is the oldest bar in the city of Barcelona. Well, the bar Casa Almirall wins second place on the podium. Indeed, it was founded in 1860 but it has retained its original charm. This is the perfect place if you want a drink in a rustic place, full of history. This rustic treasure made of wood and marble is located just next to the Art Museum of Barcelona. It is a charming place that drew from the greatest artists of all time. To name a few: PICASSO and Hemingway. Treat yourself to the bohemian atmosphere with a glass of homemade oliveta vermouth.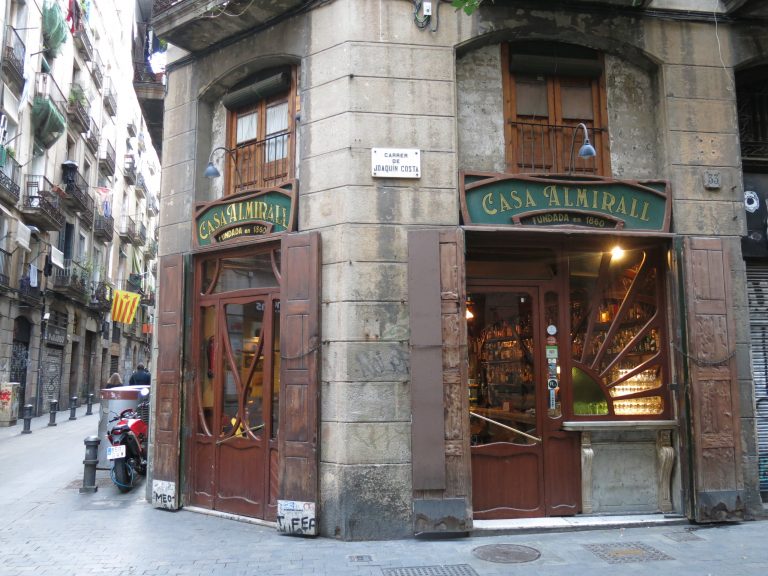 Carrer de Joaquín Costa, 33, 08001 Barcelona

 Monday, Tuesday: 17h30-1h30 / Wednesday, Thursday, Sunday: 17h30-2h00 / Friday, Saturday: 17h30-3h00

  €€

#3 Betty Ford's
Betty Ford is the name of the first lady of the United States, the wife of the first president Gérard R.ford. Betty Ford is the name of a rehab for alcohol well known in California. And finally, in Barcelona, Betty Ford is the name of a bar. This bar is hidden behind The MACBA, where you can find in many locals and foreigners. You will see the typical local from the Raval neighbourhood: a skateboarder in a bohemian/casual look. You can find that same bohemian and relaxed atmosphere in this bar. Rumour has it that they serve the best burgers in town. Give it a try and let us know in the comments what you think! The bar has a large selection of beers and cocktails, and it will quickly become your favourite place to hang out all night.
 Carrer de Joaquín Costa, 56, 08001 Barcelona

 Monday to Sunday : 17h30-2h30

   €

#4 Never More
Environmental awareness is constantly growing, especially in Barcelona. So here we have it! At Nevermore, that the managers came up with the idea of creating a bar with a homemade interior design from recycled and environmentally friendly objects. To say more ecological positioning, they serve only fresh food and seasonal products. The waiters are very friendly and the atmosphere is calm and bohemian. Although this bar really exudes the typical atmosphere of El Raval, it remains charming with dim lights and candles. Plus, its cheap prices are super attractive – you can enjoy delicious cocktails for € 5! So what are you waiting for?
 Carrer de la Cera, 17, 08001 Barcelona

 Monday to Saturday : 18h00-3h00 / Sunday : 12h00-16h00

   €
#5 Marmalade
Marmalade seduces us with its wide variety of original cocktails and their creative names. Marmalade is a trendy, cosmopolitan bar with a homey atmosphere where you can drink and eat with friends before a game of pool. Dimmed lights, upholstered seats and 70's music give us the best retro restaurant/bar vibes. This bar has delicious and hearty tapas in addition to BRUNCH that is as much visual as gustatory delight. You could even say they are serving the best brunch in town. It recommends a glass of their signature "Nicky Lauda Saua,"
 Carrer de la Riera Alta, 4-6, 08001 Barcelona

 Monday to Thursday : 19h00-2h00 /Friday to Sunday : 10h00-2h30

   €
If you're planning a trip to Barcelona and are looking for somewhere to stay, why not head over to our apartment rentals page. Please feel free to contact us if you have any questions or are interested in renting with us!