Selva is a region located near Girona in the northeast of Catalonia. 90km from Barcelona and only 40km from Girona, this region is a beautiful place in which to experience Spanish culture. It is located between the mountain range known as the Serralada Transversal or Puigsacalm and the Costa Brava coast. Whether you're in the mood to relax and lounge in a restaurant or have a vibrant night out, there are several wonderful bars and restaurants in Selva with much to offer for meals and nightlife.
Where to eat in Selva
Many of the restaurants in Selva, Costa Brava specialize in homemade Catalan cuisine that will certainly take your breath away. Let us give you some useful tips on where to go in Selva!
# 1 Lola in Blanes 
Certainly, serving fresh local produces at an extremely high standard, it's obvious why this restaurant has exclusively 4 & 5-stars reviews. It fits its description as a paradise of seafood tapas, this place is truly a must-see! Lola has an excellent reputation for providing their clients with great service and plenty of quality attention. With an array of inventive dishes on the menu, Lola is a unique and highly recommended place for you to visit on your travels through Spain.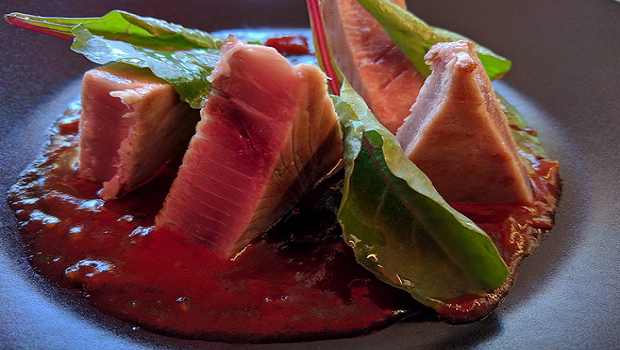 Address: Passeig Pau Casals, 59, 17300 Blanes, Girona
Opening hours: Mondays and weekends from 13:00 to 16:00 & 20:00 to 23:00; Tuesday to Thursday from 19:00 to 23:00
# 2 Sa Xarxa in Lloret de Mar 
With sky-high reviews and a wonderful fresh menu, we recommend to eat at Sa Xarxa the next time you are in Lloret de Mar. Sa Xarxa features a small but elegant wine and overall drinks list to meet a wide array of flavors. Since this is an important part of the food and drink industry in Spain, they are very proud to offer excellent local flavors to their guests. The food served is very fresh and colorful, guaranteed to bring a spark of excitement to your palate. You will find a wide range of tapas dishes, plates and half portions.
Address: Carrer de la Sénia del Barral, 14, 17310 Lloret de Mar, Girona
Opening hours: Every day from 12:00 to 24:00

# 3 Castell Vell in Tossa de Mar
Since 1969 Castell Vell has been serving very traditional Catalan cuisine with fresh local ingredients. Fish is notably one of the main ingredients on the menu, but they cater to vegetarians and carnivores as well! From duck magret with apple risotto, to salt cod confit in olive oil, mushrooms and smoked aubergine cream, the menu is mouth watering from the first look! If you have a look at the website, you yourself will see that the food is held to a very high standard and presented beautifully. Located right next to the sea on the grounds of a castle, this is definitely a must-see and eat at! The grounds also have a covered terrace, which provide a breathtaking view to enjoy with your delicious meal.
Address: Carrer Abat Oliba, 1, 17320 Tossa de Mar, Girona
Opening hours: Monday from 19:30 to 22:30; Tuesday to Friday from 12:30 to 15:30 & 19:30 to 22:30; Weekends starting at 11:00
Nightlife in Selva
The nightlife of Lloret de Mar has a reputation for being fantastic! It's the capital of nightlife in Costa Brava, with a wide variety of places to go. Without a doubt all of the type of restaurant or bars and pubs in this region will make you feel welcome. If you fancy experiencing Costa Brava nightlife in Selva, let us give you some tips! From cheesy pop in Lloret de Mar, to cocktails on the beach, we can help you find what matches your scene exactly!
# 1 El Pub in Lloret de Mar
With an impressive selection of beers to suit everyone's fancy, El Pub is a very highly rated place for a chilled drink, or a few shots before a night out. It is located two minutes down from the Royal Beach Hotel. Kids are very welcome; and you can join in on a pool match or enjoy the free Wi-Fi in case you are traveling! They often have themed nights, which are also enjoyed by many.
Address: C/ Rio de la Plata, 26, 17310 Lloret de Mar, Girona
Opening hours: Every day from 13:00 to 24:00; Tuesdays from 19:00 to 23:00
# 2 Gerry's Bar in Lloret de Mar
If you fancy a bit of cheesy music and a little dancing, then Gerry's is the place to go! With 60's and 70's classics on offer, what else could you need? The place has been open since the 70's and has been enjoyed by many tourists passing through. Gerry's has always been a hit!
Address: Carrer de l'Hospital Vell, 14, 17310 Lloret de Mar, Girona
Opening hours: Every day from 18:00 to 02:00
# 3 Can Tirol in Blanes
This cocktail restaurant bar is the best in Blanes! Located right on the beach in the centre of town, the place is sure to blow your mind with the excellent cocktails shaken up here! Lounge on the comfortable terrace and take in the panoramic views of the bay. What more could you want than a cold refreshing cocktail with such a beautiful view? All of their drinks are made in house with fresh ingredients.
Address: Carrer Sant Andreu de la Palomera, 8, 17300 Blanes, Girona
Opening hours: Every day from 11:00 to 03:00; Sundays starting at 15:00
How to get to Selva in Costa Brava
From Barcelona to Selva the route is 90km long. The easiest way to get there is by car:
Get on B-10 from Via Laietana, Plaça de Pau Vila, Carrer del Dr. Aiguader and Exit 22
Take C-33 and AP-7 to BV-5122. Then the exit 10 from AP-7
Take GI-555 and C-63 to your destination
If you are seeking a more chill night out, something equally appropriate for children we recommend heading to Blanes. Here you will find a much more authentic Spanish evening vibe with traditional music unlike the top hits playing at the bars and clubs of Lloret de Mar. Blanes also has a festival from July 24-28th, during which the streets fill up with music, dancing and entertainment, and of course fireworks!
---
Are you are planning a trip to Selva in the Costa Brava region and you want to find an accommodation close to this places? Moreover, on the site BARCELONA-HOME you can find where to stay next to the listed places in the article!