Cocktails to make at home
There are a lot of cocktails for you to make at home. We are going to list a few, from very easy to more difficult. Not only are we going to list some very famous cocktails but also some lesser known ones. All of the cocktails on the list can be made with or without alcohol. So, don't feel like waking up with a headache the next morning? No worries just make it a virgin.
#1 Mojito
We couldn't make this list without mentioning one of the most famous cocktails in the world: the Mojito. Havana, Cuba, is the birthplace of the Mojito. To make the Mojito you do need more ingredients than for the other cocktails on the list. But you may have some ingredients in your kitchen already. There are a lot of variations of the Mojito that you can make but we are going to focus on the original one.
Out four lime wedges and some sugar in the glass and squish them together. Put some mint leaves between your hands and clap, this helps the aromas to come out. Rub the mint leaves around the rim off the glass and then drop them in the glass. Use a spoon to gently push the mint leaves in the lime juice. Fill the half of the glass up with some crushed ice and pour in the Bacardi rum. Stir the mix together until the sugar dissolves and then fill up the rest of the glass with crushed ice and some soda water. Garnish with some mint and your Mojito is ready.
Ingredients:
Bacardi rum
Fresh lime
Fresh mint leaves
Caster sugar
Soda water
Crushed ice
Fresh mint
Extra tip: Mojitos (or other rum based cocktails) go great with seafood. Pair your Mojito with fish tacos or ceviche.
#2 Moscow Mule
This is one of our favourite cocktails on the list, and this is also a very easy cocktail to make. You only need three ingredients. The Moscow Mule has been around for a long time but is not widely known, it is making its comeback at the moment. This cocktail is very refreshing and instead of most cocktails it is sour not sweet. The Moscow Mule was born in Manhattan.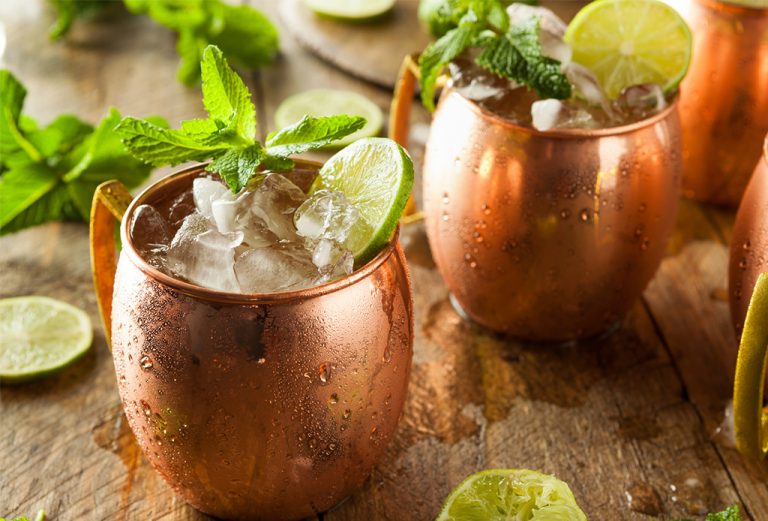 Source: www.thehappening.com
To start your Moscow Mule squeeze some lime juice into the glass and drop the spend shell in the glass. Add two or three ice cubes and pour in the vodka and ginger beer, and you are done. Because ginger beer can be expensive you can substitute this with ginger ale. If you have a "mule" back home use this to make your drink. This is where the name comes from. This cocktail isn't pored in a regular class but in an "mule".
Ingredients:
Vodka
Lime juice
Ginger beer
Extra tip: You can enjoy your Moscow Mule the best with some finger food.
#3 Black Russian
The Black Russian, also known as the big brother of the White Russian. This cocktail is also made with three ingredients and because of this it is a very cheap cocktail. Of course this depends on the quality of alcohol you buy. Legend has it that the Black Russian was created in 1949, honouring a memorable hostess whose parties were legendary amongst the brightest stars.
Source: www.barman.news
So, the only thing you need to do to create your very own Black Russian. Fill a glass up with ice, add one part of Kahlúa and two parts of Vodka. Then mix them together and top it off with a cherry on top. That's all you need to do before you can start enjoying your very own Black Russian. Of course you can substitute Kahlúa with any kind of coffee liqueur.
Ingredients:
Cherry
Kahlúa (coffee liqueur)
Vodka
Extra tip: like the flavours but not in the mood for a cocktail? You can also make a black Russian cake, brownie or cookies.
#4 Long island ice tea
This is the most alcoholic cocktails on our list. The Long island ice tea combines four different types of alcohol, so be careful with this one. This cocktail is originally from Long island, hints the name. The cocktail was created because of a contest to create a new cocktail with triple sec. It is a very easy cocktail to make. You just need to mix all of the ingredients together in one glass and thats it.

Because the cocktail is called Long island ice tea, a lot of people think that the cocktail is made with ice tea. But this isn't the case, it is actually made with coke. Mix the rum, vodka, tequila, gin and lime juice all together. Pour it into a glass with a lot of ice and top it off with some coke. Then your Long island ice tea is good to go.
Ingredients:
Rum
Vodka
Tequila
Gin
Lime juice
Coke
Extra tip: Any food that you can cook on a grill goes well with a Long island ice tea. So power up the grill and enjoy your cocktail.
#5 Kir Royale
This is what you call a wine cocktail. It first became popular in French cafes in the middle of the 19th century. There are a lot of ways to spice up your red or white wine. But we choose this one for the list because this is one of the few cocktails where you can use crème de cassis. Crème de cassis is a blackcurrant liqueur that acts as a dark fruit sweetener.
You can choose your own white wine to mix with but a dry wine is the best, a Chablis for example. The Kir is a two ingredients cocktail, so it is very easy. You can make the cocktail fancier if you add champagne instead of white wine. If you do this you are making the Kir Royale. The fancier bigger brother of the Kir.
Ingredients:
Crème de cassis
White wine (dry)
Extra tip: Garnish it with some blackberry's to make it more visually prettier.
#6 Sangria
We can not finish this list without talking about the most famous Spanish cocktail: Sangria. You can make a lot of variations of Sangria, but the basis always stays the same. the two ingredients that every Sangria needs is wine and fruit. Normally red wine but you can also use white wine or champagne. We are just going to talk about the original Sangria.
You start with pouring some Garnacha or Pinot noir, because these red wines are a little fruity. Add some fresh fruits, oranges and lemons are a must. Besides those two you can choose whatever fruit you have laying round or what you like. Then you still need to add some brandy because this really makes it a cocktail. After that you can add some sugar to finish your Sangria. Sangria is great for parties because you can make a lot at the same time. Want to make it a bit fancier, add some champagne.
Ingredients:
Red wine
Fresh fruit (oranges and lemons)
Brandy
Sugar
Extra tip: Make some pasta to go with your Sangria. Especially pasta with a creamy sauce goes well with this cocktail.
#7 Margarita
Margaritas are one of the oldest cocktails out there. There are a lot of stories surrounding its origin, but the most popular one is that it first was served in Mexico. The best part is that you only need three ingredients to make yourself a tasty margarita. There are also numerous variations to the margarita. You can make a different margarita each day of the week.

Start with putting some fresh lime around the rime of your glass. Then dip the rime of the glass in some salt, only if you like that of course. Fill the glass up with lots of ice. Squeeze one and a half fresh lemon into the cup, add three ounces of orange liquor and top it off with 6 ounces of tequila. Give it a little swirl and your margarita is done. You can also make a frozen margarita by just throwing all the ingredients in the blender.
Ingredients:
Fresh lemon
Tequila
Cointreau / Triple sec
Extra tip: combine your margaritas with some delicious fajitas.
This is the end of our list, if you are missing some delicious cocktails feel free to put them in the comments. We also got you covered on typical SPANISH DISHES you can cook at home. And if you don't feel like cooking or making cocktails we have SOME TIPS FOR THAT TOO.