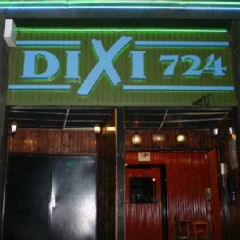 The following article is not just for people who visit Razzmatazz, but it´s definitely a good proposal before you go there. I´m talking about "Dixi 724". No, this is not a new model of a public toilet, this is truly the name of the disco-bar, located in the Sant Marti district on Carrer de Sancho de Avila 50, you´ll find all types of styles and people.
The former factory building has two floors, two big bars and a terrace. It´s also possible to play kicker and billiards. A little airplane on the ceiling and the cheap drinks (beer 3,- Euros, rum with cola 4,- Euros and a Red Bull for an extra fee of 0,50 Euros) are significant for Dixi and the cause for a full location on Fridays and Saturdays.
Find your accommodation now!
What you should remember, is that it´s a mixture of a discoteque and a bar. That´s why dancing is quite unusual, but therefore, the entrance is for free! Closing time is at about 4 o´clock. Compared to other pubs, which close at 3 o´clock in general, this is kind of late.
During your stay the music will be focused on rock, alternative, power-pop etc… So, if you want to spend a couple of hours at Dixi before going out to rock the night, you should get out of the metro at Marina or Bogatell. Razzmatazz is just on the next street (Carrer de Pamplona 88). The Dixi is of course only one suggestion. At Marina you can find a lot of bars and people so there are no problems to find a place to stay.