The Primavera Sound Festival of 2019 will be held next year from the 30th May to the 1st June at Parc del Forum in Barcelona. Yet again another perfect opportunity for the festival lovers among us! You really should not miss this internationally considered unmissable event.
What is Primavera Sound?
Primavera Sound is a music festival that has been taken place in Barcelona since 2001. You can enjoy live-music in the form of concerts distributed on 8 stages at this amazing urban festival. The offers of music this festival are pop, rock, and underground tendencies of dance music. Bands like Bon Iver, Pixies, Neil Young, Pet Shop Boys, My Bloody Valentine, The Cure, Death Cab For Cutie, The White Stripes, Sonic Youth, Franz Ferdinand, and many more have been performing at this festival throughout the past years.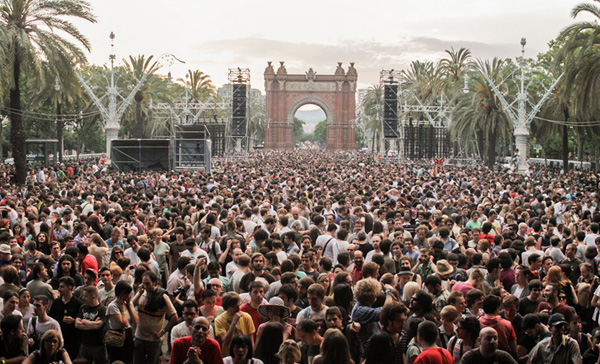 The festival concentrates on uniting the latest musical proposals from the independent scene with already well-established artists. Primavera stands out from other music festival because since it has its own unique concept, and from the start of the festival they stuck to this concept. Many people love this festival since Primavera sound keeps their old promises and does not resort to more commercial bands.
Primavera Sound Festival takes place every year at the same location – Parc del Forum. The place is huge outdoor open place with concrete floors and auditorium, many stages and stands with food and snacks, close the sea. During the sunny summer days, it is the perfect place, where to start the summer season by enjoying uforgettable marathon of music from the amazing musicians from the whole world. In 2019, plenty of artists will be performing on the festival, so you probably won´t know, what to enjoy first!
Other Primavera Sound Activities
Record fair – The record fair is a fair also held in Parc del Forum. National and international independent labels can meet here to show their products to the public of the festival.
Flatstock – Flatstock is one of the most important exhibitions of its kind to attend in Europe. Flatstock is a touring show of concert posters by plastic artists and will take place together with the record fair, at Parc del Forum.
Minimúsica – This is a children's activity in which children will be able to integrate into the musical offer of the festival. Minimúsica is an interactive performance; children will have the possibility to participate. It consists of some concerts where the artists adapt their repertoire for a family audience.
PrimaveraPro – Professionals of Primavera Sound's music industry will have the possibility to meet here and widen their network. It is seen as a strategic point of cultural exchange between countries in Europe, North America, and Latin-America.
Aside from these activities, there will be lots of musical and cultural activities around the parks of Barcelona suitable for families. This year, Parc de la Ciutadella will host Primavera's Aperitifs, and this will take place during daytime, free of charge.
Primavera a la ciutat
Primavera a la Ciutat (Primavera in the city) is a concept in which Primavera tries to bring the music and the spirit of the festival closer to all audience. The idea is to organise concerts of new or well-known bands free of charge in order to raise awarness of them and to give chance to the audience to enjoy the concerts. Primavera a la ciutat is organized parallel with Primavera Sound Festival. The headquarters of Primavera a la ciutat will be at Parc del Forum, and as every year at the opening, several big scale concerts will be given free of charge! A perfect opportunity for the ones that need to save some money for the summer but still want to enjoy some of the Primavera Sound Festival.
Primavera als Bars is part of Primavera a la ciutat, and national and international artists will be asked to play live-music in bars throughout the city. This is another chance, how to enjoy some free-of-charge concerts from new bands and young music stars together with your favorite drink.
Secondly, there is Primavera als Clubs, and several concerts during the days leading up to the main event at Parc del Forum will be hosted at different venues in Barcelona. Lastly, In-Edit, the festival of musical documentaries, will be present to offer the public the possibility to enjoy music from a cinema perspective by showing documentaries about music. Feel free to contact Barcelona-Home to find an accomodation.
Where to eat?
Food, drinks and refreshments will be provided during the whole festival in the Parc del Forum. Primmmavera is the name for the foodie part of the festival and the options are really delicious! Wheter you want to choose from pop-up restaurants with the meals provided by the renowned chefs, traditional spanish paellas, Barcelona street food restaurants or food trucks with the selection of the best meals and snacks, there is an option for everyone! Of course, delicious drinks and beverages will be on the list!
Where to stay?
You will probably need to book an accommodation as the festival lasts more than a weekend. There are more possibilities to choose like camp site, hostel, hotel, apartments. We recommend you to check Barcelona-Home and choose your desired comfortable accomodation in the close distance from the festival.
Practical Information
Program
Find more information about the artists performing at the festival and the program per day.
Tickets
Full festival ticket: €180 – €215 depending on the capacity
VIP-ticket: €400; ticket includes for example entrance to the VIP zones, exclusive viewing areas and entrance to the festival, welcome pack and more
Day tickets: €80 – €90 depending on the capacity
For more information about tickets, check the official website.
Where?
Parc del Fòrum, Barcelona, Spain.
Transport
Bus: Lines 43, 7, 36,141, 41 and night buses  N6 and N7
Metro: Line 4, El Maresme-Fòrum Station (Exit Rambla Prim). The festival site (Parc del Fòrum) is 150 meters away from the metro station
Tram: Trambesós (Line T4)
Looking for an apartment in Barcelona? Check out our SPECIAL DEALS ON APARTMENTS all over the city with Barcelona Home!