History
Antoni Gaudí i Cornet (1852- 1926) is Spanish architect from Catalonia and also one of the most noteworthy figures in universal architecture. Barcelona, as known as the city of Gaudí, proudly owns 6 of his masterpieces that is listed as a UNESCO World Heritage included Casa Vicens since 2005. The mission of Casa Vicens as a museum is to raise awareness of the first home Gaudí designed, just as the architect conceived of it, and present it as an essential work for understanding his architectural language and the Modernisme movement in Barcelona. The main values of Casa Vicens are including the followings: creativity, excellence , discovery proximity and daring.
As mentioned above, this architecture is his first individual work, located in Gracía. It was build between 1883-1888, for Manuel Vicens i Montaner. Vincens had two purposes with building the house: on the one hand, he wanted to live there and on the other hand, he wanted to present his own special azulejo (glazed tile) products of his industry in the building.



In this building, you can see concept the architectural, which Gaudí later applied, such as the exaggeration of colors or the appearance of plant depictions, is reflected. Outside the house is mostly decorated with ceramic or azulejo decorations. The dominant colors are white and green and red. The owner, Vicens, had a quarry and a ceramic pot (he himself worked as a broker). The material was acquired in Valencia, and it was possible to produce elements and shapes only in one factory that Gaudí dreamed of in its construction. The building draws from Mudejar art, but Indian and Japanese patterns can also be discovered on the frontage.
In the interior garden of the house, you can truly recognize Gaudí's style. The Arab influences are particularly noticeable here, especially in the smoking room.
The Casa Vicens is surrounded by a beautiful building landscape, so if you want to be nearby to this monumental site in order for easy access, then view and BOOK AVAILABLE APARTMENTS AND ROOMS now!
About the visit
Buy your ticket with us and get 25% discount off the original price. Showing this ticket at the entrance you can also skip the line and avoid to wait hours to see master architect Antoni Gaudí's first masterpiece. Meanwhile, the visit you will discover all the candy-colored secrets of this jaw-dropping summer house, learn all about Gaudí's inimitable style in a museum dedicated to the unique constructions, decorations, and symbolism.
In the end, relax in the Mediterranean-style garden, take in the sights atop the immaculate roof terrace, and browse the take-home treasures in the basement library and gift shop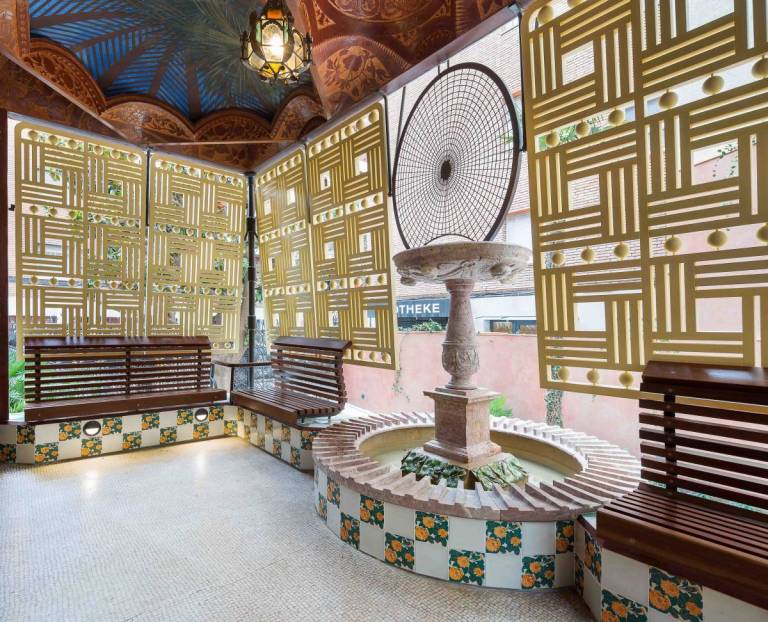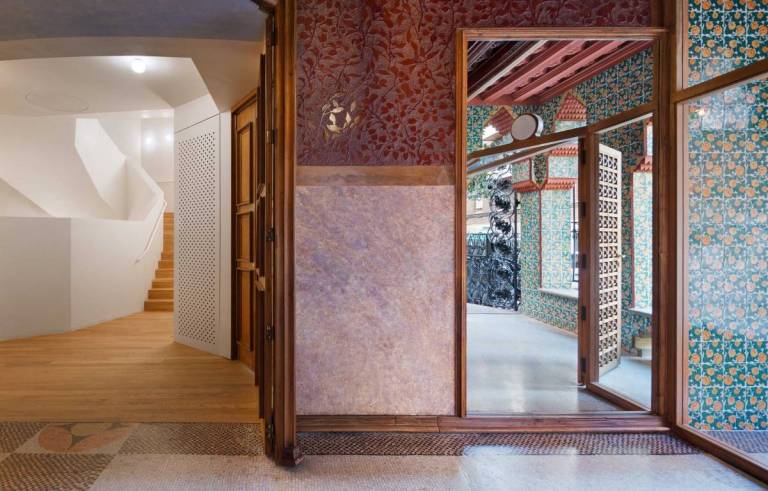 Information
Address: Calle Carolines 24, Barcelona
Phone: +34 93 547 59 80
Email: reserves@casavicens.org
Transport: By Metro- Fontana station (L3)
Prices: General 16€, Students under 25 14€, Children under 7 free, Large families 14€.
Schedule: Monday to Sunday from 10 am to 8 pm (doors close at 7 pm). Except:25 December, 1 and 6 January.
Others: Cloakroom, lockers, pram storage, baby changing rooms, and accessible elevators are available.
Looking to rent an apartment in Barcelona? Check out our SPECIAL DEALS ON APARTMENTS all over the city with Barcelona-Home!