Our perfect pet-friendly apartments can make your stay the most comfortable in the company of your pets. Exactly! We at Barcelona-Home understand your pet is not only a pet, Your pet is a part of your family. To plan your holiday with them can be sometimes difficult, but surely you don't want to leave them home while you traveling and spend your time in Barcelona worrying if they are being properly cared for. So why not bring your pets with you?
The city is blessed with a large number of parks and green areas (not to mention long beaches) for them to exercise in with you. Plus, nothing will make you feel more like a Barcelona local than walking your dog down Passeig de Gracia in the morning before the shops even open. We have selected our three favorite Pet-Friendly Apartments perfect for families or group of friends traveling with pets.
168 € / NIGHT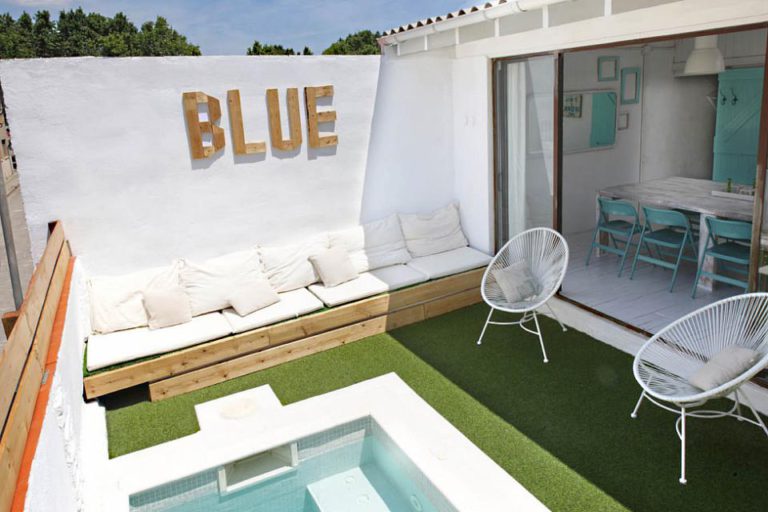 This house with Mediterranean charm, located in the neighborhood of Poble Nou, is ideal for visitors with pets who are seeking tranquility near the center of Barcelona. A Mediterranean atmosphere and cool blue color characterize the interior of the place, while the retro furniture, old school doors and windows, wooden beams and original floors, take us back in time. The house has a unique charm and style. It is ideal for families with furries or group of friends visiting the city to enjoy the Mediterranean climate in a special environment.
The typical Barcelona home is located near the beach of Poblenou which can offer the perfect place for the walks with your pet. This bohemian neighborhood is the newest design zone of the city, a neighborhood with deep contemporary and rural contrasts. New architectural buildings stand in stark contrast with older family homes, but an authentic street culture still remains. La Rambla de Poblenou is the center of cultural and social life in this charming neighborhood, connecting the sea with the Encantes, the Glories, and the National Theatre.
License: HUTB-013054

66 € / NIGHT
1350 € / MONTH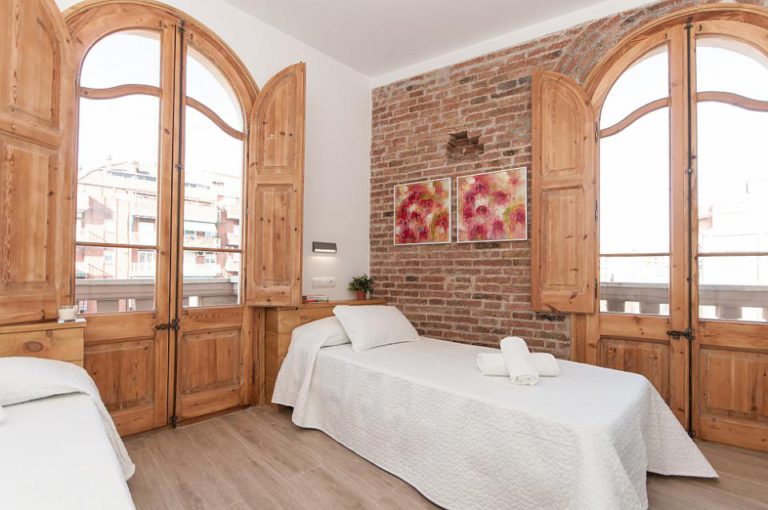 With it's contemporary and urban style, this accommodation will make your stay in Barcelona comfortable and enjoyable. The 2 bedrooms are nice and spacious, surrounded by natural lighting coming from the small balconies. Furnished with white and cream decor, both bedrooms have a great, relaxing feeling to them. The kitchen, openly attached to the living room area, is very modern and fully furnished with all the necessary utensils, perfect for a nice homemade dinner with friends or family. With the fusion of oak brown, silver, surrounded by brick walls, the apartment has altogether an urban, present feel to it, with a touch of class.
This apartment is perfect for a small group of friends visiting the city or even for family holidays. Situated in Rambla de Badal, in the Sants district, this apartment is located in an area very accessible to other districts in Barcelona through public transport networks. At this location, you are guaranteed to find many different shops along the road, for either groceries, clothing or food. The metro station within walking distance away and you can use it access pretty much all of Barcelona's districts in just minutes!
License: HUTB-003939

63 € / NIGHT
1200 € / MONTH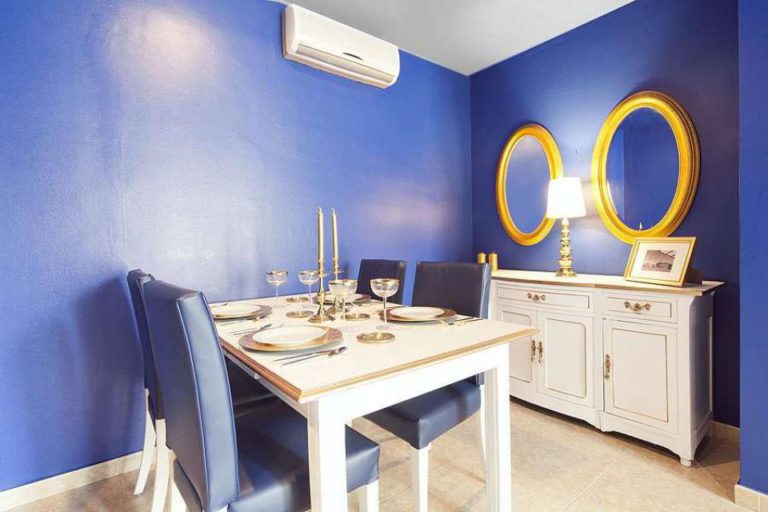 Exquisite holiday accommodation near Plaza Espanya with a unique design inspired by the surrealist style of Catalan artist Salvador Dalí. The interior features a vivid blue and white color scheme and a combination of contemporary chic furniture with classic antique decorations. The living room extends from a private balcony, which allows plenty of sun in during the day, to an elegant dining space, furnished with a large white table, 4 chic blue chairs and a beautiful dining room server with 2 gorgeous brass-framed mirrors adorning the wall behind it. The 2 double bedrooms feature the same unique blue and white pattern and come furnished with practical and comfortable furniture. The placement of the bedrooms at opposite ends of the apartment guarantees privacy, making this accommodation perfect for 2 couples to share during a vacation to Barcelona. The apartment also comes with an ample separate kitchen and a full bathroom with shower.
The residence is located a short walk from the Fira of Barcelona exhibition center, the Arenas shopping center, the famous Palacio Nacional, and the Magic Fountain. Just a few minutes away you will find two beautiful parks for long walks with your dog. The Espanya Industrial Park and the Parc de Joan Miró. We recommend taking the cable car up to Montjuïc Hill, from which you can enjoy spectacular views of the city. While up there, we also recommend visiting the Miró Foundation, a unique museum in which you can easily spend the entire day learning about the famous Catalan artist.
License: HUTB-001178

Looking to rent an apartment in Barcelona? Check out our SPECIAL DEALS ON APARTMENTS all over the city with Barcelona Home!