We at Barcelona-Home understand your pet is a part of your family. Making arrangements for pets during your holiday can be stressful and you might spend your time in Barcelona worrying about whether they are being properly cared for. So why not bring your pets with you? The city is blessed with a large number of parks and green areas (not to mention long beaches) for them to exercise in with you. Plus, nothing will make you feel more like a Barcelona local than walking your puppy down Passeig de Gracia in the morning before the shops even open. We have selected our three favorite Pet Friendly Apartments perfect for families traveling with pets.
From      63€ / NIGHT
From 1200€ / MONTH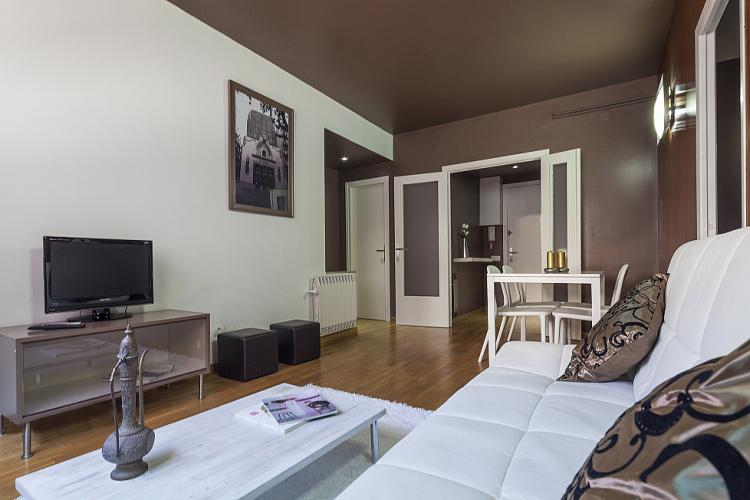 One of our favorite Pet Friendly Apartments is this cozy, family-style home in Barcelona. The accommodation comes with a spacious living room decorated with a sleek white and brown pattern, large couch and soft shag rug to provide plenty of comfort to kids playing in front of the TV. The lounge extends into a dining area with plenty of space to put a basket or litter box, along with a feeding bowl. The apartment comes with a large master bedroom with a double bed perfect for a couple, and an equally spacious bedroom with two single beds great for kids. Both of these rooms come with a large amount of storage space, making it ideal for long-term accommodation or as a short-term rental in Barcelona.
This home boasts a fantastic location in Poble Sec, near many of Barcelona´s most famous tourist attractions, including La Rambla, Plaza Espanya and the beautiful Miró Museum. You will be just a few minutes from the Jardins de Joan Brossa and Jardins Mossen Costa i Llobrera, two parks situated on Montjuïc Hill fantastic for getting some exercise in the morning. Or take your dog for a hike up to the Mirador del Poble Sec to enjoy stunning views of Barcelona and the Mediterranean Sea.
License : HUTB-002624

From      81€ / NIGHT
From 1550€ / MONTH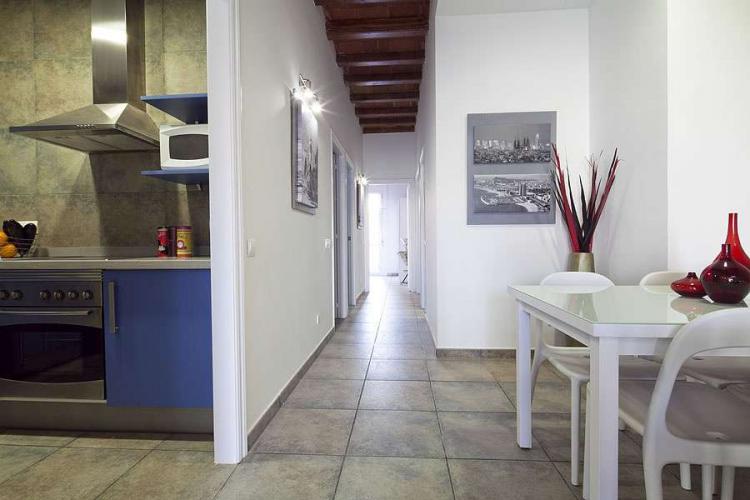 This fantastic 4-bedroom accommodation Barcelona is ideal for a family or a larger group of friends traveling with pets to Barcelona for holidays or a long-term stay. A long hallways connects the entrance to several rooms, including the bedrooms, two bathrooms and a spacious separate kitchen with pretty blue cabinets and a wide variety of appliances. At the end of the hallway you will find a breezy living room separated into a dining area and lounge with a vibrant white and red color scheme. We love the combination of smooth marble tiles, exposed brick walls and country-style wooden beams in the ceiling. With its 90 m2 surface area this home is large enough to accommodate pets. With its several windows and nice balcony at the end of the living room the apartment is basked in light throughout the day, making it a nice home to leave pets in while you explore the city.
The apartment is situated in a peaceful residential neighborhood near Hospital de Sant Pau, just a few minutes from the famous Sagrada Familia of Gaudí. Proximity to the Clot metro station and the Avenidia Meridiana makes this location very accessible from the city center by both public transportation and car. In this neighborhood you will find several nice streets to walk your dog and a nice garden called Jardins de Joana Tomás for you and your pet to relax and get some fresh air.
License : HUTB-002414

From      58€ / NIGHT
From 1200€ / MONTH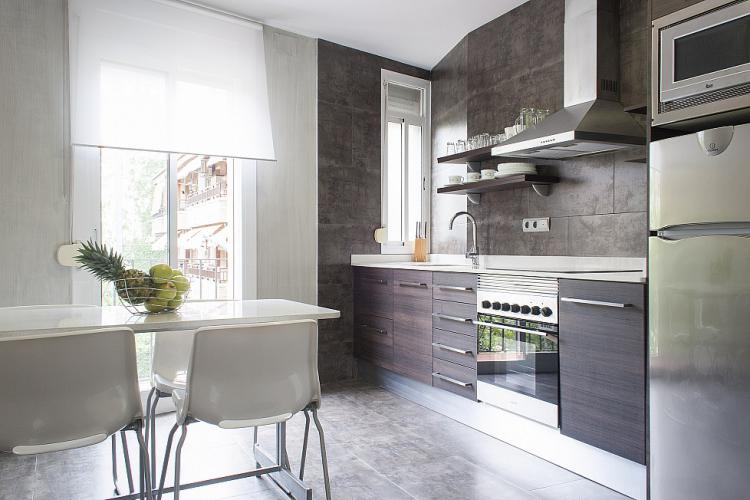 This stylish Sants accommodation is one of our most popular Pet Friendly Apartments, designed with wonderful taste, boasting an eclectic combination of styles and a gray, black and brown color scheme that creates an elegant atmosphere. The living room with its exposed brick walls and chic black sofa is a great place to lounge with friends after a long day of sightseeing, and it connects to a hall where a dog basket or litter box can be placed. Both of the spacious double bedrooms come with access to a gorgeous balcony that allows plenty of light in during the day and provides nice views of the street below.
The apartment is located in the Sants neighborhood, just a few minutes from the train station with easy access to any of the most popular destinations within Catalunya. Proximity to the Mercat Nou and Placa de Santa metro stations provide quick access to the city center, to sites such as Barceloneta beach, the famous Cathedral of Barcelona and the popular el Born neighborhood.
License : HUTB-003937

Enregistrer