Best Places for Movie Lovers
If you're a movie lover, then you'll quickly become obsessed with Barcelona. This city has plenty of things to offer you that are related to movies and cinema! With lots of themed bars, restaurants, and of course the world-renowned landmarks. This city has been a favourite shooting location for several directors. So if you'd like to explore the city with your favourite stories in mind, then take a look at our itinerary!
Movies
#1 Vicky Cristina Barcelona
Woody Allen is a well-known lover of Spain. Therefore, he just couldn't miss the opportunity to shoot in the marvellous city of Barcelona. The famous director wrote and filmed the movie Vicky Cristina Barcelona in Barcelona. A story about two American tourists travelling to Barcelona to discover this amazing city and spend the summer there.
The movie shows fabulous shots of the city as we know it, covering the picturesque landmarks. The director filmed scenes in some of the most emblematic points of Barcelona, such as Gaudí's LA SAGRADA FAMÍLIA, the Tibidabo Amusement Park, PARC GÜELL, La Pedrera, La Plaza Felip Neri and Las Ramblas. In this movie, Barcelona is full of light, colours and very open to the world. It also has character, personality and all those things that make it so unique. One must say that Allen captures the magic, but it's the city that does the seducing.
But the scenes didn't take place only at the famous landmarks. Lots of little places and spots appear in the movie that are worth mentioning. One example among many is this bohemian bar full of poets, artists, and musicians – LA MARSELLA, one of the best places for absinthe in town! This bar has been in business since 1820, and it has also served celebrities like Hemingway and Picasso.
#2 The Erasmus Barcelona
"L'Auberge Espagnole", translated also as "Una Casa de Locos", is the work of the French director Cédric Klapisch. It's the movie you MUST watch if you are travelling to Barcelona, especially if you're coming for an Erasmus or you're going to live there for some time. There's no doubt that it's one of the best portraits of the life of a foreign student in Barcelona that has ever been done.
Cédric Klapisch's comedy centres on Xavier, a twenty-something French student who leaves his life and girlfriend to study in Barcelona for a year. The movie takes place mainly in Plaça Catalunya, La Rambla, El Raval and Barri Gotic, without forgetting the Barceloneta Beach and La Sagrada Familia. The movie is filled with the kinds of experiences one encounters while living abroad, and it's bursting with images of many familiar Barcelona landmarks. The trailer's claiming that "no-one speaks the same language, but everyone understands you" rings true.
#3 REC
If you are a horror movie fan, there is no way you missed the first REC movie in 2007, one of the first movies to be filmed with the hand-held camera effect, ever since the BlairWitch Project. This movie is probably the best in the franchise and guess what? It was filmed in Barcelona! The building in which the movie was filmed is located in the EIXAMPLE. So when in Barcelona, don't forget to visit this spooky place!
Places to visit
#1 Pudding – a Harry Potter themed café
If you're a Harry Potter fan, you HAVE to try this place out. Located in the EIXAMPLE DISTRICT, Pudding is the place to go if you want to take a break from the muggle world and be a part of what you love, the wizarding society. This place is entirely decorated to the colours of all the houses of Hogwarts. While being a coffee shop, the place is divided into 3 different floors plus a restaurant. The whole place is designed for children, so feel free to go with your family and friends if you love the story about the boy who survived!
Opening hours: Monday – Friday 13:00-20:00 & weekends 12:00-20:00
Address: Avinguda Diagonal, 515, 08029 Barcelona
#2 Gatsby Barcelona 
If you love themed bars that offer quality shows and luxury atmosphere, this is the one for you! Inspired by Scott Fitzgerald's famous novel The Great Gatsby, this bar is decorated with the same colors and shapes as the ones you can see in the 2013 version of the movie. The club consists of a large open space divided into different areas, with an elevated platform for performances, located directly behind a cocktail bar at the entrance. A central court dominates the space with sidewalks and a series of private tables organized around.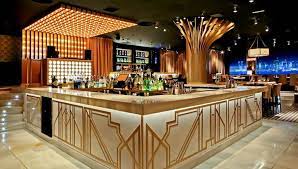 Opening hours: Wednesday – Saturday 19:30-24:00 & Sunday 19:00-24:00
Address: Carrer de Tuset, 19, 08006, Barcelona
Are you planning a trip to Barcelona and looking for somewhere to stay? Why not take a look at the available apartment rentals on our website! Please feel free to contact us with any questions you may have.