How to defer an illegal apartment to a legal one in Barcelona?
With everything that is out there on the market, it has become difficult to differ the illegal to the legal apartments to rent in Barcelona. Keep reading our article and you will know what makes an apartment legal to rent to tourists in Barcelona.
With tourism in Barcelona having quadrupled since the 1990's when the Olympic Games were hosted in the city, the city council of Barcelona has decided to put a lot of emphasis on the regulation regarding apartment rental.
To rent an apartment in Barcelona or to make sure the apartment you are renting is legal you will have to pay attention that the apartment obtained an HUTB (property for tourism usage) license. As the HUTB license is meant, in part, to protect guests from staying in an accommodation deemed "unfit" for tourists stay, tourists, visiting Barcelona for periods shorter than 32 days should check beforehand to see whether their booking is licensed. This can be done by doing a quick google search of the HUTB number and finding the corresponding address on a government website.
From 375€ / MONTH



The private bedroom has a cozy single bed, with integrated drawers for storage, alongside an oak table ideal for a workspace and an oak wardrobe for clothing. The living area has 2 couches, a dining table, a centric glass and wooden coffee table and complimentary TV, with large windows next to the dining table allowing a lot of natural light in and giving a scenic view for meals. The quaint kitchen is fully equipped, with gas stoves, kitchenware, a refrigerator a freezer, and a breakfast nook for a quick snack. Throughout the apartment, there is also heating and air-conditioning. There is also a cream-tiled bathroom, equipped with a shower and plenty of cupboards for storage.
Situated in the Gracia district, this apartment is nearby to cities main attractions being close to the symbolic Sagrada Familia, Park Güell, and Placa de Gaudi, this apartment is ideal for those interested in sightseeing. The neighborhood is quiet and filled with restaurants, supermarkets, and bars so there are always activities available to you. With its central location, it is very close to a metro station (Sagrada Familia) with the beaches being easily accessible by metro or bus.

From 66€/DAY
From 1250€ / MONTH



This luxurious 2 bedroom apartment, with its Mediterranean style, is both urban and contemporary. Each bedroom is spacious, with a private balcony providing plenty of natural light and many shelves for storage purposes. The white and cream decor provides a 'summer-like' feel to each bedroom, with the living area and kitchen having urban aspects from the exposed-brick walls. The kitchenette is furnished and is fully equipped having high-end utensils,  a toaster, an oven, a microwave, a refrigerator/freezer and an oak dining table next to another balcony radiating light across the room. The elegant bathroom has present a shower, toilet and a washing machine. There is again a complementary TV, located in the living room, and Wifi. The property is ideal for a group of friends traveling, or even a family holiday.
Located in the Sants district, the apartment is not only close to the castle of Montjuic but also surrounded by a variety of supermarkets, clothing shops and restaurants. Regarding public transport, the nearest metro station (Mercat Nou) is walking distance away, meaning all of Barcelona is easily accessible.
License: HUTB-003939

From 1400€ / MONTH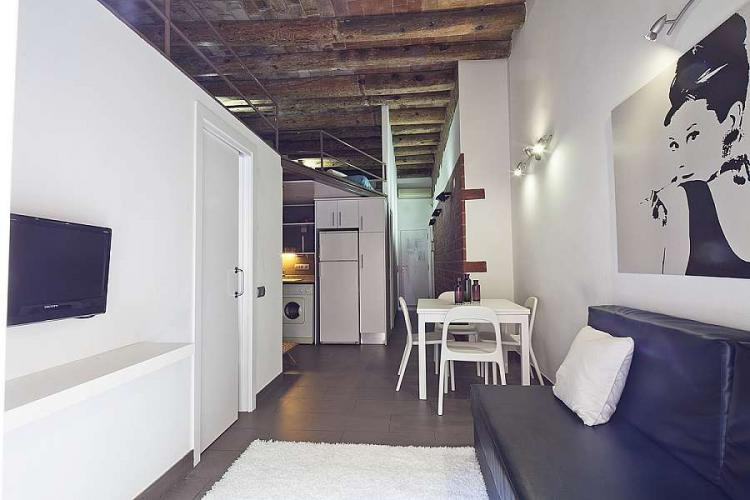 This unique and artistic duplex apartment is fantastic for a group of friends to share during their extended stay in Barcelona, and will perhaps also one day be a fabulous holiday rental if it acquires an HUTB license. From the entrance a long hallway with exposed brick walls leads past a spacious and fully equipped kitchen to the brightly lit common space, featuring a comfortable leather couch, flat screen TV, pretty white dining room table and tasteful black-and-white stencil art portraying the iconic Audrey Hepburn and Charlie Chaplin. On the first floor, you will find a cozy and private master bedroom with a double bed and another bedroom with two single beds. A set of stairs leads from the dining area up to a loft furnished with two additional single beds.
Imagine a lazy weekend morning cooking brunch for your friends as they peek down from their elevated bedroom to watch you cook. During your extended stay, you will also enjoy access to a balcony and a lovely community terrace with a bench and chairs, perfect for a relaxed open-air dinner. The apartment is located on a gorgeous cobblestone street in the vibrant el Born neighborhood, just steps away from many of the city´s major tourist sites, as well as one of the centers of Barcelona´s nightlife. The apartment is ideal for athletic guests, as the nearby Ciutadella park and Barceloneta promenade offer wonderful places for a morning jog.