Sitges is widely known for its nightlife. The best clubs of Sitges are located spread throughout the city, not necessarily focused on one location, like it happens in Barcelona. There are three main nightclubs in Sitges: Organic, Pacha and Trailer.
Find your accommodation now!
Organic Dance Club has recently moved to new premises, a newly designed club built with a lower level dance floor. Organic is one of the oldest clubs in the village and it hosts different themed nights ranging from old school music to the latest house hits.  Organic also organizes seasonal foam parties, which happen every summer, and provide lockers to customers for more comfort, and even body oil to make the most out of the experience. The purposely sunken dance floor was built in order for customers to decide how much foam they will get during the foam parties. Organic is the also the only gay exclusive club of Sitges.
Pacha is the world-renowned chain of nightclubs that first opened in Sitges in 1967. With twenty nightclubs spread in countries such as Brazil, Australia, Egypt, Russia, Morocco and Argentina,  the franchise is currently based in Ibiza (One of the balearic islands along with Mallorca, Menorca and Fomenteraoff the shore of Spain) but still keeps its roots in the home city that gave life to it. It is located a little off Sitges center, at the Marina, and it offers a glamorous atmosphere to the party animals. Besides the main venue with a capacity of 900 people, the Pacha group also operate a bar called Pachito for the ones who want a calmer night and another club called Sweet Pacha, by the Port d'Aiguadolç.
Trailer is one of the gayest nightclubs in Sitges, but women are also welcome. Trailer has gained notoriety through its famous foam party, hosted by the club every Sunday. The club also promotes a dark night on Thursdays, where all lights are turned off, leaving everybody in complete darkness.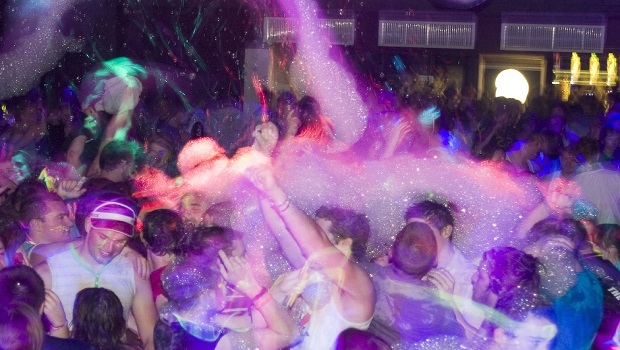 One of the most famous clubs of all times in Sitges is L'Atlántida. L'Atlántida is a seasonal club that opens only during summer time. It is an open-air club located on the south part of the city. For the sadness of the decades-long assiduous goers, L'Atlantida closed its doors in 2013 in Sitges, but recently opened a similar club in Barcelona, which is close enough to Sitges for a day trip.
Most clubs are open on a daily basis during summer nights, but depending on their schedule, it is wise to check their calendar on official websites.  To make the most out of summer in Sitges, a minimum week stay its obligatory!
Featured Image: Tom Godber cc (edited)
Photo Credits: Matt Dinnery cc (edited)