The city of Valencia is the capital of the autonomous community of Valencia and in addition the third-largest city in Spain after Madrid and Barcelona. If you are already staying in Barcelona and are looking for ideas for weekend trips around the region, why no consider visiting places in Valencia? Moreover, it takes around 3 hours to get to Valencia from the station of Barcelona-Sants with the RENFE train, and certainly we will show you why it is worth the ride!
Here are out top suggestions for 10 places in Valencia you should not miss out:
# 1 Museo Nacional de Cerámica y Artes Suntuarias 'González Martí'
The National Museum of Ceramics and Decorative Arts "González Martí" is an unique museum dedicated to ceramics, with special importance to Valencian ceramics, porcelains and in addition other decorative arts such as textile art, traditional costumes and furniture. Its said that it was the house palace of a Spanish nobleman, called Marques de Dos Aguas. Subsequently, seven years later, once the restoration of the palace was completed, the museum opened to the public on 1954.
Address: Carrer del Poeta Querol, 2, 46002 València, Valencia
Opening hours: Tuesday to Saturday from 10:00 to 14:00 & 16:00 to 20:00; Sundays from 10:oo to 14:00
Entry price: 3€
# 2 Mercado Central de Valencia
The Mercat Central brings together almost 400 small traders and 1,500 people are involved in its daily activity. Likewise, it is the largest centre of its kind in Europe specializing in fresh products and has always been known for the quality, variety and freshness of its products; as well as the helpful, personalized service provided by its traders.
In addition to the market's main activity, the innovative and business-like character of the traders has made the market grow and improve day by day. Nowadays, it is an important place for the sale of local products and further a major cultural and tourist attraction not only for foreign visitors but also for the people of Valencia. Indeed, this is why it must be part of out 10 places in Valencia to visit!
Address: Plaça de la Ciutat de Bruges, s/n, 46001 València, Valencia
Opening hours: Monday to Saturday from 07:30 to 15:00
Find your accommodation now!
# 3 La Lonja de la Seda
This masterpiece of Valencian style Gothic architecture has been built at the peak Valencia's golden age in the 15th century, and symbolizes commercial prosperity and the union of ethics and economy. La Lonja functioned as a silk exchange, which was a good of high value at that time. Subsequently, the honesty of its traders is honored by the inscription that runs around the main contract hall. UNESCO made one of this places in Valencia a World Heritage since "the site is of outstanding universal value as it is a wholly exceptional example of a secular building in late Gothic style, which dramatically illustrates the power and wealth of one of the great Mediterranean mercantile cities".
Address: Carrer de la Llotja, 2, 46001 València, Valencia
Opening hours: Tuesday to Saturday from 10:00 to 19:00; Sundays from 10:00 to 14:00
Entry price: 2€
# 4 Catedral de Santa Maria de Valencia
Gothic architecture is the predominant style of this cathedral, although it also contains Romanesque, Renaissance, Baroque and Neo-Classical elements. Most importanly, one of the supposed Holy Chalices in the world is revered in one of this cathedral's chapels; this chalice has been defended as the true Holy Grail; indeed, most Christian historians all over the world declare that all their evidence points to this Valencian chalice as the most likely candidate for being the authentic cup used at the Last Supper.
Moreover, the cathedral contains numerous 15th-century paintings, some by local artists (such as Jacomart); others by artists from Rome engaged by the Valencian Pope Alexander VI. In addition, you should definitely check out the panoramic view from the Torre del Micalet for 2€!
Address: Plaça de l'Almoina, s/n, 46003 València, Valencia
Opening hours: Every day from 10:30 to 18:30; except for Sundays, from 14:00 to 14:30
Entry price: 2€
# 5 Real Basilica de Nuestra Señora De Los Desamparados
It has been the overwhelming devotion for the helpless that made the people of Valencia want to build this beautiful basilica for their patron and embellish it, over several generations, since the 15th century. Subsequently, some excavations proved that the Square on which the basilica is located used to be the Forum Romanum of Valencia, which is why the façade is full of Roman inscriptions.
Address: Plaça de la Verge, s/n, 46001 València, Valencia
Opening hours: Every day from 07:30 to 14:00 & 16:30 to 21:00
# 6 L'Iber, Museo de los Soldaditos de Plomo
This unique-staged place shows you the history of the world with 80,000 small pawns on 16 permanent exhibition rooms; ranging for instance from the Dinosaurs era up to the Iraq war, passing through the Old Egypt, the Roman Empire, the medieval stories of knights and kings, the procession of Corpus Christi, Ancient civilizations of South America or the Spanish Civil War.
Address: Carrer dels Cavallers, 20, 22, 46001 Valencia
Opening hours: Weekends from 11:00 to 14:00 & 16:00 to 19:00
Entry price: 5€
# 7 Torres de Serranos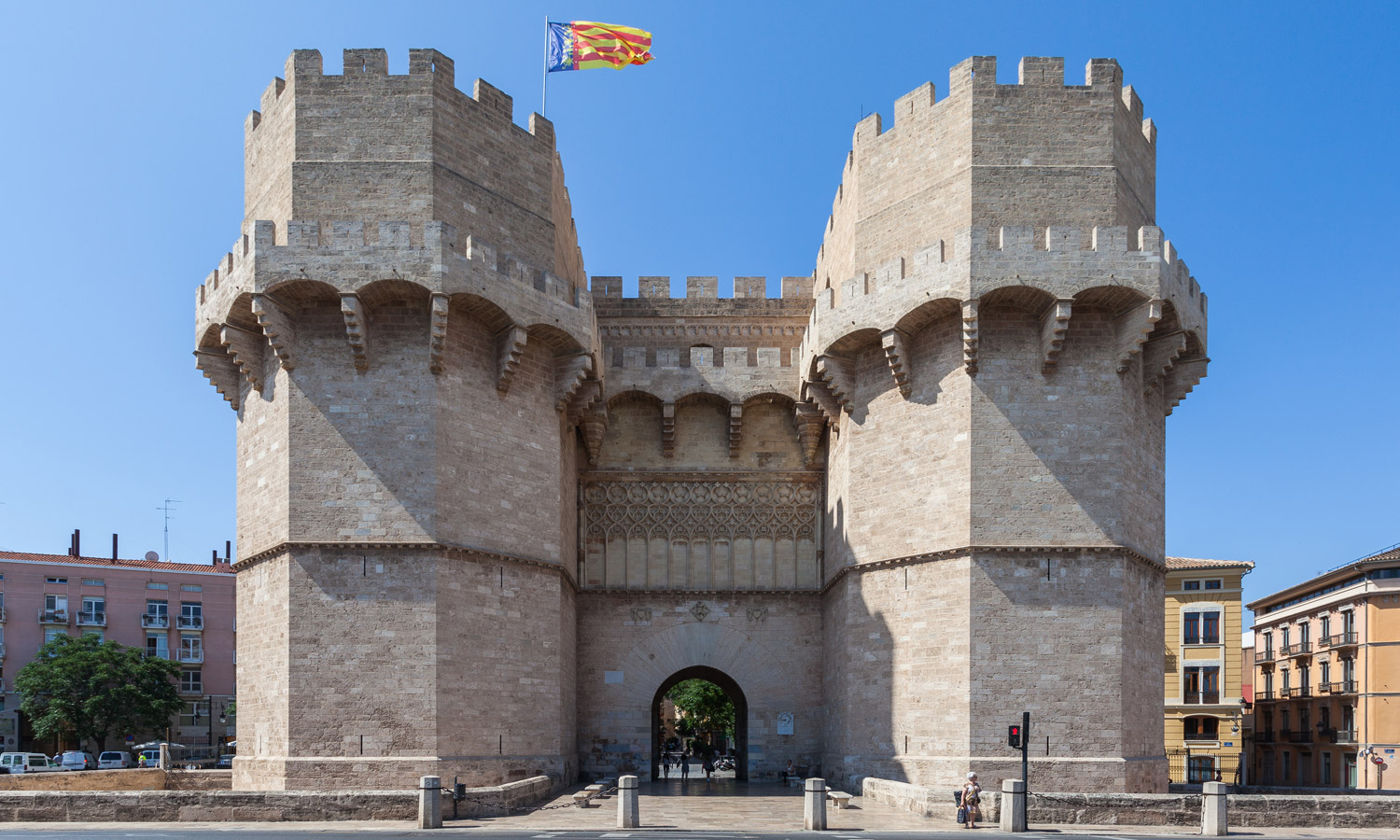 The portal of Serranos, together with the one at Qart, used to be the main entrance to Valencia. It has been the showpiece of Valencia's medieval wall, and have been perceived as a symbol of the city's commercial expansion at the time of its construction. Merchants and kings alike went through passed this threshold to further participate in Valencia's glory days. In addition, this is one of the places in Valencia where you will get an astonishing view of the city and the coastline from its roofs!
Address: Plaça dels Furs, s/n, 46003 València
Opening hours: Every day from 10:00 to 14:00; Fridays and Saturdays reopens from 15:00 to 19:00
Entry price: 2€
# 8 Palacete y Jardin de Monforte
This park with a surface of 12,000 square meters is the ideal place to take a break from your run through the city and enjoy what Valencia's nature has got to offer. Moreover, the beautiful garden architecture is complemented by esthetic statutes and vases, relaxing ornamental fountains and trimmed plants, for instance. It's simply one of the most beautiful gardens in Valencia.
Address: Carrer de Montfort, S/N, 46010 València, Valencia
Opening hours: Every day from 10:30 to 18:00, or 20:00 (may vary by the season)
# 9 València Beaches
If you are a fan of the golden sand landscapes next to the Mediterranean Sea and you are further looking to relax on your towel in full sun, and later practice any sport on sand, sea and air. Then between your ideal places in Valencia is their beaches! Moreover, these are urban, full of restaurants and entertainment venues and with an infinite promenade. Come and enjoy these 20 kilometers of sand and sea; for instance, you have them very close to you, like those of Cabanyal, Malvarrosa and the neighbor of Patacona. On the other hand, if you fancy more remote and rugged, you have those of El Saler, la Devesa and la Garrofera, among many others. Likewise, they have a wide variety of services on the coast such as hammock and umbrella rental at the summer kiosks.
# 10 Ciudad de las Artes y las Ciencias
The Ciudad de las Artes y las Ciencias is one of the places in Valencia that can be further considered a giant Mecca of science, arts and entertainment; and moreover is an unavoidable stop for any Valencia tourist. Certainly, it is worth spending days just in there, unfortunately most passersby just manage to walk through the Turia park and discover these Mars like buildings, and likewise take some selfies with it in the background.
Address: Av. del Professor López Piñero, 7, 46013 València, Valencia
Opening hours: Every day from 10:00 to 18:00
Entry prices:

Hemisferic: 8,80€
Oceanografic: 28€
Science museum: 8€
Umbracle: for free
How to get to Valencia from Barcelona
Train: take the RENFE train to Valencia from the Barcelona's city; the average train time between Barcelona and Valencia is 3h 55m, with the price of 12,35€.
Bus: if you want to get to Valencia using the buses in Barcelona, it takes around 4h 15m with a price of 18€.
Air: a plane ride from Barcelona to Valencia is overall the fastest option, with a duration of 2h 52m; prices may vary.
Car: if you want to enjoy the 325km of scenic route by yourself, the drive to Valencia takes around 3h 52m.
Are you planning a trip to visit one of the 10 places in Valencia and looking for somewhere to stay? Why not take a further look at the AVAILABLE APARTMENT RENTALS ON OUR WEBSITE! Please feel free to contact us with any questions you may have.