Want to find a good hair-stylish in Barcelona? Learn all about the Touch Hair Salon!
Finding a good hair-stylist when you´re staying abroad isn't an easy thing. You always have this apprehension of being misunderstood by the hairdresser and ending up with something that isn't suitable to your needs. Or you simply fear being swindles when it comes to prices, because you´re not familiar with cost norms. Don't panic ladies and gentlemen!  The hairdressing salon Touch Hair Barcelona will solve this problem!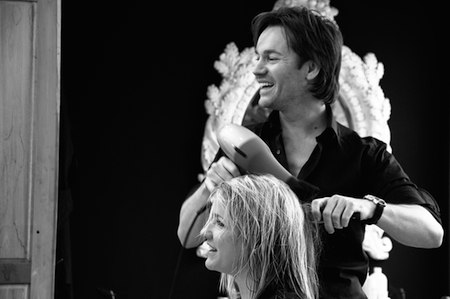 Touch Hair Barcelona is a modern and stylish hairdressing salon situated in the street Corsega, near the subway of Diagonal and the Paseo de Gracia. The hair salon is located in the trendy Eixample district, close to many of our apartments in Eixample. The salon is managed by Gjis, a Dutch hairdresser, whose speciality is to give priority to the needs of customers. At Touch Hair Barcelona you are put first and listened to carefully in order to figure out exactly what you want. The aim is to find the haircut that brings out the best in your character and that enables you to feel the best about yourself.
Find your accommodation now!
Touch Hair Barcelona offers customized services, unlike well-known chains. Enjoy top quality work at knock-down prices.
Don't speak Spanish? Don't worry!
Does the language barrier scare you ? Don't let it! Gjis speaks fluent English, Spanish and Dutch in order to offer you a customized service IN YOUR OWN LANGUAGE. French friends don't despair! Gjis also understands a few words in the mother tongue of Molière and he will be able to understand very well your expectations, because Touch Hair Barcelona has been welcoming customers from all over the world for over 20 years. So feel free to make a reservation soon! He offers his services at very competitive prices. The salon features a chic black and white interior decorated with baroque mirrors and stylish furniture that has been imported from Holland.
Scandinavian or Northern European fine and delicate hair?
Do you have very fine and delicate hair? No worries. Once again Gijs will have the solution! Gjis has extensive experience in treating the fine and delicate hair that is the common hair type in Northern Europe and the countries of Scandinavia. This hair type requires special care and the use of products and hair dye colors specifically developed to treat delicate hair types. Gijs uses the Swedish brand REF – Reference of Sweden, a hair line which contains silk proteins that play an important role in improving the strength and shine of hair. The products also contain Taman oil from Asia, which helps the hair to heal, prevents it from breaking and reconstructs damaged hair as well. Gjis also has experience working with ashier and colder tones of blonde and brown hair color, which are highly requested among clients from Sweden, Norway, Denmark and Finland. Gjis works too with many other brands to correctly dye you exact type of hair.
Practical information about Touch Hair BCN
Pricing and services
Women
Wash and blow dry : 20€
Colour : 33€
Cut and blow dry : 42€
Highlights : 45€
For men
Wash and cut : 21€
Colour : 20€
Opening hours
Touch hair salon in Barcelona is functioning from Tuesdays to Fridays from 11:00 to 20:00, and Saturdays from 11:00 to 15:00
How to contact them
Phone: 00 34 934 574 211
Mobile: 00 34 695 609 493
Website: touchhairbcn.com
How to get there
Address: Carrer Còrsega, 364, 08037 Barcelona
Planning a trip to Barcelona and now you are further looking for an apartment in the best parts of the city? Check out our SPECIAL DEALS ON APARTMENTS all over the city with Barcelona Home! Don't boubt in contact us or visiting our website for help and more information!