Discover the Top Latin American Restaurants in Barcelona
It is perhaps unnecessary to describe the deep connections that Latin American culture has with Spanish traditions. Due to this very close relationship, it is quite easy to find a huge variety of authentic Latin American restaurants in Barcelona. Let's take a look at some of them and learn more about the gastronomic culture of this continent.
#1 Aché pa ti – Cuba
Aché pa ti is a term specifically used in Cuba to mean "Good luck to you". Aché pa ti specialises in authentic Cuban food, such as moros y cristianos (Cuban rice with beans), ropa vieja (literally translated "old clothes", consisting of stewed beef with vegetables), tostones (from the verb "toast", twice fried plantains) and picadillo habanero (original from La Habana, a mix of meat, potato and vegetables). To pay a tribute to Peruvian cuisine, Aché pa ti also offers some typical Peruvian dishes, such as cebiche (made from raw fish cured in lemon or lime juices) and el ají de pollo (chili chicken). Located in the Sagrada Familia neighbourhood, this is a great place to enjoy an exotic meal after a grand tour of Gaudí's famous work of art.

Source: www.goya.com
Information
Contact: +34 935 07 85 87
Opening hours: Wednesday – Saturday & Monday 12;00-17:00 and 20:00-23:00, Tuesday & Sunday 12:00-17:00
Address: Carrer de los Castillejos, 208, 08025, Barcelona

#2 El Ñaño Caminito a Guayaquil – Ecuador
Finding a good Ecuadorian restaurant in Barcelona is not always easy, but El Ñaño Caminito a Guayaquil is definitely worth more than one visit. For very wallet-friendly price you will get a whole course in Ecuadorian cuisine, from their tamales (a steamed starchy dough wrapped into a corn husk or banana leaf), encebollados (national fish soup), fritadas (fried pork), patacones (fried plantain slices) and cangrejadas (crab). Situated in the same peaceful neighbourhood, El Ñaño Caminito a Guayaquil is a great restaurant when you're looking for something close to your Eixample accommodation.
Information
Contact: +34 935 13 10 56
Opening hours: Monday – Sunday 12:00-23:00
Address: Carrer d'Aragó, 54, 08015, Barcelona

#3 Parrailla Alfonsia – Argentina
As one of the number one producers of beef in the world, Argentina is a country in which meat never seems to be in short supply. Beef plays a leading role in Argentine culinary tradition and history. Visit Parrailla Alfonsia for an authentic meaty experience, with empanadas and chorizos to share with friends, and plenty of juicy steaks to pig out on afterwards. The restaurant has a nice selection of Argentine wines, out of which the famous Malbec pairs best with beef. Taste some dulce de leche, a common spread on Argentine deserts. Let the thick, caramel flavour sweeten up your dining experience. Gaucho's is located in the elegant Eixample neighbourhood, near many of our Eixample accommodations.
Source: www.blog.amigofoods.com
Information
Contact: +34 932 46 91 68
Opening hours: Monday – Sunday 13:00-17:00 & 20:00-23:00
Address: Carrer de la Diputació, 379, 08013, Barcelona

#4 El Mexicano de Barcelona – Mexico
There are countless Mexican restaurants in Barcelona, but El Mexicano de Barcelona is no doubt one of the most popular. The Mexican native chef creates high quality food with guaranteed authenticity. Fajitas, burritos, nachos, quesadillas, tacos and guacamoles – you will find all the classics at El Mexicano, and the tastes will still dazzle you and your friends. The menu also includes typical Mexican desserts, such as Pastel de queso (cheese cake) and Pastel de elote. Don't miss the chance to try something new! You should also keep in mind Rosa del Raval, known for its delicious margaritas!
Source: www.facebook.com/elmexicanodebarcelona
Information
Contact: +34 934 30 59 16
Opening hours: Tuesday 20:00-23:00, Wednesday – Saturday 13:00-16:30 & 20:00-23:00, Sunday 13:00-16:30
Address: C/ Villarroel, 233

#5 La Fonda Paisa – Colombia
La Fonda Paisa is probably one of the best representations of Colombian cuisine in Barcelona. Their specialty is Colombia´s national dish, la bandeja paisa, a very hearty plate of red beans cooked with pork, white rice, ground meat, chicharrón, fried egg, sweet plantain, some chorizo sausage, hogao sauce, blood sausage, avocado and lemon. They also offer sancocho, a soup with large pieces of meat, tubers and vegetables served in a broth, and Ajico, a soup made of chicken and potatoes. And don't forget about their huge range of Arepas and Chuzos. At La Fonda Paisa all the food is traditional, home-made and very delicious. The plates are rich and come in huge portions, so make sure to come with an appetite…or a friend!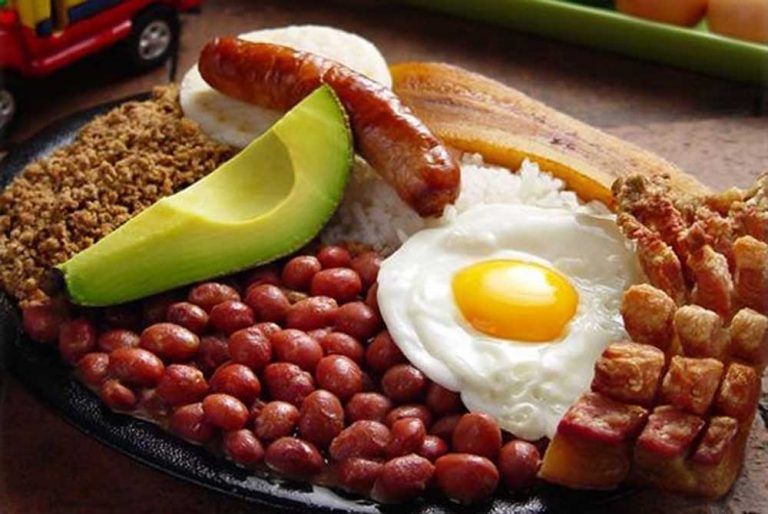 Information
Contact: +34 932 07 22 60
Opening hours: Tuesday – Sunday 13:00-21:00
Address: 332 Avinguda Diagonal Esquina, Carrer de Sicília, 08013, Barcelona

#6 El Rincón de la Abuela Venezolana – Venezuela
Grandma's cooking is always the best and most memorable. And Venezuela is, of course, no exception to this rule. El Rincón de la Abuela Venezolana offers authentic, home-cooked Venezuelan food based on the owners grandmother's recipes and secrets. One of their most popular specialties is their selection of arepas, which consist of two pieces of fluffy bread with dough made of corn flour, stuffed with exciting ingredients such as cheese, avocado or meat. The Pabellón criollo is an unmissable national dish, which consists of rice, stewed beef and stewed black beans.
Information
Contact: +34 935 18 56 43
Opening hours: Tuesday – Saturday 12:00-23:00 and Sunday 12:00-17:00
Address: Carrer de Mallorca, 470, 08013, Barcelona

#7 Cantinho Brasileiro – Brazil
Are you in the mood to try out a new restaurant? The type of small, not-so-well-known eatery full of charm and a passion to feed its guests with authentic food? Then we have the right place for you! Eating at pint-sized Cantinho Brasileiro will make you feel right at home. It's a great perfect place to grab some delicious Brazilian snacks. The acarajé, deep-fried peeled beans made into a ball, is always the top choice on the billboard. Feijoada (a stew of beans with beef and pork) and Moqueca (coconut milk stewed fish) are also real deals you just don't want to skip. Finally, the imported Brazilian beers and homemade caipirinhas make the atmosphere here even better. Cantinho Brasileiro is located near many of our Barrio Gótico accommodations.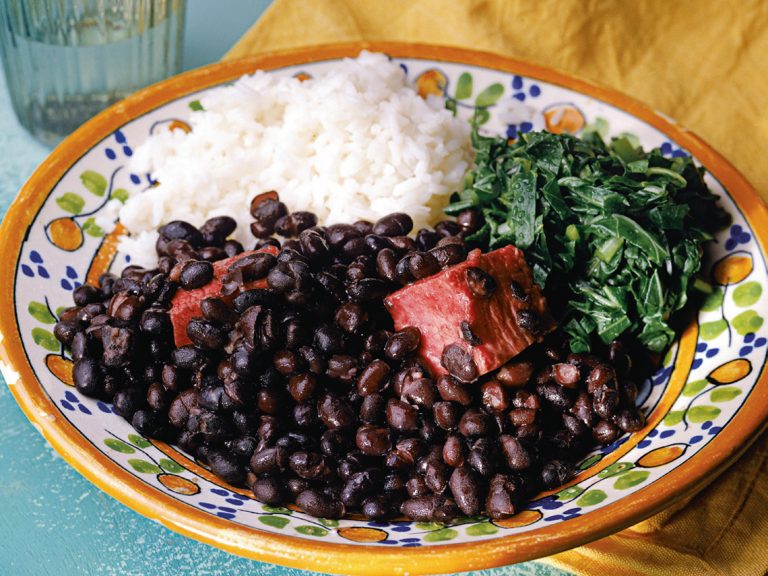 Source: www.miarevista.es
Information
Contact: +34 932 68 14 22
Opening hours: Tuesday – Sunday 11:30-2:00
Address: Carrer Ample, 43, 08002, Barcelona

Are you planning a trip to Barcelona and looking for somewhere to stay? Take a look at the available apartment rentals on our website! Please feel free to contact us with any questions you may have.