Barcelona is a city known for its unique blend of Gothic style with Modernista (Catalan Art Nouveau) masterpieces and even some high tech architecture, such as the 28-story Torre Agbar tower in the Poblenou neighborhood. Perhaps the most influential artist leaving his mark on the city was Catalan architect Anton Gaudi who became famous for his unique organic style inspired by natural forms. For fans of Gaudi we have selected our top three Gaudi Apartments Barcelona, which make visiting his masterpieces easy.
From     173€ / NIGHT
From 4500€ / MONTH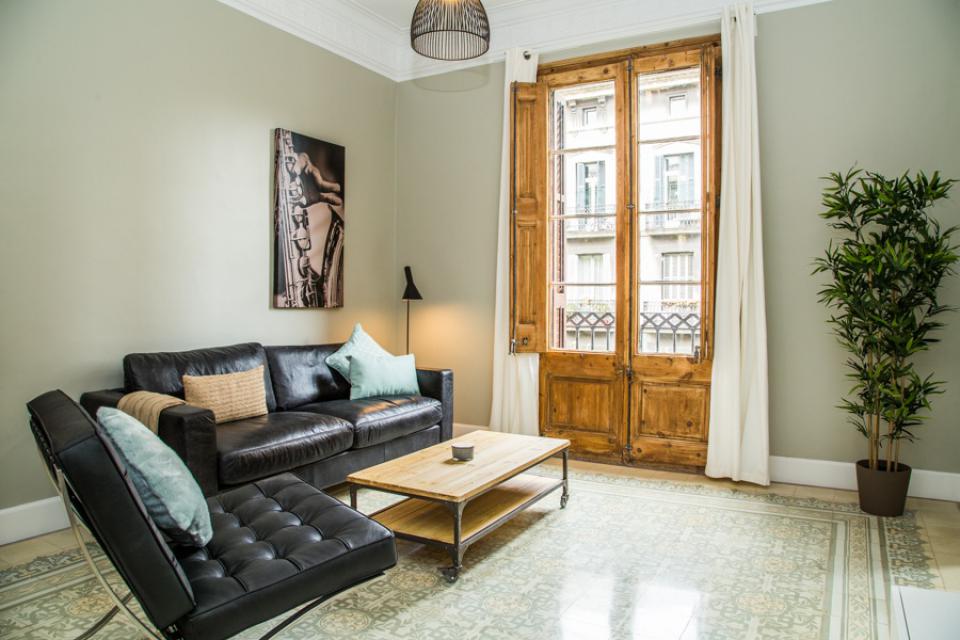 The first of our favorite Gaudi Apartments Barcelona is located just a few steps from the famous Casa Batlló and Casa Milà (La Pedrera), two of the architect´s most famous works on the popular shopping street Passeig de Gracia. The interior of the lodging showcases many of the classic features of traditional bourgeois residences of Eixample. These include high ceilings, intricate mosaic tiles and a picturesque balcony with views of the historic neighborhood. The balcony is accessible through elegant double doors made of refurbished wood. These features are blended with contemporary and vintage designer furniture, such as chic black leather sofas, Scandinavian style scoop back chairs around a transparent glass table and a beautiful turquoise SMEG fridge in the kitchen. The bedrooms are tastefully furnished with a rustic-chic design in mind. Soothing greys, browns and beiges will make you feel right at home. The apartment has a refreshing, clean and stylish feel to it, the perfect environment in which to relax before heading out on your sightseeing tour of Barcelona.
License : HUTB-010178

From      99€ / NIGHT
From 2530€ / MONTH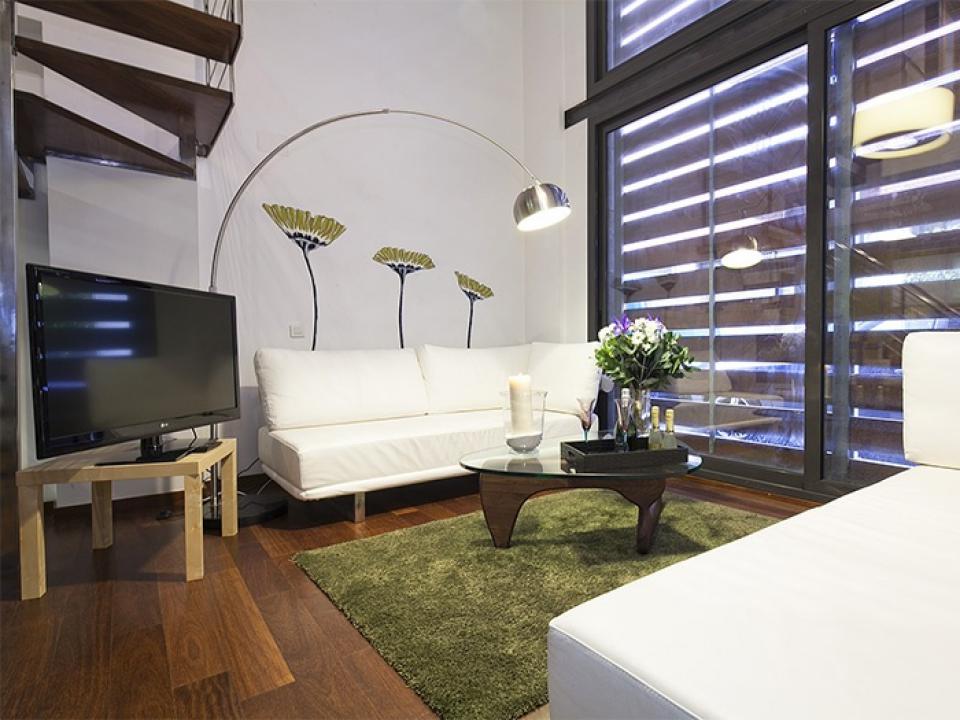 Very close to the magnificent Parc Güell, this artistic duplex is perfect for students and enthusiast of the Catalan architect Gaudi. The interior is characterized by a green and brown color scheme, floral paintings, plenty of live plants and a mossy green shag rug that add a natural, forest feel to the space. The most prominent design features are the slender arched lamp that hangs over the living room and the industrial chic stairway twisting its way up to the second floor. During your stay you will have access to a swimming pool and wood-floored deck area on the terrace of the building. This great lounge space is furnished with cozy sun-beds, great for sunbathing and reading up on the history of Catalan Modernism.
The apartment is located in a quiet, residential neighborhood near the Lesseps (L3) metro station, which provides direct access to Passeig de Gracia and Gaudi´s Casa Batlló and Casa Milà, as well as to Plaza Catalunya and the popular el Gótico neighborhood. Parc Güell and the adjacent Gaudi Experiencia museum are just minutes away.
License : HUTB-003971

From     110€ / NIGHT
From 2550€ / MONTH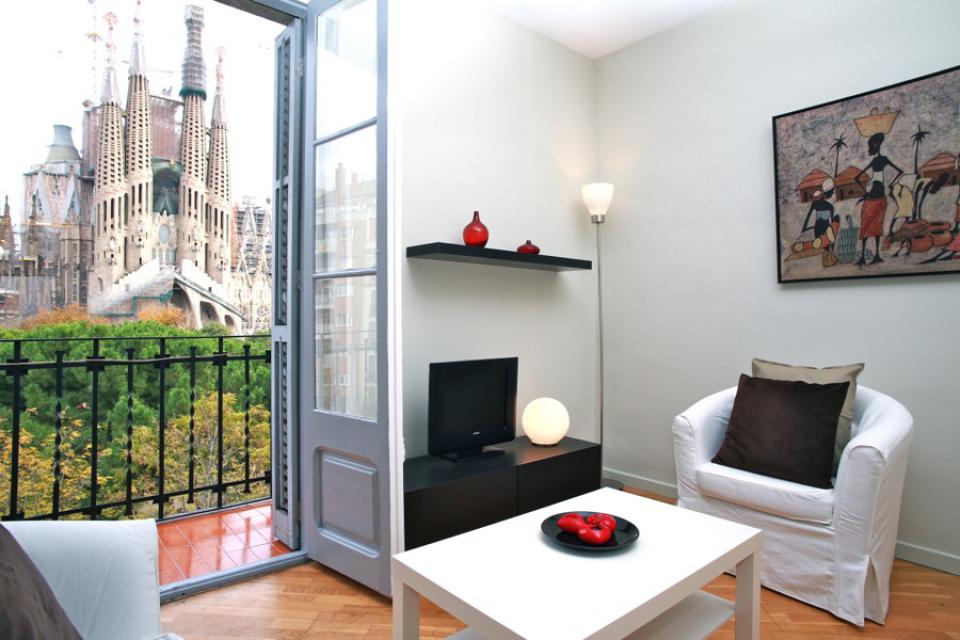 Or, how about enjoying Gaudi´s most emblematic piece, his unfinished symphony, his true magnum opus, from the comfort of your own living room? You´ll have the chance to do just that in our top pick for Gaudi Apartments Barcelona – this bright and lovely two-bedroom located right across from the Sagrada Familia. The lodging boasts spectacular views of the famous basilica from the lounge area and from a private balcony accessible through the living room. The space is furnished with simple, yet practical and comfortable pieces, and is minimally decorated to provide a spacious, open atmosphere. You will love the elegant and sunny dining area with a gorgeous blue glass table and an antique vitrine along the side. The bedrooms come with a clean, white design decorated only by a few framed black and white photos. There are, however, several large closets to maximize storage space.
The apartment is great for Gaudí fans looking to get some work done during their stay, as it features a modest study nook with a wooden desk and chair. This work space is perhaps a bit less distracting for those who need to concentrate than the living room, with one of Barcelona´s most iconic and most frequently visited buildings towering high just outside the window.
License : HUTB-002111

No trip to Barcelona is complete without visiting at least one of Gaudí´s masterpieces. By staying in one of our Gaudí Apartments Barcelona you will have the chance to bask in the glory of these magnificent structures again and again during your stay.

Enregistrer