Sitges Day Trip: Make Your Trip Unforgettable
Did you have a busy week at work? Do you need to get out of a busy city for a while to recharge your batteries? If your answer is yes, keep on reading because we have a tip for the perfect Sitges day trip just for you! Jump on a train or drive to the beautiful town of Sitges situated about 35 kilometers southwest of Barcelona. Not only Sitges is best known for its Film Festival and Carnival taking place every year, but it is a popular spot for all holidaymakers thanks to its picturesque beaches, nightlife, and historical sites.
 Things to do & see
The list of things to do and see in Sitges is long. Here are some highlights you definitely shouldn't miss while taking a Sitges day trip.
Beaches in Sitges
The beaches in Sitges are, without a doubt, one of its main attractions. The most prominent beaches in Sitges include Platja de Sant Sebastià, Platja de la Fragata, and Platja de Les Anquines where you can kayak, swim, and do some water aeròbics. If you decide to visit Sitges during another season than Summer, you can enjoy a peaceful picnic in the sound of waves breaking on the shore.
La Punta
Church of Sant Bartolomeu i Santa Tecla, better known as "La Punta" has become one of the most recognized icons of the city. It is located on a small hill overlooking the beach and the town. Local vendors selling handmade souvenirs fill the stairs going up to the church. It may also catch your attention because of its unusual structure. It has two tower bells and the shorter one has a clock indicating the tempo of the whole town.
La Punta de les Coves
On arriving in Sitges, walk south along the Passeig Marítim. Before reaching its end, you will pass some grand mansions looking directly out to the sea. Continue walking along the coast past L'Atlantida Club, and you will soon come to La Punta de les Coves. You can continue the path along the cliffs for some more adventure. It is so beautiful!
Museums in Sitges
Sitges has three main museums that are definitely worth visiting. Firstly, you can pay a visit to the Cau Ferrat museum including collections of modern art, glass, and ceramics with works made by names such as Rusiñol or Picasso. Secondly, you can take a stroll through Museu Romantic. You can admire a ballroom and the collection of dolls in the 18th-century building. And last but not least, Museum Maricel is a great spot to admire art with maritime themes fitting in this seaside town.
 Where to eat
We shouldn't forget that Sitges is a coastal town. For this reason, seafood is common in many restaurants and there is a good chance that the standard will be high. However, as anywhere in the world, it is best to avoid seafood on a Monday – the one day of the week when the fish may not be fresh as there has been no delivery on Sunday.
El Chiringuito
If you are looking for tapas, El Chiringuito is the right choice! It is located right on the beach promenade, between Fragata and Ribera beach. You can listen to the waves crashing on the beach while enjoying the typical tapas dishes with a strong seafood focus.

Address: Passeig de la Ribera, 31, 08870 Sitges
Opening hours: Every day from 10:00 to 13:00
Average price: 9 Euros for tapas
La Salseta
La Salseta is a family-run restaurant offering delightful Catalan cuisine. The restaurant owners take special care of sourcing ingredients from small local producers. Traditional dishes found on the menu include octopus with white beans, ham, and cocas – a pastry delicacy made of courgettes, tomatoes, sausage, and black pudding.
Address: Carrer de Sant Pau, 35, 08870 Sitges
Opening hours: 13:15-15:30 and 20:30 – 23:00, closed on Mondays
Average price: 30- 40 Euros, fixed price menu from Tuesday to Friday – 16,50 Euros
Incognito Café Bar
If you are looking for a regular place to eat during your stay that is off the beaten track (though not too far), you can't do much better than ordering a dish in Incognito. They serve international meals in a great price range. Why not, for instance, trying their pork ribs?

Address: Carrer d'Europa, 16, 08870 Sitges
Opening hours: 11:00 – 17:00, closed on Tuesdays
Average price: 15 Euros
  Where to stay
If you would like to find accommodation in Sitges, we picked some interesting options to provide you with an unforgettable experience: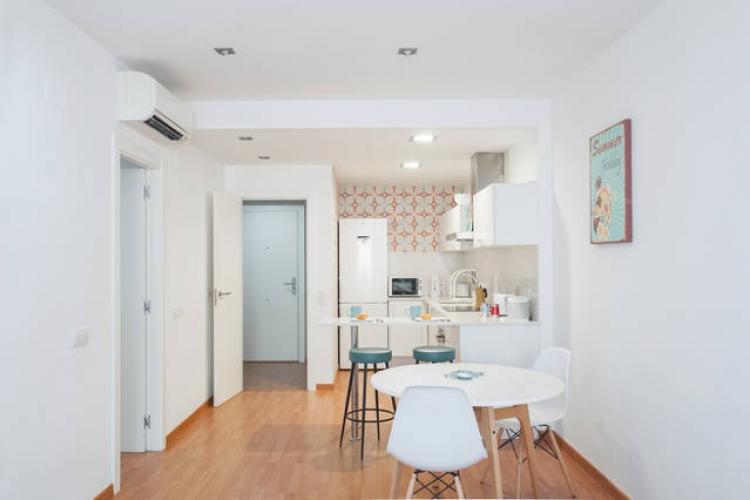 The apartment is situated in a quiet street in the heart of Sitges, a few steps from the Sant Sebastian beach and some of the most visited tourist attractions, such as the Iglesia de San Bartolomé y Santa Tecla and the Museu Cau Ferrat. The welcoming living room has an open kitchen, entirely renovated and equipped for you to have extraordinary holidays. It is perfect for couples or small families.
From 88€/night | 50m2 | License : HUTB-013346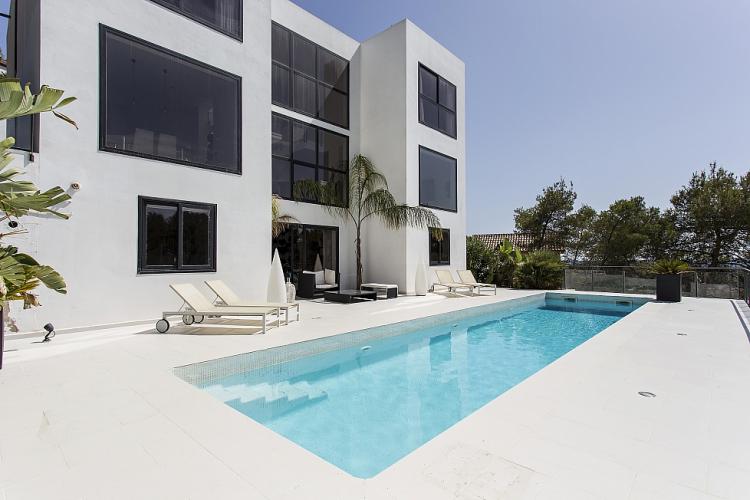 LUXURIOUS VILLA WITH CONTEMPORARY DESIGN, OLIVELLA (SITGES)
Come spend your holidays in this exclusive and luxurious villa of contemporary design, whose exterior presents an exceptional swimming pool, garden areas, and a chill-out space with sophisticated furniture. The interior is simply magnificent, with great brightness thanks to its large windows and composed of superb decor, with unique pieces that you will fall in love with at first sight.
From 128€/night | 300 m2 | License : HUTB-011360
HOUSE WITH POOL IN ROCAMAR RESIDENTIAL AREA, SITGES
Beautiful house situated in a high standing urban zone in Sitges recommended to those looking for an intimate and welcoming place equipped with all possible amenities to spend great holidays with friends or family. The house features a huge terrace with a private swimming pool and barbecue, perfect to refresh during the hottest days and to eat outdoors. The beach is only minutes away.
From 176€/night | 90m2 | License : HUTB-010292
Finding accommodation with service, in the center of the city? Alongside the beautiful apartments offered on our
website
, check out a wide scale of the hotels in Sitges!
 How to get there:
 TRAIN: The C2 train travels to Sitges from stations Estació de França, Passeig de Gràcia, and Estació Sants. However, not every train goes from Estació de França, therefore it is best to check the timetable if you wish to travel from that station. The train operates between 6:47 and 19:37. A single journey costs €4.10 and a return journey €7.20.
 BUS: Buses to Sitges from Barcelona leave from Plaça España and Ronda Universitat during the day. They are run by a bus company called MonBus. The night buses operation between 0:55 and 5:51 run from Plaça de Catalunya under numbers N30, N31 or N32. A single journey costs €4.10.
CAR: There are two options for getting to Sitges from Barcelona by car. The first one is a scenic route along the coast, meanwhile, the second one is a motorway C-32. The second option is faster, however, you have to pay a toll.