Latin Dance Lovers Itinerary
Whether it's a form of exercise or a physical expression, dancing is one way to keep your body moving whilst having lots of fun. From Salsa to Kizomba and Bachata, Barcelona has a big community of Latin dance fans and once you're bitten by the dance bug, there's no stopping!
There are many places in the city where you can enrich yourself with Latin culture in the form of dancing and food, so keep reading to find out more!
Feel the Rhythm
Feel the rhythm by either going to Latin dance clubs, dance meet-ups, or dance classes with your friends and loved ones. Be sure to start your day or night with a good plate of Latin-inspired cuisine before you dance your night away! L'Eixample is the area you want to focus on when looking for Latin clubs and cuisine and we have picked a couple of our favourite places.
Mojito dance club is known for the dance classes they offer in the city such as salsa and bachata from Thursdays to Sundays. There is international Latin music on Saturdays and  Latin live orchestras that play on Sundays.
One of the best Latin vibes in Barcelona, Antilla club has two areas for those who love Bachata, Salsa, and Bailongos. Other than that, they have live music with Cuban bands and this is something you don't want to miss!
Last but not least, El Dio club is known for its variety of national and international Latin music played in the venue from Thursdays to Sundays.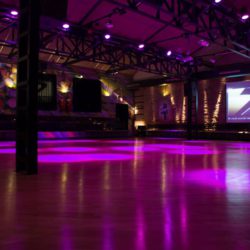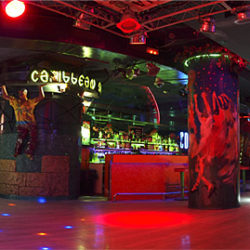 Dance Classes
Another option that you can choose if you prefer something that's more on the professional side is that you can attend dance classes in studios that are located in the city. We specifically picked 3 studios where you can learn certain Latin dance styles.
Seven Dance is a studio where you can learn three different Latin dances out of the 6 that they teach. You can come by for a free class to help you decide which classes you like before you enroll. Barcelona Flamenco – as you can already guess, teaches their students the art of the Flamenco dance. You can either learn the dance, play the guitar and castanets or learn to sing. They also organise a variety of Flamenco shows for you to watch and enjoy. Last but not least Dance Emotions is a kid-friendly studio that can teach many different dance styles.
Something else that you could do as a group is going to dance meet-ups and dance classes. On meetup.com, you can find many activities that are happening in your community. Meet people who share the same interests as you! It ranges from social dancing and dancing classes, so you are not limited! 
Where to eat 
It's only fair to complete your Latin experience by getting a plate of Latin cuisine. Our personal favourite places around the city are as follows:
Restaurant Argentina Vinya Rosa
Its facilities create a cozy atmosphere with Parisian reminiscences. Argentina Vinya Rosa has the personality of a most elegant Buenos Aires restaurant. The restaurant specialises in grilled meats. Its menu stands out for the high quality of meat from Argentina, Uruguay, and Nebraska that delight the most exquisite palates.
Restaurante Cubano – La Giraldilla
It's an Authentic Cuban restaurant close to Sants Metro, with good service and great food. Keep in mind that the staff mostly speak Spanish!  It is a great hidden gem in Barcelona as there aren't many Cuban restaurants in Barcelona and the ones in the centre of the city can be very expensive.
Gonzalez & Co – Mexicana
The fresh and tasty tex-mex fare at this new eatery just off the bustling Diagonal. The star dishes of Gonzalez & Co are burritos, nachos, and quesadillas, which can be based on chicken, veal, steak, or pork. They also have alternatives for vegans and celiacs, such as the famous burrito bowl or the quesadillas with sautéed vegetables. To accompany their dishes nothing is better than a cold Mexican beer. They offer the classics, including Corona, Pacífico, and Negra Modelo.
For more recommendations, check out our EATING & DRINKING section on the blog.
Where to stay
Take a look at our apartments for Latin Dance lovers in Barcelona:
They're all in the city center close to so many amazing restaurants.
BARCELONA PENTHOUSE WITH PRIVATE TERRACE
This wonderful apartment presents two spacious and furnished bedrooms with all the essentials for your stay. Its picturesque decoration, featuring splashes of red to give it some character. The furniture is modern and minimalist style, as well as its spaces full of natural light and its excellent layout. This is the perfect place to visit Barcelona with family or with a group of friend.
From 108€ / NIGHT| 66m² | License : HUTB-001182
CUTE LOFT FOR RENT NEAR CASA BATLLO
With its unique open space and its exquisite layout, this apartment offers a perfect mix of modern style decorative elements and architectural details of rustic character, to create an atmosphere full of warmth and functionality. Its exposed wooden beams, minimalist kitchen, and warm wooden floors make this apartment a place in which to relax and rest. It is the perfect place for couples, families or small groups.
From 99€ / NIGHT | 35m2. | License : HUTB-008765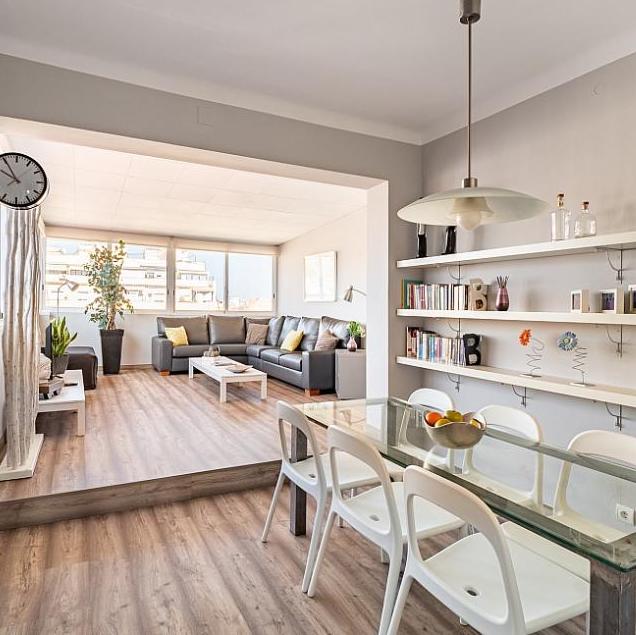 ATTIC APARTMENT IN EIXAMPLE WITH PRIVATE TERRACE
Luxurious attic apartment with a simple and stylish design and magnificent private terrace with stunning views of Montjuic. The interior is characterized by bright and spacious areas in you can relax with your family or friends. It includes an elegant lounge with a corner couch and windows on all sides. In addition to a beautiful dining area with a sophisticated light grey and white color scheme.
From 171€/ NIGHT | 80m2.  | License : HUTB-003391
Check out the Eixample area below where most of our recommended spots are located: