Barcelona is a city blessed with beautiful architecture, dynamic nightlife and fantastic Mediterranean weather, with clear skies and an average annual precipitation of less than 640 mm. This explains the high volume of tourism, with the majority of visitors flocking to Barcelona´s sunny beaches and ports. But what better way to enjoy clear skies and sunshine than from the privacy of your own home? We have rounded up our top three favorite Pool Apartments Barcelona.
From    102€ / NIGHT
From 2415€ / MONTH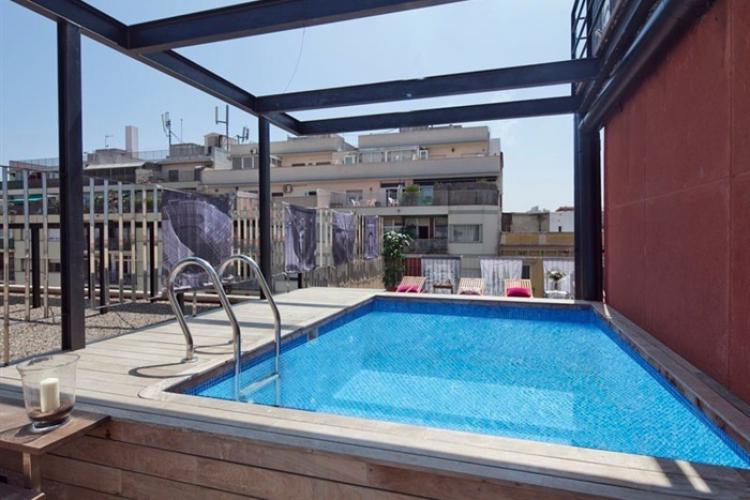 One of our favorite Pool Apartments Barcelona is this centrally-located designer home with a sober, wine-colored living room with a cozy couch, soft shag rug and unique, Miró inspired artwork hanging from the walls. The bedrooms are likewise tastefully decorated with soothing colors and comfortable single and double beds. They also all have access to a balcony, which allows in plenty of light during the day. A pretty 4 m2 terrace is equipped with a wooden table and chairs, perfect for enjoying a glass of Cava and some hors d´oeuvres before dinner.
On the rooftop you will find a fantastic elevated pool on a large terrace with lounge chairs and an umbrella to protect against the harsher rays of sun. This lounge area is reminiscent of a spa, and will surely add a touch of glamour to your stay. The apartment is located just a few steps from the famous Arc de Triomf and from that monument´s namesake metro station. For those who enjoy an early morning jog, the property is also minutes away from La Ciutadella, Barcelona´s largest public park. It is also located very close to the El Born neighborhood, known for its fantastic tapas restaurant, plazas and unique shops.
License : HUTB-001973

From   96€ / NIGHT
From 2530€ / MONTH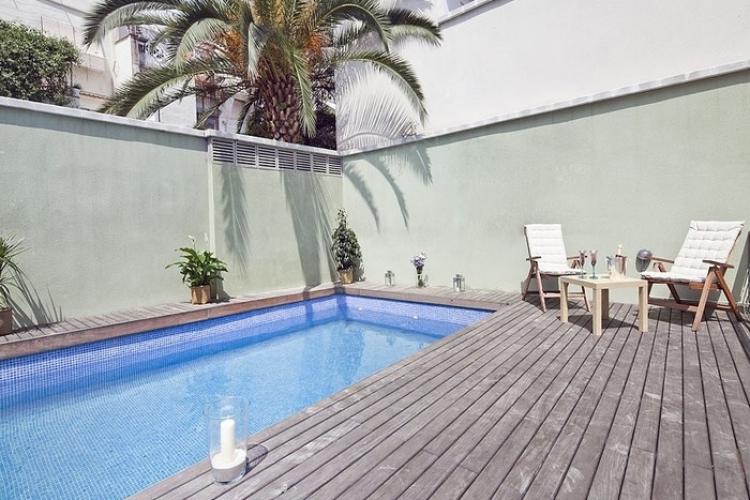 Imagine an apartment with a gorgeous terrace and pool in one of the most dynamic and culturally interesting neighborhoods of the city. That is precisely what you´ll get with this fantastic Gracia duplex. The interior is characterized by a vibrant design scheme with elegant gray walls, potted plants and a bright red shag run in the living room. Overlooking the lounge area is a modern kitchen that is modest in size but features a fantastic island counter and stools for guests to relax on while dinner is cooking. A winding staircase leads up to a second floor with a gorgeous modern bathroom and two spacious bedrooms, decorated with colorful bedsheets and fluffy pillows.
The pièce de résistance of the property is the swimming pool and surrounding 35 m2 terrace, with comfortable lounge chairs and warm wooden floors, perfect to lay on while suntanning. The apartment boasts a wonderful location near Passeig de Sant Joan and the wonderful Vila de Gracia, a neighborhood known for its picturesque walking streets, breezy plazas and great diversity of restaurants, cafes and boutique shops.
License : HUTB-002893

From    88€ / NIGHT
From 1500€ / MONTH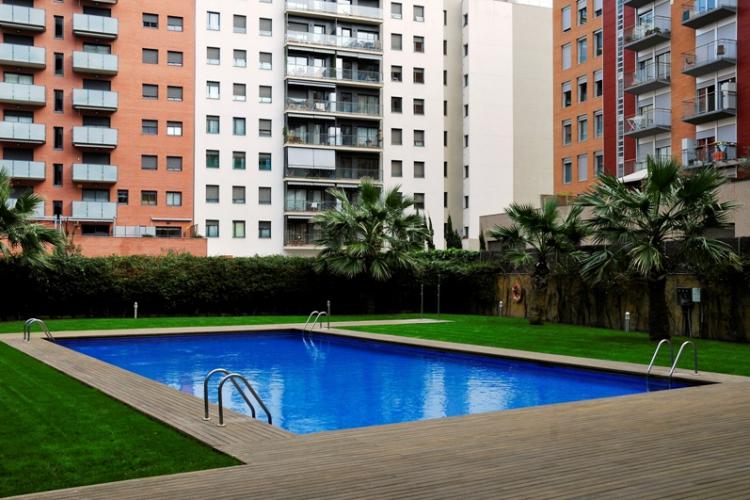 This sleek and modern apartment is located on the 15th floor of a new building with wonderful views of the city, and is one of our most popular Pool Apartments Barcelona for groups of friends seeking to stay near the beach. The interior is divided into two spacious bedrooms, two bathrooms, a dining area with a transparent table and chairs, and a living room sporting a stylish black leather sofa and large flatscreen TV. There is also a very spacious kitchen with a separate dining nook. A large glass door leads from the living room to a furnished private terrace with spectacular views of Torre Agbar and the Mediterranean coast. What a great place to enjoy a leisurely breakfast or romantic dinner for two!
The building also comes with a massive swimming pool surrounded by smooth deck flooring and a grassy area to lounge on with your favorite book. The pool is long enough to also swim laps in, for guests wishing to get some exercise during their stay. It´s also a great option for lazy afternoons, lounging a bit after a day at the beach before going out for dinner. The apartment is located in the Diagonal Mar region, a few minutes from the Selva de Mar metro station with rapid access to the rest of the city. It is also just a short walk from several gorgeous parks and Mar Bella beach.
License : HUTB-003921

Whether looking for a long-term lodging or a weekend stay in the City of Counts, these Pool Apartments Barcelona are sure to provide the comfort and relaxation you seek. So grab your favorite book, a pair of sunglasses and some sunscreen, and get ready to enjoy a moment of peace under the Mediterranean sunshine far from the crowded beaches.
Enregistrer