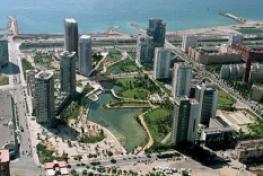 Apartments in Diagonal Mar - Rent apartments for days, months and years
Diagonal Mar is located in Barcelona´s Sant Martí district, and is one of the most modern neighborhoods of the city. As you explore the area, you are sure to find several examples of modern architecture and even some designer buildings yet to be completed. Diagonal Mar is named after its location near the Mediterranean Sea and at the start of Avenida Diagonal, a major thoroughfare that diagonally transverses the entire city.

In this very new region of Barcelona you will find one of city´s largest and the most popular shopping centers, Diagonal Mar Centre Comercial. From this point, you can easily get to the city center via the above-ground tram or the underground metro. There are also several buses that will take you quickly to any part of the city. If you prefer to avoid the hustle and bustle of the center you can also take a leisurely stroll down Paseo Maritimo or visit one of the many beaches of Barcelona.
Latest reservation 9 minutes ago