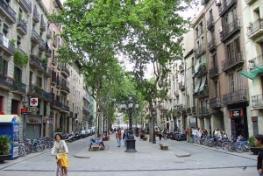 Apartments in Born - Rent apartments for days, months and years | Barcelona Home
El Born is located in the heart of Barcelona and is one of the most charming neighborhoods of the city. With its narrow streets lined with cafes and restaurants, it is an excellent choice for those who want to experience the most picturesque side of the City of Count. The area is characterized by several historic buildings from the turn of the century and earlier; one can even discover structures dating back to the Middle Ages. Despite the strong presence of centuries past, El Born is one of the most fashionable and modern areas when it comes to apartments.

Crossing through the district is Passeig de Born, a main street known as one of the centers of Barcelona´s famous nightlife. Here one can find various types of nightlife venues, from the coziest bars to what Catalans claim to be the best pizza in Barcelona. The neighborhood is also known for its variety of authentic Catalan shops, which stay open throughout the day and well into the night. And for those who seek major international brands, the shopping center Plaza Catalunya is only a few minutes away by foot.

El Born is the perfect place for those who visit Barcelona to experience it´s wonderful art and culture. There are several small galleries in the area and it is also home to the famous Picasso Museum and el Born Cultural Center. If you are lucky, you might also witness a wedding in the famous cathedral of the area.

The proximity to the beach makes El Born attractive to tourists visiting Barcelona for the weekend. Barceloneta Beach is situated only a 10-minute walk down Via Laietana - a major avenue that originates from Roman times. This area is ideal for first-time tourists as well as for the more experienced visitor. Families as well as lone travelers can fill their days with an endless amount of activities and sites to visit. El Born is also a great neighborhood for students seeking to live in a very typical region of Barcelona and for groups of friends on vacation in the city.
Latest reservation 8 minutes ago