Have you considered taking up Spanish classes but haven't found a school that would really speak to you? You don't have to search any longer, Olé Languages Barcelona is a perfect match for you! It is a professional Spanish school dedicated to teaching Spanish as a foreign language in an open, personal and enjoyable atmosphere. The school offers Spanish courses for all levels at competitive prices. The classes are taught by dedicated, highly qualified, native Spanish speakers.
Olé Languages is committed to providing you with every means necessary to reach your language-learning goals, while making the most of your time in one of the most beautiful cities in Spain, Barcelona. The professors who teach at Olé Languages pursue teaching as their vocation and have made a conscious decision to work in a smaller school, where the atmosphere is more personal. Therefore, they have more possibilities to interact with each student. Olé's teachers hold a B.A. in Linguistics, an M.A. in Education and have extensive experience as teachers of Spanish as a foreign language.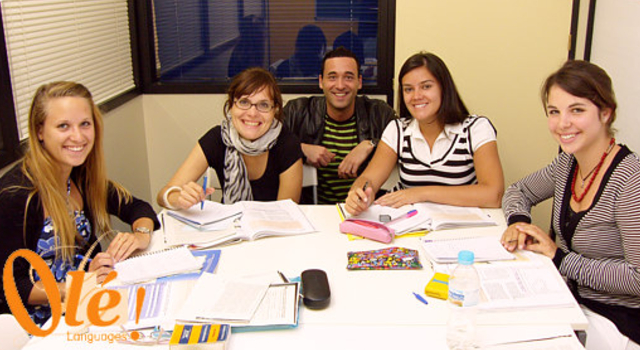 With a maximum of eight students per class, the study groups at Olé are smaller than in most other Spanish schools (the average number of students per class is five). Olé Languages offers an excellent quality of teaching at a significantly lower price than the large majority of Spanish schools in Barcelona. 99% of our students evaluated the relation between price and quality at Olé as "Muy Bueno." The students have the option to extend their Spanish course as they go along. Moreover, with every additional week, the price is lowered.
Olé Languages offers a wide variety of Spanish courses for beginners, intermediate and advanced learners that range from a maximum of 25 lessons to a minimum of 4 lessons per week. The duration of the course is very flexible starting with a minimum study period of one week and the possibility to extend the course on a weekly basis up to a year.
Intensive Spanish Course: 20-25 lessons per week, 1 week: 145 Euros
Semi-Intensive Spanish Course:  10-15 lessons per week, 1 week: 79 Euros
+5 Conversation Classes: 5 lessons per week, 40 Euros in total
Evening Spanish Course: 4 lessons per week (from October to June), 4 weeks: 126 Euros
D.E.L.E Preparation Course: 20 lessons per week, 2 weeks: 362 Euros
Private Lessons: 1 – 20 classes per week, 1 lesson: 40 Euros
The school firmly believes that knowing Spain and feeling like part of the community is vital for understanding the Spanish language. Therefore, with activities, both inside & outside of the classroom the staff ensures that you live, eat and breathe Spanish. Every Thursday evening, Olé invites all students of the school to an informal get-together. The idea is to meet, mingle and get to know each other while exploring the city's urban nightlife.
Olé is located in close proximity to Barcelona's city center. In just ten minutes by foot, you reach famous Placa Catalunya. The school itself is situated on Carrer Mallorca, a charming zone with many cafés, small shops, and bars to gather with your friends after the lesson. The school has many facilities all students can freely use. Olé provides many DVDs in Spanish as well as books for different levels, from beginner to advanced learners. You can make use of 20 computers located at the school as well as free wi-fi connection. Furthermore, all classrooms are equipped with air-conditioning to make you feel comfortable even during hot Spanish summer.
If you seek accommodation near Olé Languages Barcelona, we recommend taking a look at our Apartments in Poble Sec and Apartments in Sant Antoni, two fantastic residential neighborhoods which will allow you to experience the city as a local while also being just minutes away from the most popular tourist attractions Barcelona has to offer. Check out our SPECIAL DEALS ON APARTMENTS all over the city with Barcelona Home!