Although Sitges has many options for fine dinning and typical Spanish cuisines, sometimes it is nice to try something different. Sitges is so crowded with tasty restaurants and so many diverse choices that it can be overwhelming when finding a place to eat, luckily we at Barcelona-Home have gathered a few of the best places for those late night munchies or lazy deliveries.
Burgers in Sitges
One of the best American-Style burgers in town, Big Al's has it all. With the best of all American food, its menu ranges from pulled pork nachos to the juiciest spicy jalapeño burger. On top of that, it still has the best craft beer to marry your meal. Most of the craft beers are local, and in addition they also have a wide variety of American drinks.
If you are still craving for burgers, but want something more Spanish influenced, El Santo is the place to go. Set up by three Spanish friends enthusiastic about good food, the simple menu has unique flavoured burgers with vegan options available. El Santo is open until late night, has home delivery and takeout options, as well as a children's menu.
Big Al's
El Santo
Sushi in Sitges
Due to the amount of quality seafood in Sitges, sushi works very well here. For the sushi lovers, Yatai has the most affordable yet good quality menu of Sitges. The Japanese brothers along with a Catalan friend opened the first Japanese takeaway of Sitges. Its specialties are the Takoyaki, deep-fried octopus dough balls, Okonomiyaki, a pan-fried pizza with veggies and yakisoba, the famous veggies noodles. All sushi is made with fresh fish.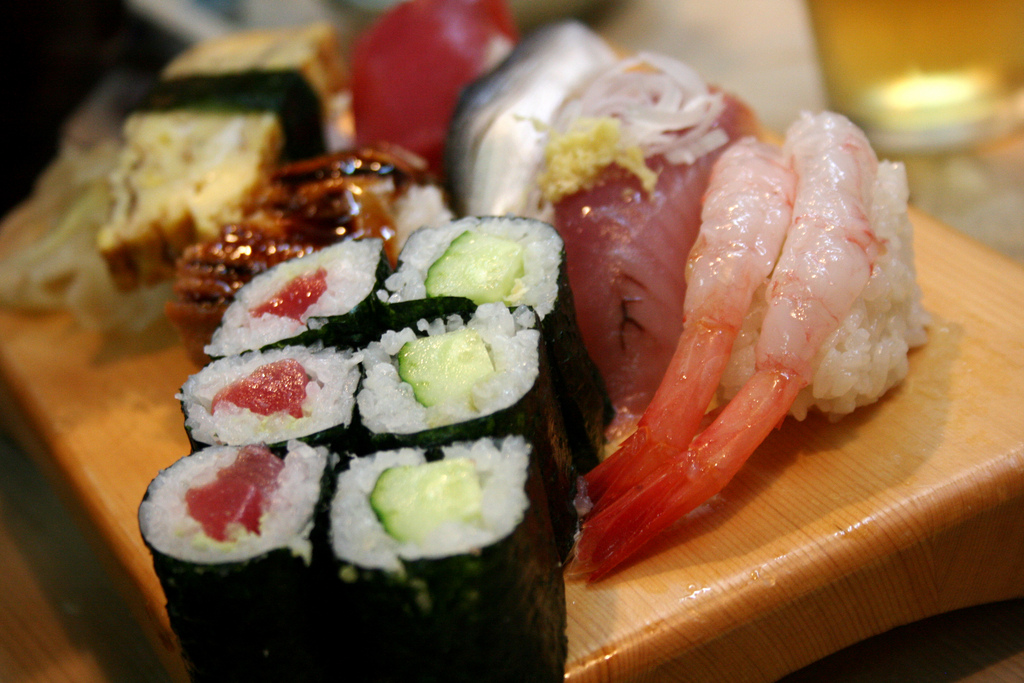 Pizza in Sitges
In case you have no food and it's a bank holiday, no worries, Yummy Pizzeria will make sure you don't starve to death. Its handmade pizzas are customizable and deliverable with a 10% discount! However, if you really feel like going outside, the restaurant also has a terrace where you can enjoy a drink or two, while watching life go by in the village.
Another excellent option is Pizzeria Ristorante Francesco. This pizzeria is run by Italians, which means the food will be delicious and of traditional Italian quality. Besides pizza, the restaurant offers more delicious dishes, for example beautiful salads, carpaccio, fish, and several appetizing pastas, all with an Italian touch of course. This place will give you a little piece of Italy while you're in Spain.
Yummy Pizzeria
Pizzeria Francesco
Thai Food in Sitges
Last but not least, if you want to spice things up, The Beach House is the hottest spot. Australian owned, The Beach House just went through a renovation, which made it look even cozier! With a privileged view of the famous church of Sitges, the menu is inspired by the streets of Thailand and coast of Bali, and offers the best Pad Thai in town.
Seafood in Sitges
Sitges is a coastal town, therefore, there are a lot of good quality seafood options available in restaurants. Be aware, it is best to avoid seafood on Monday, since there is no delivery on Sunday there is no certainty if the fish will be as fresh as it should be.
For a real local experience, we recommend to go to La Paradeta Sitges. The concept is very original, you walk in, pick the seafood you would like to eat from the seafood counter, the cooks prepare it for you and when it's ready you go and collect it. The food itself is very fresh and delicious, it is a very popular restaurant and gives you an unique experience. Go here if you love some good seafood.
La Taberna del Puerto is a great restaurant for some fine dining in a delightful setting with a beautiful location. The restaurant is located in the Marina waterfront, which gives you a view over the harbour of Sitges. Their extensive menu with good quality seafood and beautiful wines is an amazing way to end your night with.
La Taberna del Puerto
La Paradeta Sitges
Are you looking for a great accommodation in Barcelona? Look no further, we have what's right for you!