Given its splendid balcony with a panoramic view of the city of Barcelona, Mirabé is the ideal place to come and have a cocktail or eat a creative Mediterranean cuisine. Additionally, the establishment offers the location as a rental property for private celebrations!
Located at the end of Avenida Tibidabo, Mirabé is a restaurant boasting a spectacular panoramic view of Barcelona from its terrace, as well from its two floors. In order to enjoy these views, you can get here by riding on the Tramvia Blau while simultaneously enjoying the ride up to the famous Tibidabo mountain. Above all, that is to say this area of the city will give you an experience like none other.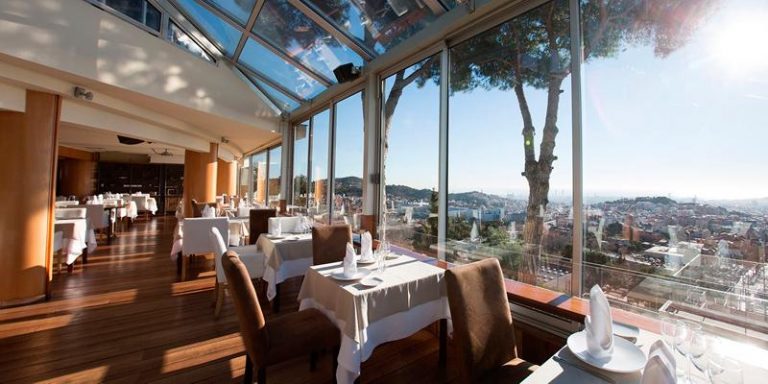 This traditional restaurant offers from tapas to an arrange of exquisite Mediterranean specialties; and additionally, a wide selection of premium international dishes as well. Created by Chef Joaquin Reig, the menu includes a variety of original and creative dishes that will further surprise your taste buds. Enjoy a wonderful meal accompanied by the best music from resident DJ's. The combination of the delicious cuisine, relaxing music and the excellent personalized attention is guaranteed to provide you with the most enjoyable experience.
Mirabé's privileged location, along with modern decor, makes this the ideal setting to escape the hustle and bustle of the city. In addition of the amazing exterior scene, the interior is luxurious and bright, with huge windows that brings in light throughout the day. Moreover, creating a sense of freedom that comes with the spectacular view of the seemingly endless horizon. At night the twinkling lights of the city will surely seduce you, as well as the vibrant ambiance completing this exclusive experience.
In the same vein, Mirabé has two floors as well as a beautiful outdoor terrace surrounded by lush vegetation. As well said, the kitchen offers a Mediterranean menu, spiced with creative details which are guaranteed to make your mouth water. The vegetable timbale, the duck liver with apple compote, and the homemade Catalan cream are a perfect match. For night socialites, the restaurant offers a selection of delicious cocktails and a dance floor to enjoy the latest beats.
After a visit to Mirabé, you can go explore the Tibidabo mountain, where there are many more things to see. Above all, both kids and adults will be able to enjoy the charming theme park at the top of the hill. The park was built in 1889 and a lot of the rides date back to this time, giving the park a whimsical, antique feel.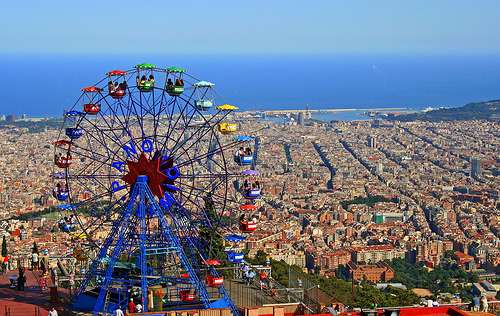 With this fabulous panorama, Mirabé provides the perfect atmosphere for any occasion such as romantic dinners, evening celebration with friends, and meetings with colleagues. Undoubtedly, more meals and drinks can become a thousand times more special than just an ordinary night out. Additionally, this spectacular space is also available as a venue for your dream event such as a wedding, private parties or corporate events. Have you ever imagined how great your party pictures would look with panoramic views of beautiful Barcelona in the background?
Services
Some of the different services that the restaurant boasts for celebrating any wedding or event are:
DJ
Decoration service
Wardrobe service
Sound/lighting technicians
Photographers
The rental of audiovisual teams
Floral art
Drinks service
If you seek an accommodation near Mirabé, check out our stylish apartments in Sarria – Sant Gervasi
Address: Carrer Manuel Arnús, 2, 08035 Barcelona
Opening hours: Monday – Friday 18:00 to 03:00, Saturday 12:30 to 03:00, Sunday 12:30 to 02:00
Practical information
Rental price (from – to): To be confirmed
Menu price per person: from 60 € to 150 €
"Do you have your own kitchen? What type of food do you serve?": Yes. Mainly Mediterranean food
"Do you have accommodation?": No
Number of guests (from – to): from 30 to 300
"What is the surcharge if you don't meet the minimum number of guests?": To be confirmed
"Do you have a time limit on the length of the celebrations?": 03:30am at the weekend
"Do you organize more than one event per day?": Sometimes, depending on the event
"Do you have a photographer/music/florist exclusivity?": No
"How do we pay?": Transfer, card, cash up front
"Do you have disabled access?": Not in every area
"Do you accept pets?": Only on the terrace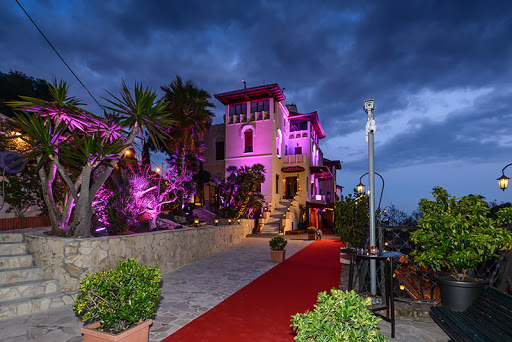 Above all, please note that the local has the rights to refuse access if you do not follow the dress code as well as any other regulations of the venue.
Are you planning a trip to Barcelona and looking for somewhere to stay? Why not take a look at the AVAILABLE APARTMENT RENTALS ON OUR WEBSITE! Please feel free to contact us with any questions you may have.