Lloret de Mar food experience
Let's discover the Lloret de Mar food experience. The Catalan cuisine is worldly famous, thanks to its delicious dishes and LLORET DE MAR would be no exception with sea products dishes like urchins, navas, prawns, squid, cod, cuttlefish, monk-fish and bream. Undoubtedly the best way to enjoy these delicacies is going through one of the typical bodegas of Lloret de Mar.
In the center of Lloret de Mar you will find thousands of shops and fast food restaurants. However,  if you are looking for a special place to enjoy the real taste of local life, we recommend you to try one of their bodegas.

In these bodegas you will feel like you've traveled back in time; cozy wood interiors, bottles of wine and cava used as decoration; as well as excellent value – priced Lunch Menus, which consists of three dishes and cost between 8-10 €.
Typical bodegas in Lloret de Mar offers a wide selection of tapas, sandwiches, deli, beer, wine, and traditional Catalan cava. In many of them for each beverage you order, you get a free tapas service!  You can even choose the tapas you want, so it's a great deal, right? The best bodegas have countered with seasonal products, for all those who want to take something home.
One of the most famous and typical wineries in the region is Sa Xarxa. It is located right in the center and away from all the tourist traffic. It has an extensive menu of tapas and a menu of craft beers Spanish and International! That is an ideal place to watch a football game with a super friendly atmosphere.
Food events
In Lloret de Mar there are two events that concern the Catalan cuisine. The first is Nouvelle Cuisine and it lasts all the month of May. This event is sponsored by the Associations bars, restaurants and hotels and Tourist office of Lloret de Mar. With the collaboration of the best restaurants and hotels in town.
The other event is La Cuina del Peix de l'Art days all about seafood. This one lasts throughout the month of October!
In fact, Lloret de Mar is a city closely linked to the sea and fishing. This historical link has left an important imprint on the local cuisine, which has in fish and seafood the fundamental basis of many of its most famous dishes.
During the Gastronomic Days of La Cuina del Peix de l'Art , a dozen restaurants in Lloret de Mar pay tribute to the traditional fishing of "la tirada de l'art" and offer a menu based on the most typical dishes of the city.
It is common for people to visit Lloret de Mar during their stay in Barcelona. So wherever you are staying in BARCELONA, keep in mind that Lloret de Mar is not far away. Beautiful beach, great food, and drinks!
Where to eat
# 1 Cantarradas
Cantarradas is a typical restaurant that offers Mediterranean cuisine at very affordable prices where you will be delighted to come and taste fresh seafood of the day. This restaurant always offers fresh products in line with the local fishing traditions. Don't wait anylonger to try those amazing dishes and take part to the Lloret de Mar food experience.
Opening hours: Mon-Sun (1:00pm-4:00pm / 9:00pm-11:30pm)
Address: Plaça Espanya, 7, 17310 Lloret de Mar


# 2 Àtics
The other restaurant that you must discover to fully live this food experience is Àtics. With a very good quality/price ratio, this restaurant is a delight for the eyes as well as for the taste buds. Indeed, its modern and traditional cuisine will allow you to enjoy the local traditional dishes.
Opening hours: Mon-Sun (1:00pm-4:00pm / 8:00pm-11:00pm)
Address: Carrer Josep Tarradellas, i Joan, 1, 17310 Lloret de Mar
#3 Restaurante Can Bolet
The restaurant Can Bolet offers high quality tapas. The products are always fresh, the setting is also incredible. Moreover, the owners are very warm and friendly. With family or friends, this restaurant is the ideal place for a gourmet getaway in Lloret de Mar.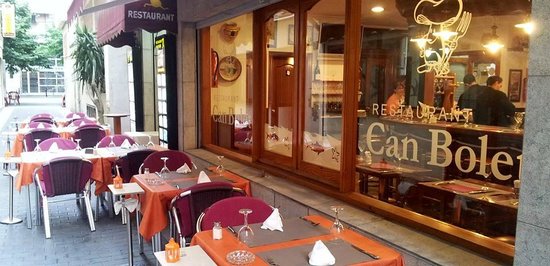 Opening hours: Mon-Thu (1:00pm-4:00pm) and Fri-Sat (1:00pm-4:00pm / 8:00pm-12:00am)
Address: Carrer de Sant Mateu, 6-8, 17310 Lloret de Mar

How to get there:
Bus: Lloret de Mar has a bus terminal with connections to Barcelona, Girona and major European cities through regional lines and private terminals that serve foreign coach tour.
Car: There are three routes available to reach Lloret de Mar. If you're going from the south, you can take the coastal highway C – 32 connecting Lloret to Blanes and then take the N-II and G-682. For the North, from France you should take the AP7 exit 9 it says Lloret de Mar and then take the C-63 and if traveling from the north you can travel along the GI-682 road between Lloret de Mar and Tossa.
Train: You can take a middle distance train from the Passeig de Gracia to Girona and from there take a bus to Lloret de Mar. The total journey will take approximately 2 hours.
Are you planning a trip to Lloret de Mar and looking for somewhere to stay? Why not take a look at the available apartment rentals on our website! Please feel free to contact us with any questions you may have.