Cascada Monumental
Surely, you have noticed that the weather in Barcelona is getting warmer and warmer, right? This makes the Ciutadella Parc the perfect place to chill in when you just want to hang out on the grass in order to embrace the warmth of the sun. Did you know that the Park of Ciutadella hides many incredible things? In this magnificent and huge park full of vegetation, you'll find the spectacular Cascada Monumental: it really is a hidden gem, right in the middle of the Ciutadella park, it is so stunning and breathtaking. Trust us, it will be worth it!
FYI, the Ciutadella Park was built during the 19th century and it is situated in the Ciutat Vella of Barcelona. Inside of this 17-hectare large park, there's the spectacular Cascada Monumental park of course, as well as an artificial lake, a castle, the Catalunya Parliament, museums, and much more! The rest is for you to find out while exploring this incredible park. The park is situated right between the Barcelonan Arc de Triomf and the Barcelona Zoo, making it a very important tourism hotspot. The Cascada is on the northern side of the park.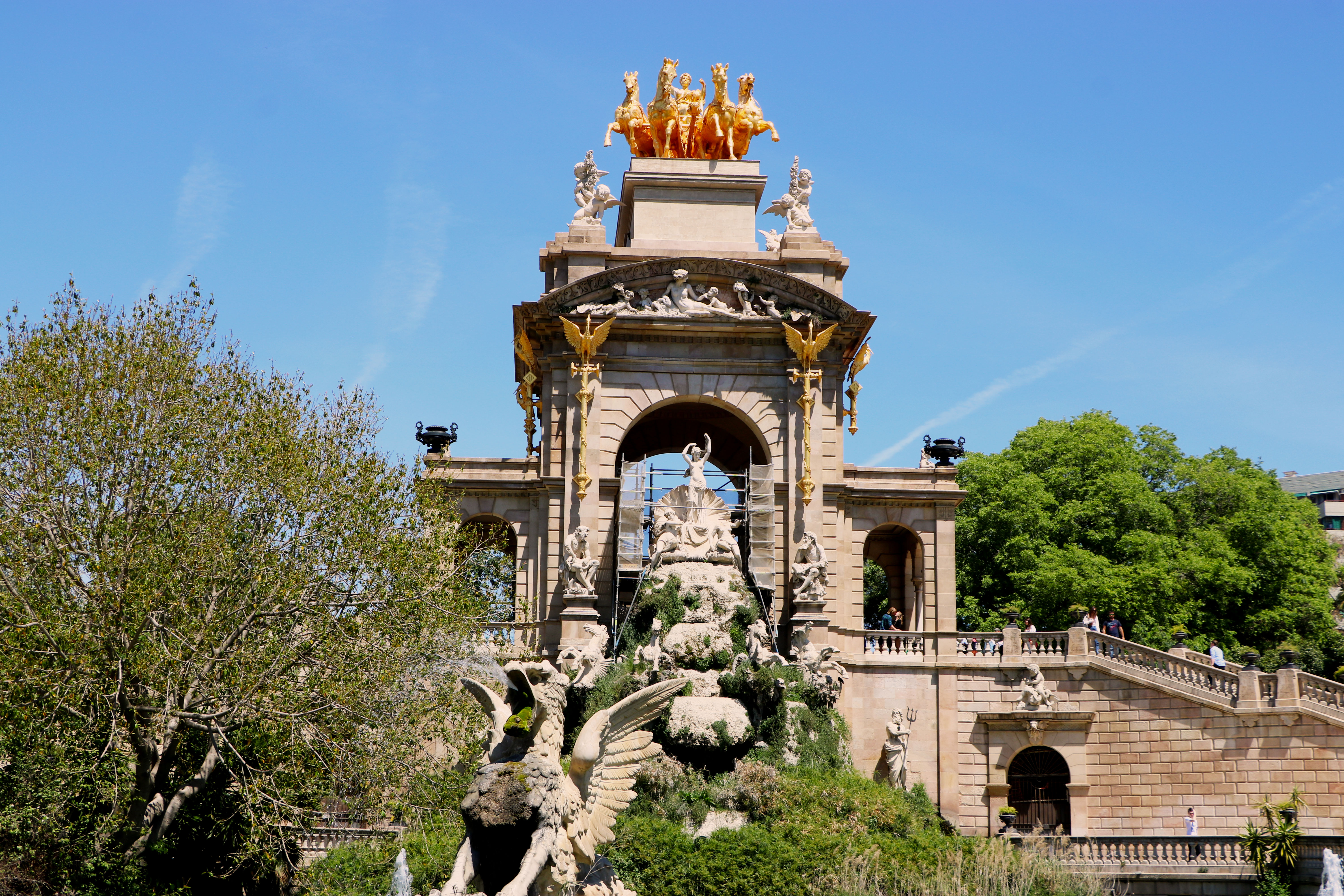 Anyway, now let's talk about the impressive Cascada with the magical fountain! The architect who designed this extraordinary monument was Josep Fontseré in 1875 and just five years later, in 1981, the Cascada was inaugurated. Antoni Gaudi, who is now a world-famous architect, was only at the beginning of his career at the time when he worked with Josep Fontseré. Indeed, he was only an architecture student when he participated in Josep Fontseré's Cascada huge project of the Cascada. In fact, Antoni Gaudi caught the eye of Josep Fontseré and they decided to collaborate together. To this day, Gaudi is one of the most world-renowned Spanish architects.
On each side of the Cascada Monumental, you will find two stairs giving access to a little podium that you can find in the center of the Waterfall. Gaudi designed the hydraulic pipework of the Cascada, as well as designing two beautiful decorative medallions which you can find on the top of the fountain. In addition to this extremely magnificent piece of art from Gaudi and Fontseré, there are also spectacular sculptures, one of which was designed by Venanci Vallmitjana. This impressive sculpture represents the birth of the Venus Roman Goddess. Other sculptures decorating the Cascada are from various Catalan artists.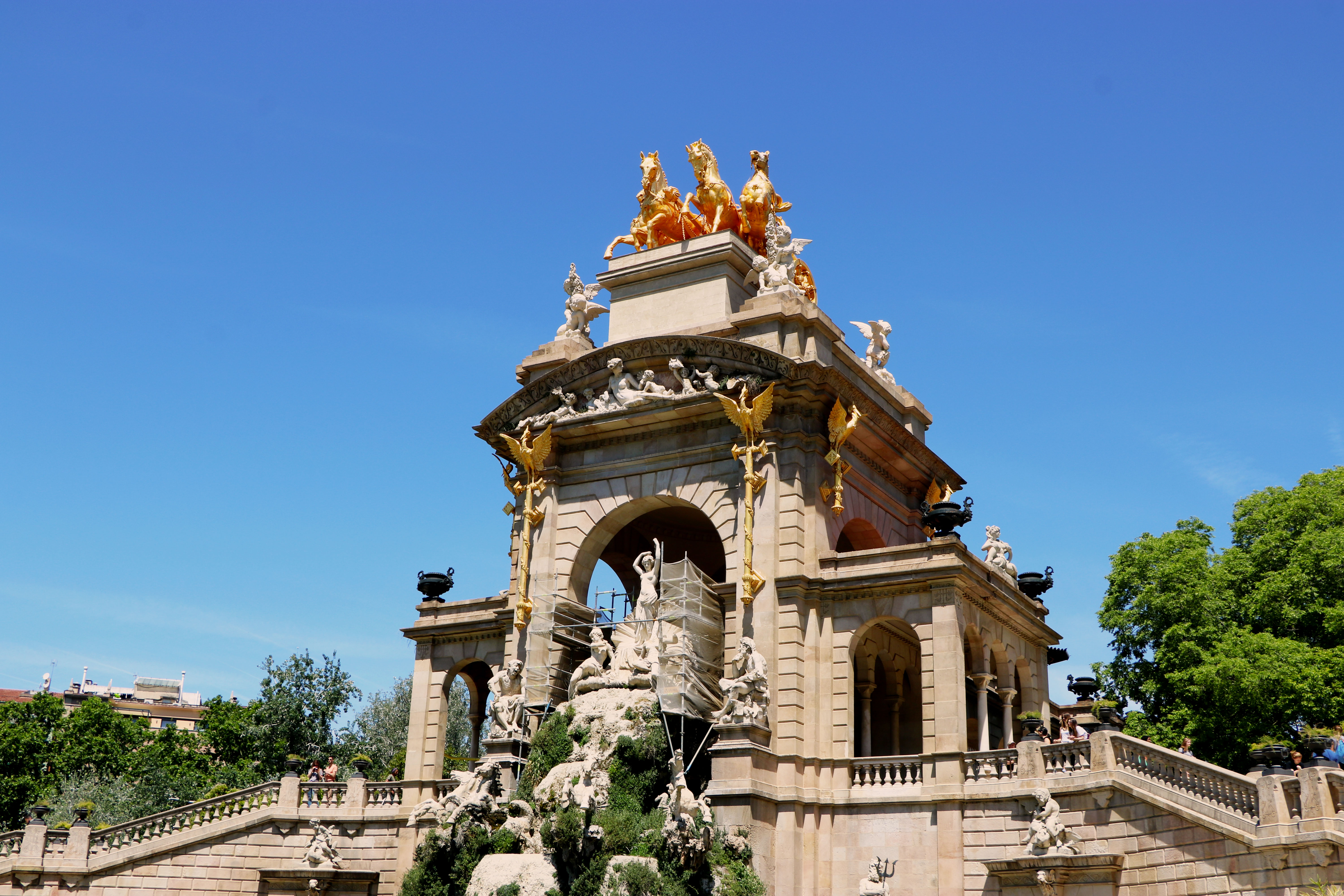 People say that the design of the Cascada was actually based on the Trevi Fountain which is located in Rome. Are you still not convinced? Then how about you go and see the Cascada Monumental for yourself? Enjoying the day in Ciutadella Park is definitely one of Barcelona's most relaxing and picturesque attractions! It's also an ideal location to have a lovely picnic!
Prices: Admission entrance FREE
Schedules: Open every day | 10:00 – 22:30
How to get there:
Address: Passeig de Picasso 21, 080033 Barcelona, Spain
By Tramway: Trambesòs station Ciutadella | Vila Olímpica (Yellow Line, L4)
By Barcelona metro – three metro stops: Arc de Triomf (Red Line, L1) / Ciutadella | Vila Olímpica (Yellow Lince, L4) / Jaume I (Yellow Line, L4)
By public bus: Passeig Pujades / Parc de la Ciutadella: 40, 42, H14, H16
Parc de la Ciutadella / Princesa: 39, 51, H14
By private "Hop on hop off" sightseeing bus: nearest stop for the Ciutadella Park is "El Born – Ciutadella – Zoo"