Razzmatazz club is an icon of Barcelona's alternative culture on both the national and international scale. The venue occupies a huge area with an industrial feel and 5 different spaces to satisfy a wide variety of  musical tastes. The club can also function as a single massive room to throw the biggest parties ever. Razzmatazz is located in a Poble Nou clubs area, between CCIB (Barcelona International Convention Center) and Barcelona's Olympic Harbour, surrounded by our Apartments in Poblenou. The club is only about 15 minutes from the city center, Catalonia Square (Plaza Cataluña). For groups of friends planning to spend the night partying at the club or for DJ´s scheduled to perform there, we recommend checking out our Apartments near Razzmatazz.
The club was established in 2000 and was the very first place in Spain to have such a wide variety of different musical styles in five different venues. The main space, called Razz Club, is known mostly for the latest international rock and indie acts. The Loft does house and electro, while the Pop Bar offers anything from garage to soul. The Lolita room is the land of house, hip-hop and dub-step. Upstairs in the Rex Room guys and girls dance to experimental sounds. For special events, such as the annual spooky Razzloween party hosted by the club, these rooms transform and take up different themes.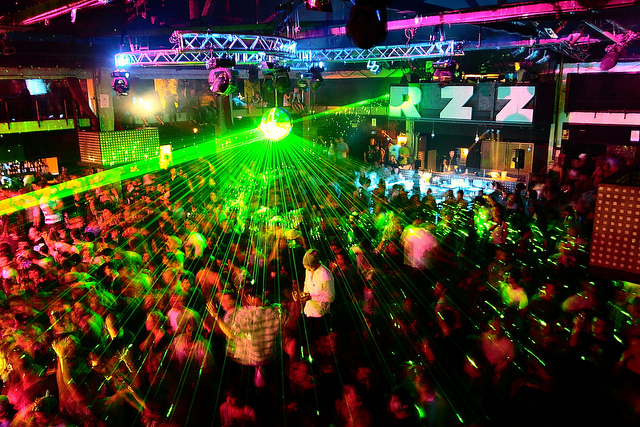 FREE GUESTLIST RAZZMATAZZ>
VIP TABLE RESERVATIONS RAZZMATAZZ>
To make things very convenient for visitors each of the five spaces is equipped with its own stage, professional sound system, DJ booth, a light and audiovisual system, bathrooms, coat closet and bars. Make the most of your time at Club Razzmatazz and experience different music cultures throughout the course of the same night. Each space lists their weekly offerings separately and usually charges for tickets to enter the parties.
Razzmatazz is a club that follows new musical trends, while also positioning itself as its own independent music scene. Various artists, including Coldplay, Pulp, Kanye West, David Byrne, Justice, Arctic Monkeys, Franz Ferdinand, took the stage at this Barcelona club before they became famous worldwide. Want to witness the birth of the next famous artist? Check their website and get ready for a crazy night!
It's open mainly from Thursdays-Saturdays midnights, but concerts and other events take place during other days of the week. Follow the schedule here.
BARCELONA-HOME GUESTLIST Please note that the club has the rights to refuse access if you do not follow the dress code or any other regulations of the venue.
✔ Dresscode? ♀ LADIES: Something Tight & Sexy ♂ BOYS: Shirt & Shoes (No sports shoes or t-shirts)