Barcelona offers not only culture, good food and nightlife, but also a lot of secret places and hidden corners frequented by book lovers. From cafes that preserve the mystical air of old-time writers to literary festivals and street celebrations with books and roses, the capital of Catalonia offers endless opportunities also for this niche! To truly get the literary taste of Barcelona, go out and explore these unique places around the city.
Things to do
Libraries
Arus Public Library
The Arús Public Library (BPA), founded in 1895 thanks to Rossend Arús, has become a specialized research center on contemporary social movements and bibliographic production from the 19th and early 20th centuries. The Library is of public access, although due to the singularity of its collection, it is aimed at researchers or people interested in the culture and society of the nineteenth and early twentieth centuries, as well as university students.
Address: Passeig de Sant Joan, 26, Barcelona, Spain.
Opening hours: Monday – Friday – 10:00 – 15:00 (Tuesday and Thursday 16:00 – 21:00)
Telephone: +34 932 56 59 50
Metrostop: Arc de Triomf or Girona
Library of Catalonia
Walking through the colorful and noisy borough of Raval in Barcelona's old town, it takes just a step in the right direction to enter an oasis of serenity. It's the orange tree-filled courtyard of the old Santa Cruz hospital, an ensemble of buildings from the 15th century. Now the seat of the Library of Catalonia, it hosts about three million books, and offers guided tours to the public. If your thing is to hang about in libraries and feel that unique air of dusty paper and old stories waiting to be read, this is the place for you. Combine that with its setting under the medieval arches of the former hospital, and you have a perfect book lover's afternoon.
Address: Carrer de l'Hospital, 56, Barcelona, Spain.
Opening hours: Monday – Friday– 09:00 – 20:00, Saturday (Saturday 09:00 – 14:00)
Telephone: +34 932 70 23 00
Metrostop: Liceu
Francesca Bonnemaison Library
Initially called the Popular Women's Library, this was the first library in Europe destined exclusively for women, to help them get access to culture and education. More than a hundred years old, the library is now set in a restored medieval building, with beautiful interiors with squeaking floors, wooden railings and grand central rooms. You can browse thousands of books on crafts, scientific or artistic subjects while you marvel at one of the best examples of Barcelona's massive medieval architecture.
Address: Carrer de Sant Pere Més, Baix 7, Barcelona, Spain.
Opening hours: Tuesday – Saturday – 10:00 – 21:00
Telephone: +34 932 68 73 60
Metrostop: Urquinaona
Festivals, Festivity and Mercats
Sant Jordi Day
On April 23rd, it's the UNESCO World Book Day, but in the Catalonian capital, it's been 'The Day of the Rose' since the 1400s. The locals celebrate it by offering books and flowers to each other. The bookshops in the city dust off their volumes and take them out under the spring sun to fill the central streets like Rambla de Catalunya and Passeig de Gracia. For a few days, it's hard, if not impossible, to walk on these streets; all you see around are books and more books!
Metrostop: Passeig de Gracia or Catalunya
Kosmopolis and BCNegra festivals
Barcelona hosts two literary festivals in various locations around the city, all linked to literature. The Kosmopolis festival takes place at the Contemporary Culture Center, CCCB, every two years. Here you can attend workshops, symposia and even readings by famous writers. The second festival, BCNegra, takes place every year and is dedicated to lovers of criminal literature and noir narrative.
Address: Carrer de Montalegre, 5, Barcelona, Spain
Telephone: +34 933 06 41 00
Metrostop: Universitat
Mercat de Sant Antoni
Mercat de Sant Antoni is not a bookstore, but a big market in which lots of different things like books, films, comics, calendars, magazines, children's stuff, food, and much more is offered. When strolling down the market, you can find tons of old books.
Every Sunday for more than 130 years, the trendy Sant Antoni neighborhood boasts its own book market. The busy four-lane road of Carrer Comte d'Urgell gets cut in two and becomes pedestrian for one block, to host the booksellers who fill the road with their stalls. It's a Sunday tradition among residents and curious tourists to stroll from one stand to the next, in search for old books and magazines, vintage postcards and video games.
Address: Carrer Comte d'Urgell, Barcelona, Spain
Opening hours: Every Sunday – 08:30 – 14:30
Metrostop: Sant Antoni
Bookshops
La Central bookstore
Set in a beautiful modernist building in the Eixample neighborhood, La Central is one of the most appreciated bookstores in Barcelona, with two whole floors filled with thousands of books from literature to architecture, photography and art. They regularly host book presentations where you can spot your favorite contemporary writers, and also writing workshops. Getting lost in the labyrinth of books on the first floor, towards the back you'll reach a small café corner with a charming, quiet terrace. They serve coffee and cakes and a daily lunch menu you can enjoy while browsing their books and art albums.
Address: Carrer de Mallorca, 237, Barcelona, Spain.
Opening hours: Monday to Friday – 10:00 – 21:00 (Saturday from 10:30)
Telephone: +34 900 802 109
Metrostop: Diagonal
Hibernian
This is a cozy, small English bookstore located in the district of Gracia. They offer both new and second-hand books, however, most of the books are second-hand, and you can see this back in the prices. Hibernian is the only second-hand English bookstore in Barcelona. You can find everything from children's books to antique novels, fiction and non-fiction, thrillers, poetry, science-fiction and much more. They have more than 40,000 books, most of them shipped from Dublin.
Address: Carrer de Montseny 17, Barcelona
Opening hours: Monday – 16:00 – 20:30, Tuesday – Saturday – 10:30 until 20:30
Telephone: +34 932 17 47 96
Metrostop: Fontana
The Watergate Bookshop
The Watergate Bookshop is different from normal bookstores. It is located in the el Raval neighborhood, and not easy to find if you do not know of its existence. You can find artistic, political, design, cultural studies, music, and comic books.
Address: Placa de Vincenc Martorell 2, Barcelona
Opening hours: Monday until Friday – 10:00 until 14:00 and 16:30 until 20:00
Telephone: +34 933 435 838
Metrostop: Universitat
Where to eat
Café Els Quatre Gats
Els Quatre Gats ("the four cats" in Castilian) was a hotel establishment (brewery, cabaret, restaurant) inaugurated in Barcelona on 12 June 1897. During the six years in which he remained active, until 1903, he became an of the reference places of Catalan modernism. It was reopened with the same name in the 1970s.
It is located on Calle Montsió (or Montesión) in the basement of the Martí house, a neo-Gothic building by the architect Josep Puig i Cadafalch (1896).
Els Quatre Gats was part of a long tradition of meetings, dinners and artistic meetings typical of the city of Barcelona, although his direct inspiration was the cabaret Le Chat Noir ("the black cat") in Paris, whose name paraphrase, relating it to the phrase that identifies "four cats" with limited competition.
Art exhibitions were organized (the first individual exhibition that Pablo Picasso held in his life took place there in February 1900), literary and musical evenings, puppet shows and shadow puppets. In 1899, 15 issues of the Quatre Gats magazine were published. In addition to the young Picasso, others of his most famous competitors were the architect Antoni Gaudí, the sculptor Julio González, the cartoonist Ricard Opisso and the musician Isaac Albéniz. Director Woody Allen filmed scenes from his film Vicky Cristina Barcelona at Els Quatre Gats.
Touristic as it is, it would be a pity to miss it. Stop for a drink at least to breathe the artistic and literary breathable air of Barcelona in 1900.
Address: Els Quatre Gats, Carrer de Montsió, 3, Barcelona, Spain.
Opening hours: Everyday – 09:00 – 00
Telephone: +34 933 02 41 40
Metrostop: Urquinaona
Laie
This is a classic European bookstore and café. Laie offers various novels and books on art, architecture, and film. It's really nice that they also have a café, because you can easily grab a book and go read it quietly in the café upstairs.
There is also a site where you can buy the books that you prefer and check the next events!!
Site: Laie
Address: Carrer de Pau Claris, 85, Barcelona, Spain.
Opening hours: Monday – Saturday – 10:00 – 21:00
Telephone: +34 933 181 739
Metrostop: Passeig de Gracia or Urquinaona
Where to stay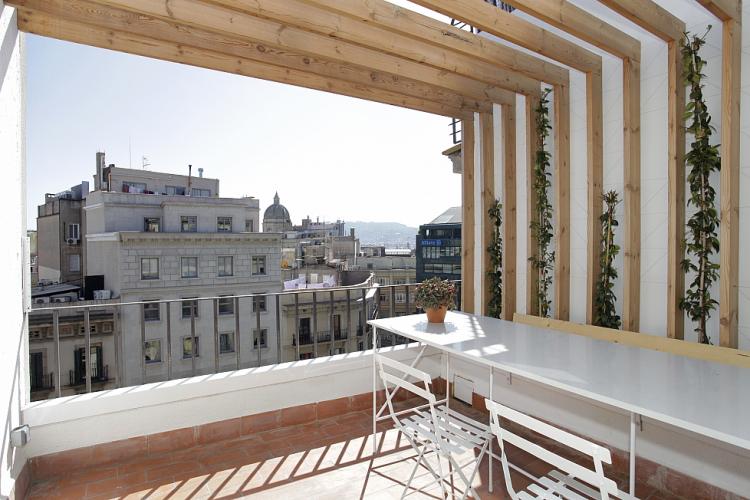 Spectacular penthouse with terrace in Plaza Universidad
Fantastic design apartment whose main features include the original resting area, with brick veneer wall and wooden beams, and the gorgeous terrace with incredible views over the center of Barcelona. The apartment also has a beautiful terrace where you can read one of the books purchased in the beautiful bookshops above
Link: penthouse in Plaza Universidad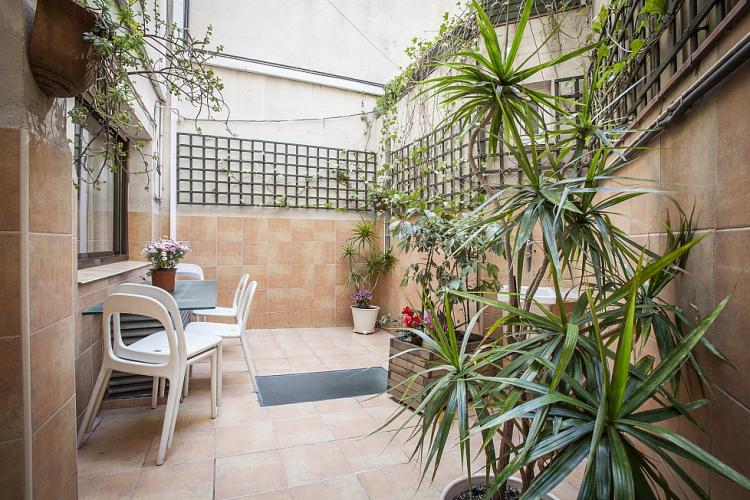 Bright apartment with private terrace in Borne
Superb apartment, flooded with brightness thanks to its access to the outside and whose major feature is the exclusive terrace, furnished and decorated with many plants, ideal to relax and read in peace. This is the perfect place for those wishing to relax and enjoy the holiday to breathe.
Link: Bright apartment in Borne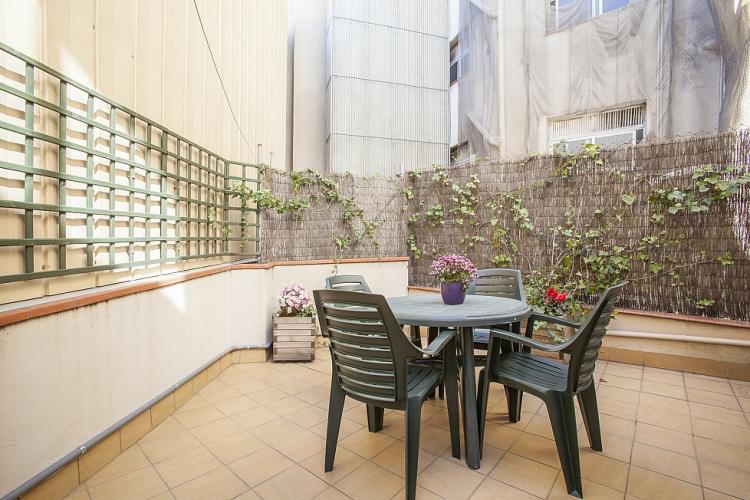 Cozy apartment with terrace in Borne
Spacious apartment whose main feature, besides its recent furniture and decoration, is undoubtedly the exclusive private terrace with table and chairs, where you can enjoy a meal in the mild Mediterranean weather. The terrace is cozy and inspires serenity
Link: Cozy apartment in Borne
For others apartments check out our SPECIAL DEALS ON APARTMENTS all over the city with Barcelona Home!