Do you want to cool down and experience some excitement? We have just the solution for that! Illa Fantasia is an enormous water theme park located just 20 minutes outside of Barcelona. This waterpark is the ideal destination for family and friend holidays. The park is more than 70.000m2, and exists out of 22 rides, 3 massive swimming pools, 1 children's pool, a mini golf, an infamous pirate ship, big picnic areas, and plenty more to see and to do.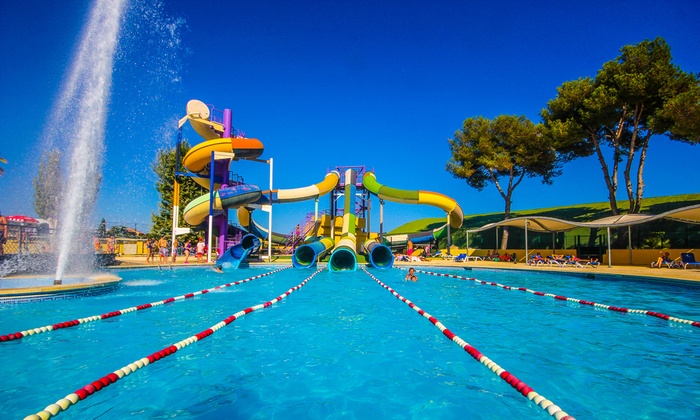 You will be lost with amazement on entering the land of high-speed sliding and lazy floating on water all day long; Bring food for the day; be it for a BBQ, picnic or merely a restaurant, whatever you might choose you are welcome to stuff yourself full in Illa Fantasia! Buy your tickets today and go wild on the water slides.
We offer a
free bus service
from the center of Barcelona, and you are guaranteed to be catered from here. Once in Illa Fantasia make the most of the precious time in one of the biggest waterparks in the area. Departure times are at
9am
and
11am
, and returns to original departure point are at
4pm
or
6pm
.
Contact us
to find out more!
Prices for the park start at 28€ per person, check the link if you would like to know more INFORMATION AND DETAILS.
Extreme rides
Aguamania is only for the brave people, who are not afraid of strong emotions. In this ride you can go down from 15 metres high by choosing one of the many tubes. All the tubes have a different intensity, so try them all to find out which is your favorite! Kamikazes is the ultimate beast of waterslides in this park, you will get an extreme adrenaline rush when you get dropped down from 18 metres high into the pool. The drop will have a speed of more than 60km/h. Río salvaje is a huge waterslide of more than 180 meters long, in which you will have an outstanding view of the park.
Aguamania
Kamikazes
Río salvaje
Children-friendly rides
The garden of earthy delights is an attraction suitable for both kids and adults, the pool is filled with several tubular sculptures that shoot water in the air. At night it offers an amazing spectacle with LED-lights that change color. The Pirate labyrinth is a great water park for children with all kind of slides. Lastly, the Jumping ride is a fast slide full of jumps, you will never get tired of riding it!
The garden of earthy delights
Pirate labyrinth
Jumping