Are you brave enough to challenge your fears? Step out of your comfort zone and join the bull run!
THE fiesta you will never forget
The San Fermín festival takes place in Pamplona, in the North of Spain, every year from July 6th till 14th. It starts off with the chupinazo, marking the beginning of the festival week by launching a rocket from the city hall balcony, with thousands of locals and tourists celebrating it. Next up is the Riau-Riau, a mass activity in which locals are dancing for their beloved patron Saint Fermín in front of a nearby chapel.
The key day of the festival is July 7th, when thousands of people accompany the 15th-century statue of Saint Fermin through Pamplona's old town. An ancient traditional dance, the jota, is being performed and the "gigantes" (enormous wood-framed and papier-mâché puppet figures) shake and twirl, while the cathedral bell peals.
Find your accommodation now!
But most importantly, the bull runs are being held every morning at 8 AM, consisting of hundreds of people running in front of six bulls and another six steers down an 825-metre stretch of narrow streets of a section of the old town of Pamplona, ending in the bullring. In addition, there are bullfights every evening, in which the 6 bulls from the bull run are being opposed by bullfighters on horses ("rejoneos") and eventually killed.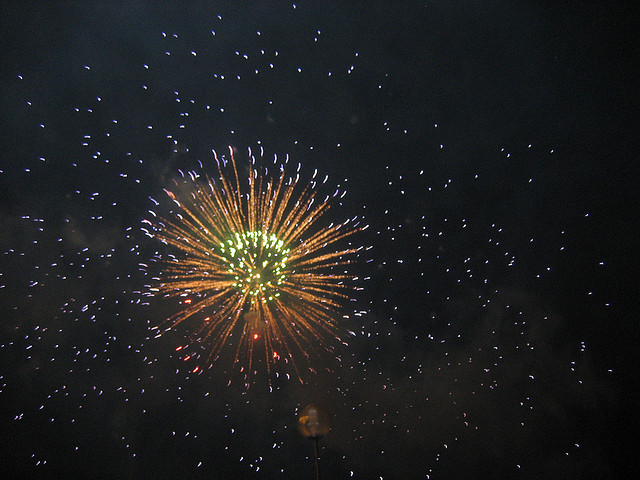 photo credit: Abeeeer via photopin cc
Every night a firework is being held at the citadel park, culminating in an international firework contest.
Every morning, there is a parade of giants and big-heads figures, being more than 150 years old and representing kings and queens of four different continents (Europe, Asia, America and Africa). Funny fact: kilíkis and zaldíkos run after kids, trying to hit them with a foam truncheon.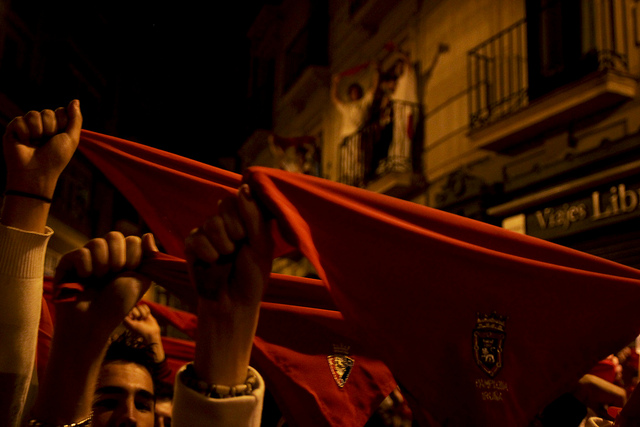 photo credit: iaramburu via photopin cc
After nine days of partying, the people of Pamplona meet in the Town hall Plaza at midnight on 14 July, singing the traditional mournful notes of the Pobre de Mí ('Poor Me'), in a candlelit ending. The city mayor closes the festival with participants lighting a candle and removing their red handkerchief.
What else do you need to know?
Be cautious – every year between 200 and 300 people are being injured during the run and 15 have been killed during its history.
You can get from your apartment in Barcelona to Pamplona within 4 hours by using the Renfe train.
You should make use of a variety of discounts for your train ticket:
– 60% discount if the ticket has been bought 15 days in advance
– 10% less if the ticket is a round trip one
– 20% discount for those with a Youth Pass card (under 26 years old)
– 40% discount for children under 14 years.
San Fermín is one of the things everyone should have seen at least once in their lifetime, come by and enjoy real Spanish culture!
photo credit: gabriel amadeus cc